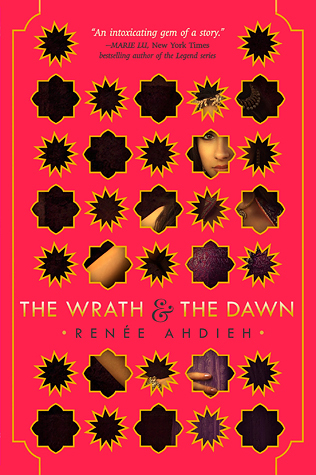 Book title: The Wrath and the Dawn
Author: Renee Ahdieh
Series: The Wrath and the Dawn, #1
Publisher: G. P. Putnam's Sons (Penguin Young Readers Group)
Release date: May 2015
Format: Hardcover, 388 pages
Source: Library.
---
Synopsis:
A sumptuous and epically told love story inspired by A Thousand and One Nights
Every dawn brings horror to a different family in a land ruled by a killer. Khalid, the eighteen-year-old Caliph of Khorasan, takes a new bride each night only to have her executed at sunrise. So it is a suspicious surprise when sixteen-year-old Shahrzad volunteers to marry Khalid. But she does so with a clever plan to stay alive and exact revenge on the Caliph for the murder of her best friend and countless other girls. Shazi's wit and will, indeed, get her through to the dawn that no others have seen, but with a catch . . . she's falling in love with the very boy who killed her dearest friend.
She discovers that the murderous boy-king is not all that he seems and neither are the deaths of so many girls. Shazi is determined to uncover the reason for the murders and to break the cycle once and for all.
---
The review:
The Wrath and the Dawn is a reimagining of One Thousand and One Nights (or The Arabian Nights, as it's also known), where the king's newest wife tells him a story each night but doesn't finish it, in hopes that he will give her another day to live.
In Renee Ahdieh's novel, the Caliph of Khorasan takes a new bride every day, and executes her the following morning at dawn. Countless — hundreds of — young girls have met death for no reason anyone knows about. The boy king is hated for this strange and cruel ritual of sorts, and when Shahrzad's best friend becomes his next victim, she swears to exact revenge and kill the Caliph herself.
The book only exists because of Shahrzad's (Shazi) best friend Shiva being killed by the Caliph. We never get to meet Shiva before her demise; it happens right before the start of the book. And that turned out to be a problem for me. I don't like stories that depend on someone being the protagonist's motivation simply because. If that's going to be the case, I really want to get to know the person they care about and understand why they're the hero/heroine's motivation. There weren't even any flashbacks (not that I even like flashbacks) to Shazi and Shiva's friendship, or if there were, they were few in number and extremely brief. I'm a reader who doesn't automatically care about a character simply because I'm told to or should.
The story isn't all stories within a story, thank goodness, though the few stories Shazi tells the king, her husband, Khalid, were fascinating. I'm not really familiar with the Arabian tales, so this was an entirely new experience for me. (Although I did catch Aladdin in there!)
The Wrath and the Dawn begins as a revenge story. Then it turns into a slow-burning romance. And then, right at the end, it turns into fantasy complete with magic and lightning and an evil sorcerer! (*Cackles because loves this sort of stuff.*) I really liked the small little glimpses of magic throughout the book, especially the curse and the flying carpet!
The revenge itself was actually disappointing. Shazi's initial plan is really kind of stupid: Volunteer to marry the king and hope he likes fairytales enough to not want to kill her before she's finished? Well, to be honest, Shazi's stories were pretty interesting, so I'll cut her and Khalid some slack in that department. But on Shazi's part… she never really makes a plan to murder the king. She spends her time thinking about killing him and how she has to avenge Shiva's death, but she never actually brainstorms and comes up with potential plots. Which I found surprising. All this "he's a monster, I hate him, he needs to die" and she just sits in her room all day. Heck, she even publicly displays her superior archery skills! Like, girl, if you've set out to murder the Caliph, maybe you shouldn't broadcast the fact that you have the capability to kill someone…
The book's best part, in my opinion, is the romance. It evolves slowly but surely, and there's an amazing fire between Shazi and Khalid. Both are very unwilling at first to admit their feelings for each other, and the push-pull between them is perfect. They fight a lot — only to make up passionately, and it's just beautiful. Basically, I loved their relationship, even if they both kept secrets and didn't open up to each other about certain things. There wasn't much trust there, but there was a certain air of respect between them, which is hard to explain. They have undeniable chemistry and I am a Shalid/Khazi shipper all the way! There is the dilemma of another boy in the picture, though… Blech. And that's Tariq, Shazi's friend from home, who vows to rescue her from the clutches of the monstrous boy king. (Gah, stupid love triangles.) Tariq annoyed me to no end. Sure, he was loyal to the utmost, fighting to get back the girl he loved, but I just never liked him. I really, really hope that the next book doesn't explode into a full-fledged love triangle because Shazi and Khalid are the perfect power couple and Tariq seriously needs to move on and find someone else.
The supporting characters I actually found to be not very memorable. I liked Jalal, although he really didn't have much to do in the story. Despina, sadly, just never clicked for me. Her storyline also didn't interest me very much, unfortunately. Yasmine I actually kind of liked, despite the fact that she was a bit of a bitch, but she appeared so briefly that I couldn't really form much of an opinion about her. Everyone else just became muddled in my head because they were so minor. Really, the stars of this show are Shazi and Khalid. And, if I'm being completely honest, I might have skimmed some of the chapters that didn't have Shazi or Khalid in them… Oh, yes, that's right, the book is told in third person, so it jumps around from character to character. Most of the story is told from Shazi's perspective, but decent chunks follow Tariq. Which chapters do you think I disliked the most? (Hint: not Shazi's.)
The Wrath and the Dawn is a really good book that has some excellent bits and some not-so-excellent bits. The excellent bits are to die for, I loved them so much. Mainly, the romance, and I'm not someone who lurves or reads books purely for the romance. But this book. Is worth it. For that. The worldbuilding is great, too; I loved the beautiful and plentiful descriptions of the palace, the meals, the clothing, the customs, the culture… There's even a handy glossary at the back of the book with definitions. The not-so-excellent bits were definitely a drawback, though, which I found disappointing in terms of supporting characters and just irritating in terms of Tariq. Some readers have said they like him, but this love triangle is a sorry sight and I will never jump ship. Shazi + Khalid forever. I really can't wait for the second book, The Rose and the Dagger, because The Wrath and the Dawn ends on a mean cliffhanger, and, after what my poor heart's been through, I really can't wait to find out what happens next. ♦
---
So tell me…
Have you read The Wrath and the Dawn? If you haven't, would you be interested to? What was the last book you read that had a slow-burn romance you absolutely loved? Comment below letting me know! And, as always, happy reading!
Follow me @ toweroftomes on Twitter | Instagram | Goodreads | and Bloglovin'!