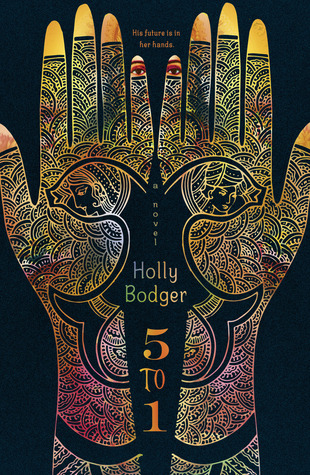 Book title: 5 to 1
Author: Holly Bodger
Publisher: Alfred A. Knopf
Release date: May 2015
Format: Hardcover, 244 pages
Source: Library.
---
Synopsis:
In the year 2054, after decades of gender selection, India now has a ratio of five boys for every girl, making women an incredibly valuable commodity. Tired of marrying off their daughters to the highest bidder and determined to finally make marriage fair, the women who form the country of Koyanagar have instituted a series of tests so that every boy has the chance to win a wife.
Sudasa doesn't want to be a wife, and Kiran, a boy forced to compete in the test to become her husband, has other plans as well. Sudasa's family wants nothing more than for their daughter to do the right thing and pick a husband who will keep her comfortable—and caged. Kiran's family wants him to escape by failing the tests. As the tests advance, Sudasa and Kiran thwart each other at every turn until they slowly realize that they just might want the same thing.
This beautiful, unique novel is told from alternating points of view—Sudasa's in verse and Kiran's in prose—allowing readers to experience both characters' pain and their brave struggle for hope.
---
The review:
The year is 2054. The place is Koyanagar, India. The male to female population ratio is 5:1. And thus, this novel, 5 to 1, is about the trials five boys go through in order to win one girl's hand in marriage.
Specifically, the story is told in alternating viewpoints and formats: Sudasa, who is unhappy with being controlled by her manipulative and overbearing grandmother, narrates her side of the tests in beautiful, heartrending verse. Kiran, one of the boys who is in her selection pool and who actually sets out to fail the tests, narrates in normal prose. The two of them long to escape the harsh laws of their walled-in city (which is declared a utopia, when it's really a dystopia), and have different motives fueling their secret and personal acts of rebellion.
The book almost completely focuses on Sudasa's marriage trials, which challenge the boys physically and mentally. However, her grandmother has rigged the competition, and it's Sudasa's despicable cousin who has been given an unfair advantage. Really, the guy was vile, and I felt Sudasa's fear and disgust at the thought of having to marry such a person. *Shudder.* As the tests continue, Sudasa gets braver and starts to take control of the situation (*cheers!*), which angers her grandmother and her cousin (*boos*). She starts to take interest in Kiran, the boy who quite obviously is failing on purpose. It's not love, it's not even romance, this story, but it's a fascinating personal journey for two young people who are unhappy and who realize that there's a bigger world out there, if only they could reach it.
A good thing about this novel is that it's too short! Once I got into it, I flew through the pages and was quite surprised when it ended. I was very invested in Sudasa and Kiran's stories by then and wanted to know if everything turned out alright… I guess I won't find out until the next book comes out.
The book is entirely focused on the main characters and what's happening to them, so it's very straightforward in that regard, and that is both a pro and con. What I felt was lacking was the world-building. I wanted to see daily life, I wanted to really see a city with fives times more men than women in it. I wanted to know how the government operated, and what the workforce was like. I wanted more Indian culture, too. The tight story really left no room for much deviation, which I actually would have appreciated more of.
To wrap this review up, I really enjoyed 5 to 1. It's a dystopia without the violence and teenage angst we're so used to. It has a unique setting and ends on a hopeful note, if a slightly aggravating one. Sudasa and Kiran are wonderful, sympathetic characters. I loved Holly Bodger's unique writing — this is one of those books that really works beautifully in the form of poetry. I highly recommend 5 to 1 to readers who want something very character driven and original. ♦
---
So tell me…
Have you read 5 to 1? If you haven't, would you be interested to? What was the last book in verse you read? What was the last book you read that is set in a country besides your own? Comment below letting me know! And, as always, happy reading!
Follow me @ toweroftomes on Twitter | Instagram | Goodreads | and Bloglovin'!