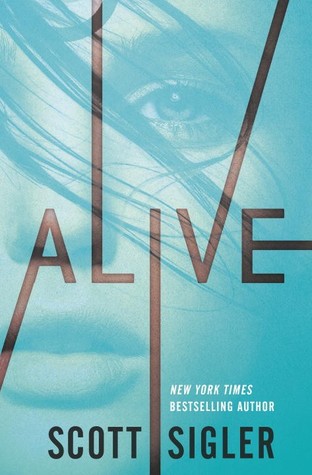 Book title: Alive
Author: Scott Sigler
Series: The Generations Trilogy, #1
Publisher: Del Rey (Random House)
Release date: July 14th, 2015
Format: egalley, 368 pages
Source: I received this book from the publisher through NetGalley in exchange for an honest review. Thank you, Del Rey and Random House!
---
Synopsis:
From New York Times bestselling author Scott Sigler comes something utterly new: a gripping sci-fi adventure trilogy in the vein of The Hunger Games, Divergent, and The Maze Runner. A group of young adults awake in a mysterious enclosed space with no knowledge of who they are or how they got there…and an indomitable young woman must lead them not only to answers but to survival.
A young woman awakes trapped in an enclosed space. She has no idea who she is or how she got there. With only her instincts to guide her, she escapes her own confinement—and finds she's not alone. She frees the others in the room and leads them into a corridor filled with the remains of a war long past. The farther these survivors travel, the worse are the horrors they confront. And as they slowly come to understand what this prison is, they realize that the worst and strangest possibilities they could have imagined don't even come close to the truth.
---
The review:
Alive is the sort of book you need to go blindly into. The summary itself doesn't give anything away, and author Scott Sigler even asks in the book's acknowledgments that people keep their thoughts spoiler-free. Basically, all you know (and need to know) is that there's a girl who wakes up without any memory of her past, and that she, as well as the other people she meets, are trapped in a strange, horrific prison. It's a book that is a complete mystery for the characters and for the reader. (Think The Maze Runner in a general sense.) You find out information only when the characters do. This is both good and bad. Good, because it keeps you wanting to know the how and why, but bad because the journey to the truth feels endless. At least, that's what it felt like for me. The book isn't dull by any means, but it never did grab me and not let go.
A lot of the book deals with multiple characters' struggle for power and leadership of the group. A lot of people want to be the Alpha, but our heroine, Em, isn't going to give up her position easily. And good on her for not being a pushover! There are also a lot of graphic scenes and descriptions which I actually really liked. Be warned, some things are pretty gruesome, but they only add the mystery the story creates. Additionally, there was one really random thing that had me scratching my head because it felt so random: igpays! (No, it's not something made up by the author. Think along the lines of code/secret language that is/was more popular with kids…) This "random thing" was scary and creepy as hell, once I thought about it, but at first mainly so unexpected it was almost comical. Anyone who's read the book agree with me? Or am I alone on this one? *Hides head like a turtle because feels like an outlier.* But the big truth reveal was mind-blowing and awesome and, actually, my favorite part of the book. Things finally made some sense, although the ending felt so much different in tone than the rest of the book. Things got frantic and it was just a mad dash.
The main problem I had with this book were the characters. I sadly didn't connect to any of them. I liked Em, the protagonist, the most, but that doesn't mean I was her biggest fan. I barely remember any of the other female characters; they seemed really sidelined in comparison to the males. Also, I kind of wished that Em hadn't had moments of raging teen hormones. I would have been perfectly fine without any mentions of her wanting to kiss so-and-so, or feeling attracted to multiple boys. Yup, boys, plural. Sigh. I didn't even like any of the guys. Furthermore, upon finishing the book, I started to second-guess the actions of the characters once I knew the truth and how it affected them. Sorry, can't get any more explicit than that for fear of giving anything away!
To wrap up this review, I thought Alive was an interesting idea that excelled in some places but lacked in others. The mystery took too long to unfold, to the point where I was impatient and a little bored. The characters weren't very memorable, especially the supporting girls, which was a shame. But the writing was engaging, the world/situation dark and creepy as hell, and the truth awesome to epic proportions. Not really a hit for me, but it's definitely worth a read, seeing as so many other readers have loved it. ♦
---
So tell me…
Have you read Alive? If you haven't, would you be interested to? What was the last book you read where you and the characters were completely shut out of information? How did it make you feel? Comment below letting me know! And, as always, happy reading!
Follow me @ toweroftomes on Twitter | Instagram | Goodreads | and Bloglovin'!