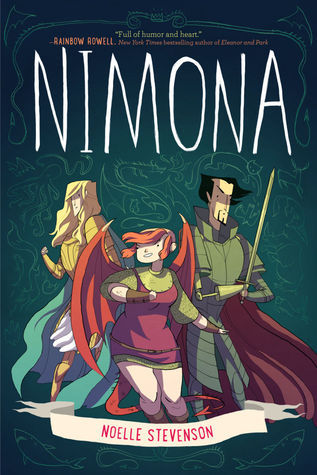 Book title: Nimona
Author: Noelle Stevenson
Publisher: HarperTeen (Harper Collins Publishers)
Release date: May 2015
Format: Paperback, 266 pages
Source: Library.
---
Synopsis:
The graphic novel debut from rising star Noelle Stevenson, based on her beloved and critically acclaimed web comic, which Slate awarded its Cartoonist Studio Prize, calling it "a deadpan epic."
Nemeses! Dragons! Science! Symbolism! All these and more await in this brilliantly subversive, sharply irreverent epic from Noelle Stevenson. Featuring an exclusive epilogue not seen in the web comic, along with bonus conceptual sketches and revised pages throughout, this gorgeous full-color graphic novel is perfect for the legions of fans of the web comic and is sure to win Noelle many new ones.
Nimona is an impulsive young shapeshifter with a knack for villainy. Lord Ballister Blackheart is a villain with a vendetta. As sidekick and supervillain, Nimona and Lord Blackheart are about to wreak some serious havoc. Their mission: prove to the kingdom that Sir Ambrosius Goldenloin and his buddies at the Institution of Law Enforcement and Heroics aren't the heroes everyone thinks they are.
But as small acts of mischief escalate into a vicious battle, Lord Blackheart realizes that Nimona's powers are as murky and mysterious as her past. And her unpredictable wild side might be more dangerous than he is willing to admit.
---
The review:
Nimona is a terrific story about heroes and villains, friendship and loyalty. Balliser Blackheart is a villain. Ambrosius Goldenloin is a hero. Nimona is a shapeshifter — and a girl who becomes Blackheart's sidekick. For such a short graphic novel that originally started as a webcomic, the relationships between these three main characters go surprisingly deep. I really cared about them all and loved their hilarious interactions. Nimona, undoubtedly, is my favorite. She's everything you'd expect as well as lots of things you don't. Does that make any sense? Basically, Nimona may be the "sidekick," but she's a heroine in this story, too.
Noelle Stevenson's artwork is wonderfully quirky but also beautiful. She uses fitting color palettes, and really manages to capture every setting and mood perfectly. Love love love. I read this book in one sitting, like I'm sure most readers have done. I didn't want it to end! There are so many questions raised that aren't answered by the end! And last… "I'M A SHAAAAAARK!!!!!" (Not sure how many As or exclamation points, but that's essentially what it is.) I died at the shark bits. Basically, go read Nimona. It's fabulous. Hilarious as well as heartfelt, and full of mystery and action. ♦
---
So tell me…
Have you read Nimona? If you haven't, would you be interested to? What was the last graphic novel you read? What's your favorite graphic novel/comic you've ever read? Comment below letting me know! And, as always, happy reading!
Follow me @ toweroftomes on Twitter | Instagram | Goodreads | and Bloglovin'!