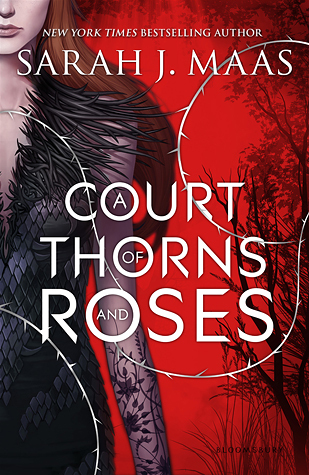 Book title: A Court of Thorns and Roses
Author: Sarah J. Maas
Series: A Court of Thorns and Roses, #1
Publisher: Bloomsbury
Release date: May 2015
Format: Hardcover, 416 pages
Source: Library.
---
Synopsis:
A thrilling, seductive new series from New York Times bestselling author Sarah J. Maas, blending Beauty and the Beast with faerie lore.
When nineteen-year-old huntress Feyre kills a wolf in the woods, a beast-like creature arrives to demand retribution for it. Dragged to a treacherous magical land she only knows about from legends, Feyre discovers that her captor is not an animal, but Tamlin—one of the lethal, immortal faeries who once ruled their world.
As she dwells on his estate, her feelings for Tamlin transform from icy hostility into a fiery passion that burns through every lie and warning she's been told about the beautiful, dangerous world of the Fae. But an ancient, wicked shadow grows over the faerie lands, and Feyre must find a way to stop it . . . or doom Tamlin—and his world—forever.
Perfect for fans of Kristin Cashore and George R. R. Martin, this first book in a sexy and action-packed new series is impossible to put down!
---
The review:
A Court of Thorns and Roses is the classic Beauty and the Beast tale we know and love, but with a fantastic faerie twist to it. I loved how Sarah J. Maas spun the story and made it hard to guess what would happen next. The intricacy of the plot really impressed me and the amount of world building and history given was perfect. I'll admit that I even cried at one point. I got very wrapped-up during a certain scene and became an emotional train wreck. I even read that scene over again after I'd finished the book because 1) it was effing fabulous and 2) I wanted to see if it would have the same impact on me despite knowing the outcome. It did, although at least I wasn't crying a river of tears the second time.
ACOTAR's protagonist is a human girl named Feyre who is pretty much the sole supporter of her family: herself, two seemingly useless sisters, and their father — a ruined merchant. (Recognize that from the original fairy tale?) Feyre's family were actually compelling characters, believe it or not. All the book's characters were interesting and layered in their own ways, but I actually liked reading about Feyre's (tough) life in the human realm. (The mercenary at the market was fascinating and awesome. I want more of her in the next book.)
Feyre herself is a great heroine. What makes her an interesting, sympathetic character is that she's a hunter, not a fighter, in the literal sense. But she's a fighter in that she's constantly fought to provide for herself and her family, no matter what. When she's taken to the faerie realms as punishment for killing a fae in cold blood, she's terrified and desperate to escape. She misses her family, even though they never really treated her respectfully or attempted to help her, and her determination to get back to them and make sure they were okay was heartwarming. Feyre is a smart girl, but she's human, and there's only so much she can do against the faeries who possess magical powers. Still, Feyre's bravery and determination was a wonderful thing to behold, even if those traits were mixed with acts of stupidity and impulsiveness.
Tamlin is the story's "beast." His faerie powers include brute strength and the ability to transform into a wolf at the blink of an eye. Of all the faerie dudes in this book to swoon over (of which there are three, all of them different; you're sure to find your perfect partner here!), Tamlin's the one for me. He's thoughtful, shy, protective, loyal, and has an unwavering sense of duty and doing what's right. He and Feyre have amazing chemistry, and I really enjoyed seeing their relationship grow and grow. There were also a couple steamy scenes here, which were just freaking beautiful and perfect. I'd say this is YA for an older teen audience, but I don't know if I'd classify it as NA… (Then again, I haven't read much NA so I guess I'm really not one to judge.)
Fae hunk number two is Lucian! (Crap, I can't remember if his name is spelled with an A or an E.) I adored Lucian. His friendship with Tamlin was so strong and so wonderful to witness. I love books with amazing friendships in them. I want Lucian as my best friend. I also wanted to hug him a lot, especially in the latter third of the book.
And… hot faerie number three is Rhysand. He starts off seemingly a villain, but in the end isn't. He's the guy you want to hate but can't. He starts off as a major dick and continues to be a major dick, although he does reveal some tricks he's been hiding up his sleeve. He also proves he is more than the true villain's tool. Rhysand is dangerous and mysterious, and I never trusted him, but he grew on me tremendously.
And so the book's true antagonist is the batshit crazy faerie queen Amarantha. Lady's all sorts of messed up. I loved it. You know villains you love to hate? She is one of them. So evil, so manipulative…
The entire last third of the book is where the Beauty and the Beast plot changes into something new and amazing. (THE CURSE THE CURSE THE CURSE AAAAHHHH.) This part takes place at the faerie court with crazy Amarantha making life hell for everyone, and it all just flew by so fast. Constant, intense happenings. MY POOR HEART COULDN'T HANDLE IT ALL. I struggled to cope with the feels. Oh boy, THE FEELS. I don't normally get all squealish in my reviews but I'm telling you, this was the best part of the book by far. I actually wish this part had been longer.
As I read, I'd realize from time to time that I was, obviously, making progress — and that the ending was coming closer and closer. I had moments of panic when I knew the story was going to end. But I just wanted the book to keep going on and on and never stop! I haven't felt that way about anything I've read in a very long time. ACOTAR's sequel needs to come out STAT because I need Feyre and Tamlin's story to continue. I was pleased to learn, however, that there's no cliffhanger here! Everything was wrapped-up pretty neatly, but the overall story is far from over. Gah, I can't wait for the next book! I almost want the sequel to ACOTAR more than I want Queen of Shadows! Gasp! Yes, I did just say that! Of all of Sarah's books I've read (the three Throne of Glass novels), I think ACOTAR might be my favorite. I love her other books, but I had problems with each of them, despite still loving them with all my heart. ACOTAR was pure perfection. I only have two tiny nit-picky things that really don't detract anything from the overall story or experience:
There is a giant info dump at one point. I didn't really mind the convenience of the info dump, but it did seem a bit too convenient. This was super minor, though, because the info dump was actually essential to the plot; everything explained was important (hooray) and intriguing (double hooray). There is also a riddle that plays a big part in the plot. I read it the first time and the answer, or what I thought was the answer, immediately popped in my head. I thought it was too obvious, though, so I started to second guess myself. When the answer was revealed toward the end and it turned out I had been correct, I was a little disappointed. I'm actually terrible at riddles, so I found that this long, elaborate one was a bit of a let down. Still — these two things were so minor in the scope of things. They carry barely any negative weight. They're the only parts that weren't executed flawlessly.
A Court of Thorns and Roses is a incredible, heart-pounding (and stopping!) novel about love, friendship, and loyalty. I knew I'd love this book and I did, no surprise. I can't recommend it enough. ♦
---
So tell me…
Have you read A Court of Thorns and Roses? If you haven't, would you be interested to? What was the last fairy tale retelling you read? Which is your favorite fairy tale in general? Comment below letting me know! And, as always, happy reading!
Follow me @ toweroftomes on Twitter | Instagram | Goodreads | and Bloglovin'!