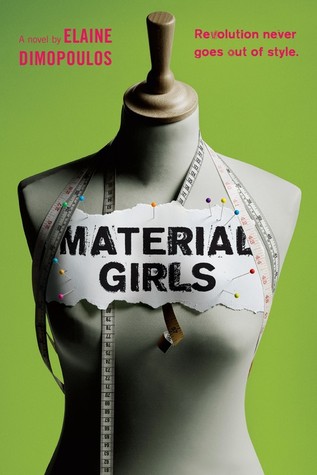 Book title: Material Girls
Author: Elaine Dimopoulos
Publisher: Houghton Mifflin Harcourt BFYR
Release date: May 2015
Format: egalley, 336 pages
Source: I received this book from the publisher through NetGalley in exchange for review consideration. This in no way affects my review; all opinions are my own. Thank you, HMH BFYR!
---
Synopsis:
In Marla Klein and Ivy Wilde's world, teens are the gatekeepers of culture. A top fashion label employs sixteen-year-old Marla to dictate hot new clothing trends, while Ivy, a teen pop star, popularizes the garments that Marla approves. Both girls are pawns in a calculated but seductive system of corporate control, and both begin to question their world's aggressive levels of consumption. Will their new "eco-chic" trend subversively resist and overturn the industry that controls every part of their lives?
Smart, provocative, and entertaining, this thrilling page-turner for teens questions the cult like mentality of fame and fashion. Are you in or are you out?
---
The review:
Pros:
I definitely got Project Runway and even Ugly Betty vibes!
I was cracking up at the torture trend.
The ending was sad as well as hopeful.
I liked how in this world being "tapped" into a culture job is more desirable than getting an "Adequate" job. "Adequates," as they are referred to, are people designated to office jobs, like being doctors and teachers. They are people who fail to have "enough" talent in the arts and culture and are considered failures in the eyes of society. It's quite harsh, but hooray for culture ruling the world, I guess?
The terms and slang used were believable. And not too distracting, either, thank goodness. I hate it when books use words that, to me, make no sense because they're either never defined all that well or they're just so ridiculous. Material Girls does the terminology and slang well — "Unum," "prime," "stay young," etc.
Cons:
It took almost halfway through the book for me to see where the plot was going. Until then, the book takes its time going anywhere.
I didn't feel very connected to all of the characters, many of whom were a bit stereotypical.
The romance was nice enough because I liked the two characters in the relationship, but there didn't seem to be much buildup and I never really felt that attached to the guy, Felix.
I was sad about the choice Ivy made at the end. I thought she would have been stronger after all she'd been through, but I guess she didn't see how going against the grain would give her what she wanted and was afraid of losing.
Marla's chapters were in first person, Ivy's chapters were in third person. The alternating tenses annoyed me. Also, I didn't really know why we had Ivy's POV until her and Marla's narratives finally crossed paths.
The world building did lack a little. Mainly, how did society get to this particular point? Who decided companies should function this way? How was it decided that teens should run the fashion world? And what's the rest of society like, beyond the bubble that concerns the presented story?
Verdict: Material Girls was a very interesting and different book than what I've read before. It raises some important issues that society will probably always have to some degree, like the control and power of mega-corporations and the choices available to individuals. I know I have more cons than pros here, but it's a good book besides my nitpicking. If you're interested in two girls standing up for rights and fair employment in a futuristic setting, this is the book for you, at least in that regard. It takes a while for the plot to kick in, but then kick in it does. Material Girls didn't blow me away but I still think it's worth a read. ♦
---
So tell me…
Have you read Material Girls? If you haven't, would you be interested to? What was the last book you read that was set in a futuristic world? Comment below letting me know! And, as always, happy reading!
Follow me @ toweroftomes on Twitter | Instagram | Goodreads | and Bloglovin'!