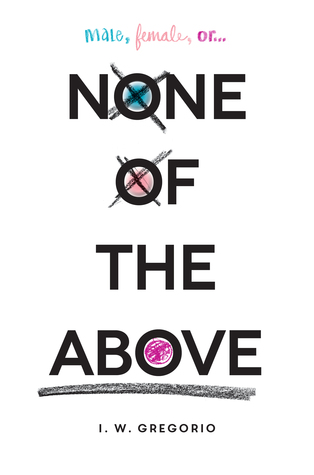 Book title: None of the Above
Author: I. W. Gregorio
Publisher: Balzer + Bray (Harper Collins Publishers)
Release date: April 2015
Format: Hardcover, 328 pages
Source: Library.
---
Synopsis:
A groundbreaking story about a teenage girl who discovers she was born intersex… and what happens when her secret is revealed to the entire school. Incredibly compelling and sensitively told, None of the Above is a thought-provoking novel that explores what it means to be a boy, a girl, or something in between.
What if everything you knew about yourself changed in an instant?
When Kristin Lattimer is voted homecoming queen, it seems like another piece of her ideal life has fallen into place. She's a champion hurdler with a full scholarship to college and she's madly in love with her boyfriend. In fact, she's decided that she's ready to take things to the next level with him.
But Kristin's first time isn't the perfect moment she's planned—something is very wrong. A visit to the doctor reveals the truth: Kristin is intersex, which means that though she outwardly looks like a girl, she has male chromosomes, not to mention boy "parts."
Dealing with her body is difficult enough, but when her diagnosis is leaked to the whole school, Kristin's entire identity is thrown into question. As her world unravels, can she come to terms with her new self?
---
The review:
I've never read a book about someone who is intersex, although I've heard of the term before. I'd seen nothing but glowing, positive things about I. W. Gregorio's debut, and I went into the book pretty much blind besides knowing the "girl finds out she's intersex" part. This novel is a wonderful, raw look at sex, gender, identity, labels, and what defines who we are.
None of the Above follows a girl named Kristin who finds out, at age 18, that she is intersex: she was born with male anatomy and has XY chromosomes. Obviously, Kristin breaks down upon having her entire identity shattered. She goes into deep depression when her entire school finds out about her extremely personal (like, this is the definition of personal) situation. Her college scholarships and spot on the track team could be in jeapordy now. She feels lost, ashamed, abandoned, inferior, confused, scared, hurt… and everything else you can think of. The story beautifully chronicles her life as she comes to grips with being intersex and finds people to spend her time with who are supportive.
Bullying is another topic the book touches on. And the bullying here is nasty — people can be so horrible. I felt terrible for Kristin, and hated those who shunned her, made fun of her, and even attacked her — mentally and physically. It was seriously depressing how Kristin's (ex)boyfriend treated her when he found out she was intersex — mainly, though, out of fear for how he could be treated by others just for associating with her. What a lame little piece of feces…
I loved Kristin's dad and her friend Darren. They were really the ones who kept her sane. Her father didn't look at her any differently after finding out she was intersex, and Darren was accepting and cool and just such a sweetheart. Kristin also finds a support group of other people who are intersex, and starts a dialogue with a few college girls who give her advice and let her know she's not alone.
None of the Above is a book I think everyone should read. Kristin felt so real, and her situation never felt exaggerated or smoothed-out. The book handles everything tastefully and educates us along with Kristin about the difference between sex and gender. The writing is easy to read but I think that's a positive thing. For such a potentially complicated subject I think it's good that the story and information is clear and accessible to everyone. ♦
---
So tell me…
Have you read None of the Above? If you haven't, would you be interested to? Have you read any books about sex/gender identity? Comment below letting me know! And, as always, happy reading!
Follow me @ toweroftomes on Twitter | Instagram | Goodreads | and Bloglovin'!