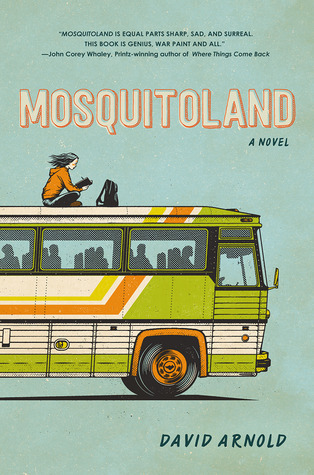 Book title: Mosquitoland
Author: David Arnold
Publisher: Viking (Penguin Young Readers Group)
Release date: March 2015
Format: Hardcover, 342 pages
Source: Library.
---
Synopsis:
"I am a collection of oddities, a circus of neurons and electrons: my heart is the ringmaster, my soul is the trapeze artist, and the world is my audience. It sounds strange because it is, and it is, because I am strange."
After the sudden collapse of her family, Mim Malone is dragged from her home in northern Ohio to the "wastelands" of Mississippi, where she lives in a medicated milieu with her dad and new stepmom. Before the dust has a chance to settle, she learns her mother is sick back in Cleveland.
So she ditches her new life and hops aboard a northbound Greyhound bus to her real home and her real mother, meeting a quirky cast of fellow travelers along the way. But when her thousand-mile journey takes a few turns she could never see coming, Mim must confront her own demons, redefining her notions of love, loyalty, and what it means to be sane.
Told in an unforgettable, kaleidoscopic voice, "Mosquitoland" is a modern American odyssey, as hilarious as it is heartbreaking.
---
The review:
There are only two things I can say that I really liked about Mosquitoland: The incredibly unique and wonderful writing of David Arnold, and the realistic ending — meaning, it's not happily-ever-after, and things aren't what they appeared to be. Sadly, though, Mosquitoland just wasn't the book for me. After about 100 pages in I skimmed it. I tried to get into it and wanted to know why so many readers have been raving about it, but I couldn't figure it out. I did many times think about DNF-ing it, but I decided to push through… by skimming. I know I missed a lot, but I got the overall story and the overall character developments.
In short, Mim (an acronym for Mary Iris Malone) drives/is driven across the country in an effort to visit her mom, who may be dying (of cancer? I don't completely remember). It's a road trip book, it's a coming of age story, it's a book about a girl's self discovery. All the events that happened were hardening up Mim and making her grow and mature in a very short time span. It's her "odyssey", as the blurb calls it, but I found I really didn't enjoy the journey, nor did I particularly care.
Mim is a very interesting character with a very distinct voice. She's snarky, she's sarcastic, she's a little "off." It's suggested that she has schizophrenia. Her dad is convinced she's mentally ill, and Mim's been prescribed pills to take to calm and stabilize her senses — which she refuses to take. (I wondered sometimes what was real and what wasn't, and wondered if Mim was an unreliable narrator.) However, the book really doesn't touch on mental illness, which was puzzling, especially seeing as, like, three other characters also suffer/ed from forms of mental disability and illness. The lack of attention to this topic was unsatisfying.
There are two boys Mim picks up along her trek: Beck, a college boy she falls in love with, and Walt, a homeless boy who (I gathered this from reviews, I honestly didn't remember myself) has Down syndrome. The romance between Mim and Beck wasn't very interesting, although there were a couple sweet moments. And, overall, I just had no attachment whatsoever to anyone in this story except for Mim, and even she didn't strike me as particularly likable.
The journey also has a "deadline." Labor Day. Well. With everything that goes on, you'd think Mim would want to get to her mom STAT, right? But no, she detours a bit and visits lots of gas stations just to find the nephew of an old lady she met on the Greyhound bus. She has the lady's box that she wants to deliver to the nephew. Like, that's nice and all, but ISN'T YOUR MOTHER DYING OF CANCER?! Also, Poncho Man needed to freaking go away after the bathroom encounter. I was dreading that the book was going to become a story about Mim running from or constantly crossing paths with the creep. Mim even decides to let said creep (and her almost rapist) go free without calling the cops because she doesn't want to delay her trip. Like, WTF?! Mim's head is made of wood or something. Because, then, of course, her decision not to say anything has consequences. Poncho Man pops up again. And then Mim STILL TAKES HER GAS STATION DETOURS. The entire time I was like, YOUR MOM IS POSSIBLY DYING, YOU IDIOT SANDWICH — WHAT WAS THAT ABOUT GETTING TO HER AS SOON AS HUMANLY POSSIBLE, AKA BEFORE LABOR DAY?! Gah. (To clarify, the bathroom encounter happens first, and the gas station detours come later. I just needed to explain it the other way around in order to get all worked up. Because I detest characters who make stupid decisions, especially when it comes to their well-being.)
Mim also writes letters to her aunt Isabel during her travels. She doesn't send the letters, but writes them down in her journal. Mostly she talks about her past in those letters. I suppose this was a way to get a lot of back story into the book, and for us to understand how Mim's gotten to this point in her life, but almost every chapter contained a letter — and I got really tired of them, although I understood the meaning of having them there. But… I skimmed them because the story as a whole was just boring me.
This book, sadly, didn't click with me. I tried to get into it, but it never happened. I don't know if I would have preferred to DNF it instead of the messy skimming job I did. I was disappointed with this one, after all the kudos it's been getting. I don't discourage you from reading it, but I think it's a very specific type of book for a certain audience who like semi-bizarre road trips/coming of age stories. I don't automatically gravitate toward contemporaries, and while I've read some absolutely breathtaking contemps this year so far, Mosquitoland just wasn't of the right one for me. ♦
---
So tell me…
Have you read Mosquitoland? If you haven't, would you be interested to? What was the last road trip book you read? Comment below letting me know! And, as always, happy reading!
Follow me @ toweroftomes on Twitter | Instagram | Goodreads | and Bloglovin'!