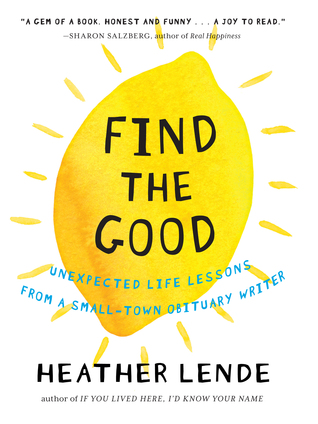 Book title: Find the Good: Unexpected Life Lessons from a Small-Town Obiturary Writer
Author: Heather Lende
Publisher: Algonquin Books of Chapel Hill (Workman Publishing)
Release date: April 2015
Format: ARC, 161 pages
Source: I received this book from the publisher through Shelf Awareness in exchange for review consideration. This in no way affects my review; all opinions are my own. Thank you, Algonquin!
---
About the book:
As the obituary writer in a spectacularly beautiful but often dangerous spit of land in Alaska, Heather Lende knows something about last words and lives well lived. Now she's distilled what she's learned about how to live a more exhilarating and meaningful life into three words: find the good. It's that simple–and that hard.
Quirky and profound, individual and universal, Find the Good offers up short chapters that help us unlearn the habit–and it is a habit–of seeing only the negatives. Lende reminds us that we can choose to see any event–starting a new job or being laid off from an old one, getting married or getting divorced–as an opportunity to find the good. As she says, "We are all writing our own obituary every day by how we live. The best news is that there's still time for additions and revisions before it goes to press."
Ever since Algonquin published her first book, the New York Times bestseller If You Lived Here, I'd Know Your Name, Heather Lende has been praised for her storytelling talent and her plainspoken wisdom. The Los Angeles Times called her "part Annie Dillard, part Anne Lamott," and that comparison has never been more apt as she gives us a fresh, positive perspective from which to view our relationships, our obligations, our priorities, our community, and our world.
An antidote to the cynicism and self-centeredness that we are bombarded with every day in the news, in our politics, and even at times in ourselves, Find the Good helps us rediscover what's right with the world.
---
The (really short) review:
People are fascinating. Everyone has a story. Heather Lende is an obituary writer who lives in Haines, Alaska — a town of only 2,000 inhabitants. She writes about people she knew or didn't know, and this sweet little book is about finding happiness and goodness in the world and in people. We shouldn't take things for granted, and we need to appreciate the little things in life more, as well as continue to love and live, take risks and confront fears. Heather shares her own experiences as well as stories about those she's written about. It's a heartening little book that conveys a great message, one that's not new by any means but that is presented in a unique way. ♦
---
So tell me…
Have you read Find the Good? If you haven't, would you be interested to? What was the last book you read that made you think about the little things in life, and how we need to appreciate them more? Comment below letting me know! And, as always, happy reading!
Follow me @ toweroftomes on Twitter | Instagram | Goodreads | and Bloglovin'!