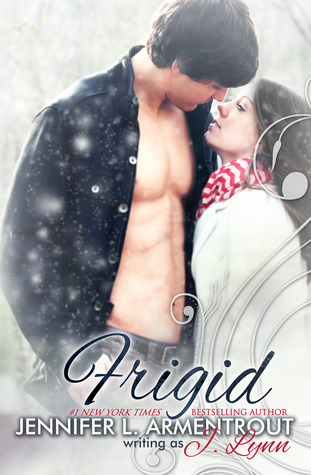 Book title: Frigid
Author: J. Lynn (aka Jennifer L. Armentrout)
Series: Frigid, #1
Publisher: Spencer Hill Contemporary
Release date: November 2013
Format: Paperback, 260 pages
Source: Library.
---
Synopsis:
For twenty-one-year-old Sydney, being in love with Kyler isn't anything new. They'd been best friends ever since he pushed her down on the playground and she made him eat a mud pie. Somewhere over the years, she fell for him and fell hard. The big problem with that? Kyler puts the 'man' in man-whore. He's never stayed with a girl longer than a few nights, and with it being their last year in college, Syd doesn't want to risk their friendship by declaring her love.
Kyler has always put Syd on a pedestal that was too high for him to reach. To him, she's perfect and she's everything. But the feelings he has for her, he's always hidden away or focused on any other female. After all, Kyler will always be the poor boy from the wrong side of tracks, and Syd will always be the one girl he can never have.
But when they're stranded together at a posh ski resort due to a massive Nor'easter, there's nothing stopping their red-hot feelings for each other from coming to the surface. Can their friendship survive the attraction? Better yet, can they survive at all? Because as the snow falls, someone is stalking them, and this ski trip may be a life-changer in more ways than one.
---
The review:
Jennifer L. Armentrout is an author who delivers fun, romantic books that make you stay up all night reading them. Her characters are memorable and relateable, her writing current and appropriate for her audience. I picked up Frigid, a New Adult title, because I'm curious to expand my horizons in terms of NA and romance. Well. This book was honestly really good. I had a pretty good feeling going in that I'd enjoy it, because Jennifer L. Armentrout (who wrote this as J. Lynn), but I didn't expect to like it so much. I'll admit I read it one sitting. It was just so fun and addicting!
The book is about Sydney and Kyler, who have known each other since they were kids, and have been best friends since. Each harbors romantic feelings for the other, but they are blind to each other's feelings. Syd thinks Kyler would never be interested in a girl like her, and Kyler thinks he'll never be good enough for a girl like Syd. The two get snowed-in at a ski resort, and that's when, stuck in a lodge together for days on end, their true feelings start to come out. Syd and Kyler have years of strong friendship, and it's clear they care about and respect each other. So it was hard for them because they didn't want to ruin their awesome friendship by taking the next step.
I don't read a whole lot of straight-up romance. I'm sure it's the genre, but the constant hidden feelings/longing/jealousy/awkwardness from both characters was so frustrating. But, when they finally got together, it was all the more enjoyable. Because FINALLY. Also, the book is told in alternating POV from Syd and Kyler, and seeing both sides of the story was great, and intensified the frustration. JUST MAKE OUT ALREADY YOU IDIOTS GODDAMMIT! The romance didn't feel forced at all, which was nice. It took its time to develop… and then, goodness gracious, it was there in full force!
Syd and Kyler were a great pair. They had excellent chemistry and a wonderful banter. It took me a little while to warm up to the both of them, but after a while I really liked them, even if they acted a little (or a lot) dense some of time. Kyler basically starts off as a man-whore, but he's a great guy besides all the sleeping around, and he won me over in the end. Syd felt a little too perfect, but despite her shyness she had some spunk to her. I absolutely loved the scene where she got drunk — and she's a total lightweight so that made it all the more hilarious. I died laughing when she almost crashed into a mailbox and started calling it a ninja.
Besides the romance, there is a bit of real plot that felt a little forced but was still enjoyable and good for character development. While Syd and Kyler are stuck in their lodge, mysterious things start happening such as a broken window, cut cables, and a snowmobile that doesn't stop moving… These incidents felt a little disturbing, since Syd and Kyler were alone, but I liked the sense of potential danger that lingered. It was super obvious what was going on, and I didn't like the big confrontational scene toward the end regarding said strange happenings, but it really ended up testing Syd and Kyler's relationship — for the better.
I really enjoyed Frigid, and for any Jennifer L. Armentrout fans out there who want some more romance and some very steamy scenes (this is NA, so sex scenes galore! They'll be sure to warm you up on a cold day, too!), I highly recommend this book. Even if the cover is just so dang laugh-worthy. I mean, really? It's freaking snowing out! Close your shirt before you catch pneumonia! ♦
---
So tell me…
Have you read Frigid? If you haven't, would you be interested to? What was the last "winter-y" book you read? Comment below letting me know! And, as always, happy reading!
Follow me @ toweroftomes on Twitter | Instagram | Goodreads | and Bloglovin'!