Waiting on Wednesday is hosted by Jill @ Breaking the Spine.
---
What book am I eagerly anticipating at this moment? Why it just so happens to be…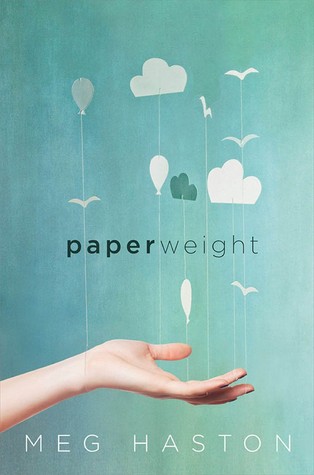 Paperweight
by Meg Haston
Releases July 7th from HarperTeen
Synopsis:
Seventeen-year-old Stevie is trapped. In her life. In her body. And now in an eating-disorder treatment center on the dusty outskirts of the New Mexico desert.
Life in the center is regimented and intrusive, a nightmare come true. Nurses and therapists watch Stevie at mealtime, accompany her to the bathroom, and challenge her to eat the foods she's worked so hard to avoid.
Her dad has signed her up for sixty days of treatment. But what no one knows is that Stevie doesn't plan to stay that long. There are only twenty-seven days until the anniversary of her brother Josh's death—the death she caused. And if Stevie gets her way, there are only twenty-seven days until she too will end her life.
In this emotionally haunting and beautifully written young adult debut, Meg Haston delves into the devastating impact of trauma and loss, while posing the question: Why are some consumed by their illness while others embark on a path toward recovery?
---
Normally I'm not drawn to books that deal with serious issues. But there's something so wistful and whimsical about that absolutely breathtaking cover. I don't believe I've read a book about eating disorders yet, although I've read plenty about suicide and depression. I feel like this book is going to be very poignant, but also hopeful in the end. (This is me completely speculating.) I'm actually quite interested in seeing how this book plays out.
---
Are you looking forward to reading Paperweight?
What can't you wait to read right now?
Follow me @ toweroftomes on Twitter | Instagram | Goodreads | and Bloglovin'!