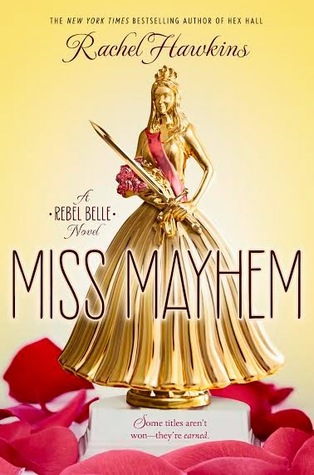 Book title: Miss Mayhem
Author: Rachel Hawkins
Series: Rebel Belle, #2
Publisher: G. P. Putnam's Sons (Penguin Young Readers Group)
Release date: April 2015
Format: Hardcover, 273 pages
Source: Library.
Read my review of Rebel Belle, book 1, here.
---
Synopsis:
Life is almost back to normal for Harper Price. The Ephors have been silent after their deadly attack at Cotillion months ago, and best friend Bee has returned after a mysterious disappearance. Now Harper can return her focus to the important things in life: school, canoodling with David, her nemesis-turned-ward-slash-boyfie, and even competing in the Miss Pine Grove pageant.
Unfortunately, supernatural chores are never done. The Ephors have decided they'd rather train David than kill him. The catch: Harper has to come along for the ride, but she can't stay David's Paladin unless she undergoes an ancient trial that will either kill her . . . or connect her to David for life.
---
The review:
I feel like I don't have quite enough to say about Miss Mayhem for a full review, so here comes a review in list form. Changing it up!
The good:
Harper is totes spunky and sassy. It was great to be back with her.
I understood her feelings of trying to do everything herself when it was clear to everyone that she couldn't do it all. Harper was lying to herself about everything being okay. She has been able to control most aspects of her life up until now, but now that she's in a situation where she can't control anything, she's scared. Harper had a lot of growth in this book, which I appreciated.
David's Oracle powers are getting freaky. I'm also really scared for David in the next book. I just want him and Harper to have a happy ending!
The book reads super quickly. It also isn't one of those super heavy books where the world is ending and everyone's stressed out about life and death. Well, I mean, not everything is peachy here, but thank goodness for lighter, fluffier books that have humor and aren't terrible and grim 100% of the time.
We finally get a trustworthy adult in the know! Thank goodness for Aunt Jewel. At least someone is now looking out for Harper and the rest of the team.
The fine/all right:
It takes a while for stuff to start happening. The book has uneven pacing and some parts felt a little drawn out, but everything's still enjoyable. The book reads quickly, like I mentioned before, so this didn't really bug me.
I liked Miss Mayhem, but it's not quite as good as it's predecessor, Rebel Belle.
The not-as-good:
I didn't like how Harper (and Ryan) lied to David, but I could kind of understand why she did.
I also didn't like how everyone did things behind one another's backs. Seriously, someone needed to put Harper, David, Bee, and Ryan in a room together and have them hash it out and come clean. All because everyone was ready to throttle someone else because of bad communication. Yeesh.
Bee and Ryan kind of got on my nerves, Bee definitely more so.
I thought the pageant was going to be a much bigger deal than it turned out to be… Seeing as Cotillion in the last book was a huge thing from the start, I expected the Miss Pine Grove Pageant to be just as important. It wasn't. Which was a little misleading.
Not a huge amount of plot that propels the complete story along happened, as the book is definitely focused on the characters and everyone's strained emotions.
To wrap it up: I did really like Miss Mayhem, but it just wasn't quite as awesome as Rebel Belle. I still recommend sticking with the series, though, because Miss Mayhem IS a good book. And it's possible the third and final book could be pretty crazy, thanks to Miss Mayhem's ending. (At least, I hope it will be!) ♦
---
So tell me…
Have you read Miss Mayhem? If you haven't, would you be interested to? What was the last book you read that contained an Oracle? How about a book that featured a beauty pageant? Comment below letting me know! And, as always, happy reading!
Follow me @ toweroftomes on Twitter | Instagram | Goodreads | and Bloglovin'!