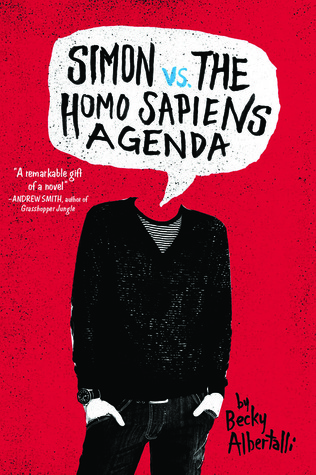 Book title: Simon vs. the Homo Sapiens Agenda
Author: Becky Albertalli
Publisher: Balzer + Bray (Harper Collins Publishers)
Release date: April 2015
Format: Hardcover, 303 pages
Source: Library.
---
Synopsis:
Sixteen-year-old and not-so-openly gay Simon Spier prefers to save his drama for the school musical. But when an email falls into the wrong hands, his secret is at risk of being thrust into the spotlight. Now Simon is actually being blackmailed: if he doesn't play wingman for class clown Martin, his sexual identity will become everyone's business. Worse, the privacy of Blue, the pen name of the boy he's been emailing, will be compromised.
With some messy dynamics emerging in his once tight-knit group of friends, and his email correspondence with Blue growing more flirtatious every day, Simon's junior year has suddenly gotten all kinds of complicated. Now, change-averse Simon has to find a way to step out of his comfort zone before he's pushed out—without alienating his friends, compromising himself, or fumbling a shot at happiness with the most confusing, adorable guy he's never met.
---
The review:
I adored this book. Absolutely loved loved loved it. I actually read Simon vs. the Homo Sapiens Agenda (the title will make sense once you read the book) in one sitting. I got it out from the library in the afternoon, and then came home and read the entire thing. After all the glowing reviews I'd seen, I knew this would be the book for me. I also was in dire need of something lighter in tone after all the dark and emotionally heavy books I'd recently read (most notably Written in the Stars).
This novel is about a gay, not-yet-out teenage boy (Oreo-loving and Harry Potter nerd Simon Spier) who gets blackmailed by a fellow classmate (said classmate, Martin, is a total douche-bag). Simon's not ashamed about being gay, but he doesn't want to make it a huge deal and doesn't want his sexual identity to be his entire school's beeswax. He reluctantly does what Martin asks of him for fear of Martin exposing not just Simon as gay, but "Blue" as well.
Simon has been emailing a boy called "Blue", who is also gay and goes to the same school as Simon. Neither know each other's identities in real life (Simon signs his emails as "Jacques"), but they fall in love through their adorable and grammatically perfect emails. Twenty-first century love letters, you could call them. The emails were freaking adorable and I was grinning and dancing on clouds every time I read them.
Anyway, Simon is constantly preoccupied with figuring out Blue's true identity, and the reader guesses alongside Simon. I knew right off the bat that anyone Simon suspected was Blue would not be Blue, but I wasn't sure which less-featured character would turn out to be Blue. I suspected everyone, though I couldn't confidently pinpoint anyone. I was pleasantly surprised at who Blue turned out to be, though, and I'll admit that I read the scene where Simon and Blue finally meet a good number of times… like, upwards of three. It was just so freaking adorable and amazing and my heart was melting and I was squealing inside the entire time. Gah. *Incoherent noises.*
I will say that I especially adored one of Simon's potential Blue candidates — a boy in the drama club named Cal. However, I wish Simon hadn't treated Cal so harshly after finding out that Blue was not Cal. Simon completely ignored the poor guy and decided to make it slightly weird between them for no good reason. I felt bad for Cal, who was truly a sweetheart and someone I would scoop up myself if I could.
I loved Simon's wonky family. His parents and two sisters love him, and he loves them, and they're all quirky but supportive and actually pretty awesome. Simon's close friends were less memorable, but they acted realistically. Simon goes through some rough patches with them, but they get past those big bumps and still love and accept him for who he is. It's probably a no-brainer that Simon comes out eventually. It was really awkward and emotional for him to admit his sexuality, but he was luckily surrounded by truly caring people who all took his news extremely well. Hooray!
Even though this book is ridiculously cute and made me happy, it does have its sadder, more serious moments. Important themes are touched on without any tiptoeing, but nothing seriously horrendous happens — it's not that kind of book, thank goodness. We need more positive, happy diverse books, and not only the ones that play out the cruel extremes (although those are also very important; I'm just saying that, to me, there seems to be an unbalance between the dark diverse books and the lighter diverse books). Simon's story has its unpleasant hiccups, but in the end everything is going to be okay. And I loved that. I loved finishing a book in a great mood, feeling all radiant and warm-and-fuzzy.
I'm going to end with an amazing quote from page 269:
White shouldn't be the default any more than straight should be the default. There shouldn't even be a default.
Becky Albertalli has captured my heart with Simon and Blue and I urge you to read this book. I can't even put into words how much I loved it. ♦
---
So tell me…
Have you read Simon vs. the Homo Sapiens Agenda? If you haven't, would you be interested to? What was the last LGBT book you read? Comment below letting me know! And, as always, happy reading!
Follow me @ toweroftomes on Twitter | Instagram | Goodreads | and Bloglovin'!