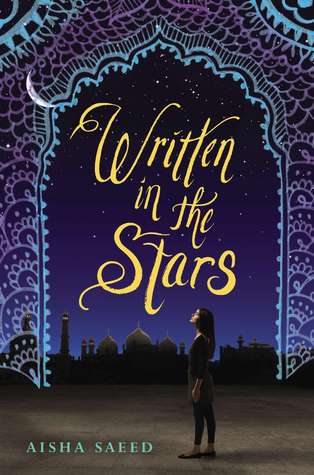 Book title: Written in the Stars
Author: Aisha Saeed
Publisher: Nancy Paulsen Books (Penguin Young Readers Group)
Release date: March 2015
Format: Hardcover, 277 pages
Source: Library.
---
Synopsis:
This heart-wrenching novel explores what it is like to be thrust into an unwanted marriage. Has Naila's fate been written in the stars? Or can she still make her own destiny?
Naila's conservative immigrant parents have always said the same thing: She may choose what to study, how to wear her hair, and what to be when she grows up—but they will choose her husband. Following their cultural tradition, they will plan an arranged marriage for her. And until then, dating—even friendship with a boy—is forbidden. When Naila breaks their rule by falling in love with Saif, her parents are livid. Convinced she has forgotten who she truly is, they travel to Pakistan to visit relatives and explore their roots. But Naila's vacation turns into a nightmare when she learns that plans have changed—her parents have found her a husband and they want her to marry him, now! Despite her greatest efforts, Naila is aghast to find herself cut off from everything and everyone she once knew. Her only hope of escape is Saif . . . if he can find her before it's too late.
---
The review:
Written in the Stars was emotionally difficult to read because of the heavy subject material, but I am very glad I read it. It follows a Pakistani-American girl named Naila who is forced into marriage by her parents for cultural and personal reasons. Forced marriage, which is much different from arranged marriage, is an issue so many people aren't aware of that affects the lives of women globally.
Such as Naila's case: She has an adorable (secret/forbidden) boyfriend and is about to go to college for med school — but then she's taken on an "extended" vacation to visit family in Pakistan… and finds herself forced into a marriage. She endures physical abuse in addition to emotional abuse. She and her cousin Selma try to find ways for Naila to escape and return home to America. Naila's boyfriend Saif also does what he can from halfway around the world.
It was heart-wrenching to read about Naila's horrible situation, and I sympathized for her every step of the way. I hated her parents for what they did to her, even though, in their eyes, they thought that what they were doing what was right. It was hard to read about Naila's pain and desperation, and to see her become progressively more hopeless and traumatized.
There really isn't anything truly negative I have to say about Aisha Saeed's powerful debut. Perhaps the only technical thing I can nitpick is the plot, which just barreled forward without any respite. I both liked and disliked how the book raced through Naila's story. It made it constantly gripping, yanking me along, as it was never dull. But I also kind of wished that the novel had taken more time to describe Naila's life in Florida and her environment in Pakistan. I even would have appreciated being able to get to know the other characters beyond their names a little bit more. The characters weren't as layered and distinct as they could have been, but this didn't bother me — I'm only nitpicking this days after finishing the book.
Written in the Stars is an excellent book that details very real situations some women find themselves in. I am now aware of what girls are subjected to in the process of forced marriages, and I am very glad I picked up this novel about how one girl chooses to survive. If you're looking for something impactive and diverse, I highly recommend Written in the Stars. Aisha Saeed's story is a powerful message that will stick with you long after. ♦
---
So tell me…
Have you read Written in the Stars? If you haven't, would you be interested to? And have you read any book about forced/arranged marriage? How about a book that features a Pakistani protagonist? Comment below letting me know! And, as always, happy reading!
Follow me @ toweroftomes on Twitter | Instagram | Goodreads | and Bloglovin'!