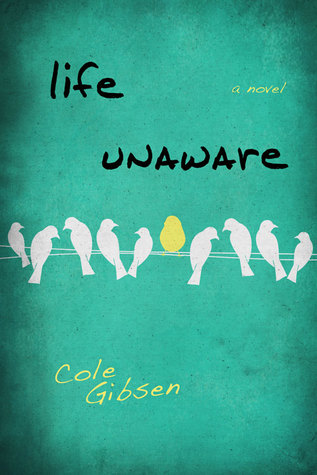 Book title: Life Unaware
Author: Cole Gibsen
Publisher: Entangled Teen (Entangled Publishing)
Release date: April 28th, 2015 — Happy Book Birthday! *Throws confetti*
Format: egalley, 320 pages
Source: I received this book from the publisher in exchange for review consideration. This in no way affects my review; all opinions are my own. Thank you, Entangled Teen!
---
Synopsis:
Regan Flay has been talking about you.
Regan Flay is on the cusp of achieving her control-freak mother's "plan" for high school success―cheerleading, student council, the Honor Society—until her life gets turned horribly, horribly upside down. Every bitchy text. Every bitchy email. Every lie, manipulation, and insult she's ever said have been printed out and taped to all the lockers in school.
Now Regan has gone from popular princess to total pariah.
The only person who even speaks to her is her former best friend's hot but socially miscreant brother, Nolan Letner. Nolan thinks he knows what Regan's going through, but what nobody knows is that Regan isn't really Little Miss Perfect. In fact, she's barely holding it together under her mom's pressure. But the consequences of Regan's fall from grace are only just beginning. Once the chain reaction starts, no one will remain untouched…
Especially Regan Flay.
---
The review:
Regan is a bully, talking about people behind their backs to propel herself forward in life: cheer team, popularity, student council, etc. But her life is thrown into perspective when she becomes the victim of bullying, when someone else reveals all the horrible things she's said about other people. Her entire school turns on her. It is a huge wake-up call for Regan, and I appreciated how she realized her behavior and was strong enough to admit to it, apologize, and try to change. It took me a while to warm up to her, but in the end I liked her. I'd gone through the story's whole ordeal with Regan and saw how she was affected and how she matured.
A lot of Regan's problems (such as an anxiety disorder that she has to remedy with medication) are also due to her family dynamic. Her mother is a politician and is more concerned with image and winning than happiness and kindness. Regan's mother has also planned out her daughter's entire life; she wants to have a perfect, high-achieving mini-me, so to speak. When Regan starts to break down because of the bullying at school, she can't even talk about it at home without looking weak in the eyes of her mother. I really loathed Regan's mom. I totally get why Regan had to take pills just to cope and to ward of panic attacks. Living with someone as intense and demanding as her mother would make anyone miserable. It was especially difficult to read about how her mom accused Regan of doing drugs when she noticed Regan's change in attitude. The woman didn't even apologize for her accusation when she had Regan tested and it was clear Regan was telling the truth about not doing drugs. Yeesh-mageesh.
Then there's Nolan, a sort of social outcast due to his eccentric personality. He was cute. Obnoxious at first, but I grew to like him, just like Regan did. However, Nolan hid something from her, and when Regan found out, she was seriously pissed and hurt. I was glad she stayed mad at him and that she wasn't about to forgive him so soon for what he kept from her. Hooray for heroines who don't take crap from boys and who actually have some normal common sense and emotions like the rest of us. I'd be really mad at Nolan for what he did and wouldn't just go, "Oh well, let's put it behind us and have an apology make out session." Props to Regan for not being a dim-witted cliche heroine like that.
I found I was able to relate to the story more than I thought I would. Although I've only seen and experienced bullying to minor degrees, it's always there in the form of cliques, people who think they're better than you, people who are insecure, etc. I know and have met girls who resemble Cole Gibsen's characters. I've crossed paths with queen bees, nasty gossips, liars, manipulators, kids about to crack under pressure and expectations, controlling parents… I've been in situations where people act nasty, and I have to say that I wouldn't forgive them so easily. It was a bit unbelievable how nice the book's ending was: the whole school was willing to forgive Regan. That just didn't seem realistic. While some people in the real world, I suppose, be willing to give someone like Regan a second chance, I personally wouldn't be so quick. If someone hurts others like that but then transforms into another person practically overnight, I'd be very wary. The damage is done, and I don't know if I could or would want to start with a clean slate.
Besides all the bullying… I thought I could predict the plot, but it was a nice surprise when I couldn't, when the story did not go the cliche routes. The book reads quickly, with easy language and lots of up-down-up-down. There are no really big lulls, as there's always tension or the threat of something bad about to happen. I liked the little bit of LGBT present in the book — yay for diversity. And the ending, as I mentioned before, seemed a little too good to be true. It was fine, but was wrapped up a bit too neatly. (SPOILER ALERT! Although Regan still hasn't completely forgiven Nolan, even though it's clear she's going to give him a second chance. END OF SPOILER.) I enjoyed Life Unaware, even though it's a type of novel I normally wouldn't find myself attracted to, and think it's a very good book that deals with hard issues. ♦
---
So tell me…
Have you read Life Unaware? If you haven't, would you be interested to? What was the last book you read about bullying? (Or how about depression/suicide?) Comment below letting me know! And, as always, happy reading!
Follow me @ toweroftomes on Twitter | Instagram | Goodreads | and Bloglovin'!