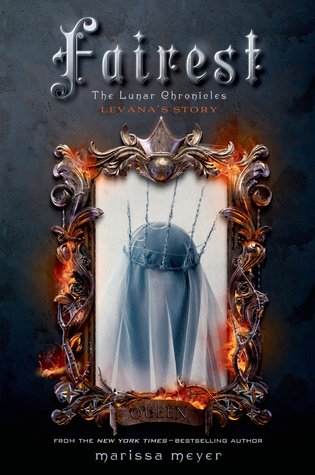 Fairest
by Marissa Meyer
(The Lunar Chronicles, #3.5)
Feiwel and Friends (Macmillan)
January 2015
Hardcover, 220 pages
Source: Library.
---
Synopsis:
In this stunning bridge book between Cress and Winter in the bestselling Lunar Chronicles, Queen Levana's story is finally told.
Mirror, mirror on the wall,
Who is the fairest of them all?
Fans of the Lunar Chronicles know Queen Levana as a ruler who uses her "glamour" to gain power. But long before she crossed paths with Cinder, Scarlet, and Cress, Levana lived a very different story – a story that has never been told . . . until now.
Marissa Meyer spins yet another unforgettable tale about love and war, deceit and death. This extraordinary book includes full-color art and an excerpt from Winter, the next book in the Lunar Chronicles series.
---
The review:
Fairest summed up in one sentence: Levana is all kinds of messed-up. No thanks to her nasty piece of work sister, Channary, who is despicable, too. Basically, the Lunar rulers are crazy, is what we can take away from this book.
This prequel novella is definitely a nice place-holder for Winter, the last book in Marissa Meyer's awesome Lunar Chronicles (which doesn't release until November, sigh). Fairest is a terrific villain's origin story — and Snow White told from the evil queen's perspective. It not only gives Levana more dimensions than she has in Cinder, Scarlet, and Cress, but it makes her quite pathetic (yet still batshit cray-cray) in my eyes, even though now I understand why she became that way. The entire book was cringe-inducing, as almost every action, decision, and thought of Levana's you can see is made by a girl who is terribly insecure, afraid, and damaged inside. She's blinded by her own problems and makes things worse for everyone in her attempts to feel important, accepted, and loved. She uses her glamour as her shield, a power that can transform her appearance so that she can look like anyone she wants. As a child she was horrifically burned in a fire, and her spiral into darkness really begins with her obsession with vanity, and her refusal to let anyone see her disfigurement.
There are two immensely unnerving things Levana does: One is use her powers to mind-control Evret, a palace guard she's in love obsessed with. Unhealthily obsessed with. The "romance" was creepy as hell and weird and cringe-inducing. *Shudder.* The other unnerving thing that comes later in the story is when Levana, power-hungry and angry, plots to get rid of the person that separates her from the throne. Levana will never, ever be a redeemable character, not after she did that. I won't spoil anything for people who haven't read the rest of the Lunar Chronicles, but know that it's very icky reading about all the incidents.
I never had any sympathy for Levana (except for the one scene where we learn about her disfigurement. That was truly painful to read about). She may be a seriously messed-up soul, but I still didn't feel sorry for her. She's a murderer and a manipulator, and a selfish one at that. I still hate her and can't wait for her sad butt to get kicked in book 4. But I highly recommend Fairest to you! It's an excellent, fast-paced read that I devoured. Levana's backstory is so interesting, and it's great to see how everything in the series was initiated. ♦
---
So tell me…
Have you read Fairest? If you haven't, would you be interested to? Have you read any of the other books in the Lunar Chronicles? And what villain would you like to read an origin story about? Comment below letting me know! And, as always, happy reading!
Follow me @ toweroftomes on Twitter | Instagram | Goodreads | and Bloglovin'!