---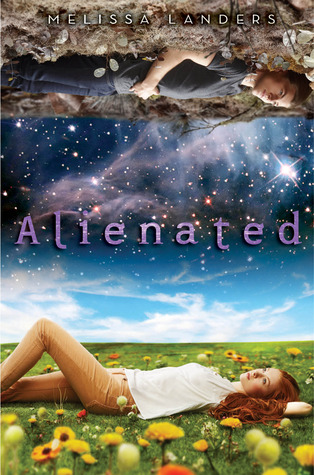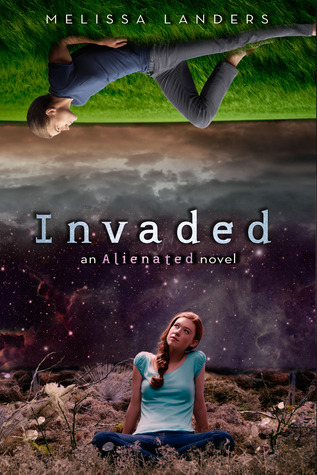 Click on a title to read my review:
EDIT: There is going to be a third Alienated book!!!
---
Overall thoughts:
Alienated and Invaded are fun sci-fi books that are a breeze to fly through. Alienated has a wonderful romance and is definitely my favorite of the two. Invaded suffers because Cara and Aelyx are separated, dealing with their own problems on each other's worlds. This is also a duology and Invaded treats the story as if there's a third book, when, contractually, there is not. The ending is unsatisfactory, rushed and way too open-ended. But besides the flaws, this is a great series. It's not especially unique, but it accomplishes what it set out to do. You'll get what you expected. Namely, hot alien boyfriend. 😉
---
Excerpts from my reviews:
Alienated review excerpts:
This was the perfect fun, light read… I ended up reading it in two sittings. ♦ I adored Aelyx's culture/world shock. It was hilarious how he wasn't used to human customs or figures of speech, or how he knew he wanted to do something but had no idea how to actually do it… He was a very conflicted character and showed a lot of layers. I liked how he wasn't just a generic hot guy. ♦ A lot of the book deals with Cara's lost and shattered friendship with Tori… She came off rude, pushy, and bitchy, and I honestly don't know why she and Cara were besties. She obviously wasn't a true friend to Cara because she so easily turned her back… It was really irritating to read about Cara's feelings and her constant need for Tori back in her life. ♦ The plot took a while to go anywhere, but that was okay because… I loved watching Cara and Aelyx's relationship build. ♦ Alienated was a great book that held my attention and left me eagerly wanting to read the sequel. I wouldn't say this book pushes any boundaries or is particularly unique and original, but it does what it set out to do excellently.
Invaded review excerpts:
I enjoyed Invaded but didn't love it as much as Alienated… Cara and Aelyx are off solving their own problems on different worlds and they don't reunite until close to the end of the book… ♦ … Each storyline had its ups and downs… Cara's older brother, Troy, also has a big role to play in this book, and it was great to see their relationship mend and strengthen. ♦ [Syrine's] a tough cookie and I really disliked her in Alienated — but warmed to her in Invaded. ♦ This series is a duology, but Melissa Landers left the door wide open for another sequel. The ending felt rushed and nothing much was resolved; so many things were left hanging. ♦ Invaded was a fun, fluffy read that… had some awesome supporting characters and some very mysterious villains. The romance wasn't as pronounced as in the previous book, and plot-wise it took a long time for things to happen. But I loved the snappy writing and Cara's spunk… I thought the L'eihr world-building was interesting and kind of want an encyclopedia about the planet's history and language. If you liked Alienated, Invaded is a pretty good sequel to read, although there are some illogical parts and the open-endedness was definitely unsatisfying.
---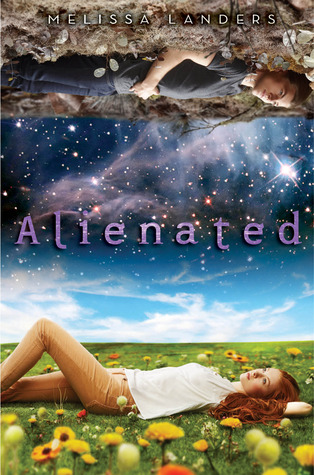 Alienated
by Melissa Landers
(Alienated, #1)
Disney Hyperion
February 2014
Synopsis:
Two years ago, the aliens made contact. Now Cara Sweeney is going to be sharing a bathroom with one of them.
Handpicked to host the first-ever L'eihr exchange student, Cara thinks her future is set. Not only does she get a free ride to her dream college, she'll have inside information about the mysterious L'eihrs that every journalist would kill for. Cara's blog following is about to skyrocket.
Still, Cara isn't sure what to think when she meets Aelyx. Humans and L'eihrs have nearly identical DNA, but cold, infuriatingly brilliant Aelyx couldn't seem more alien. She's certain about one thing, though: no human boy is this good-looking.
But when Cara's classmates get swept up by anti-L'eihr paranoia, Midtown High School suddenly isn't safe anymore. Threatening notes appear in Cara's locker, and a police officer has to escort her and Aelyx to class.
Cara finds support in the last person she expected. She realizes that Aelyx isn't just her only friend; she's fallen hard for him. But Aelyx has been hiding the truth about the purpose of his exchange, and its potentially deadly consequences. Soon Cara will be in for the fight of her life—not just for herself and the boy she loves, but for the future of her planet.
---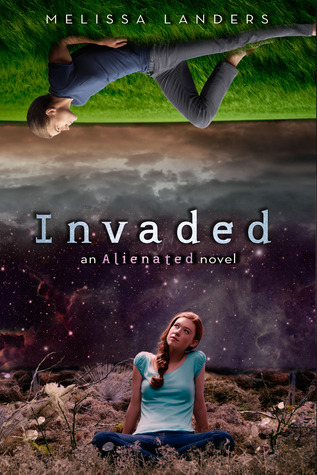 Invaded
by Melissa Landers
(Alienated, #2)
Disney Hyperion
February 2015
Synopsis:
The romantic sequel to Alienated takes long-distance relationships to a new level as Cara and Aelyx long for each other from opposite ends of the universe…until a threat to both their worlds reunites them.
Cara always knew life on planet L'eihr would be an adjustment. With Aelyx, her L'eihr boyfriend, back on Earth, working to mend the broken alliance between their two planets, Cara is left to fend for herself at a new school, surrounded by hostile alien clones. Even the weird dorm pet hates her.
Things look up when Cara is appointed as human representative to a panel preparing for a human colony on L'eihr. A society melding their two cultures is a place where Cara and Aelyx could one day make a life together. But with L'eihr leaders balking at granting even the most basic freedoms, Cara begins to wonder if she could ever be happy on this planet, even with Aelyx by her side.
Meanwhile, on Earth, Aelyx, finds himself thrown into a full-scale PR campaign to improve human-L'eihr relations. Humans don't know that their very survival depends on this alliance: only Aelyx's people have the technology to fix the deadly contamination in the global water supply that human governments are hiding. Yet despite their upper hand, the leaders of his world suddenly seem desperate to get humans on their side, and hardly bat an eye at extremists' multiple attempts on Aelyx's life.
The Way clearly needs humans' help . . . but with what? And what will they ask for in return?
---
About Melissa Landers:
Melissa Landers is a former teacher who left the classroom to pursue other worlds. A proud sci-fi geek, she isn't afraid to wear her Princess Leia costume in public—just ask her husband and three kids. She lives just outside Cincinnati and writes adult contemporary romance as Macy Beckett.
---
Have you read the Alienated duology?
If so, which book was your favorite?
If you haven't, would you be interested in reading the series now?
Which of the covers do you prefer?
Comment below letting me know!
Follow me @ toweroftomes on Twitter | Instagram | Goodreads | and Bloglovin'!