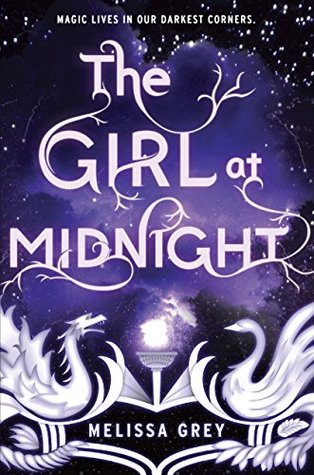 The Girl at Midnight
by Melissa Grey
(The Girl at Midnight, #1)
Delacorte Press (Random House Children's Books)
April 28th, 2015
egalley, 368 pages
Source: I received this book from the publisher through NetGalley in exchange for review consideration. This in no way affects my review; all opinions are my own. Thank you, Delacorte and Random House Children's!
---
Synopsis:
For readers of Cassandra Clare's City of Bones and Leigh Bardugo's Shadow and Bone, The Girl at Midnight is the story of a modern girl caught in an ancient war.
Beneath the streets of New York City live the Avicen, an ancient race of people with feathers for hair and magic running through their veins. Age-old enchantments keep them hidden from humans. All but one. Echo is a runaway pickpocket who survives by selling stolen treasures on the black market, and the Avicen are the only family she's ever known.
Echo is clever and daring, and at times she can be brash, but above all else she's fiercely loyal. So when a centuries-old war crests on the borders of her home, she decides it's time to act.
Legend has it that there is a way to end the conflict once and for all: find the Firebird, a mythical entity believed to possess power the likes of which the world has never seen. It will be no easy task, though if life as a thief has taught Echo anything, it's how to hunt down what she wants . . . and how to take it.
But some jobs aren't as straightforward as they seem. And this one might just set the world on fire.
---
The review:
The Girl at Midnight has been compared to Daughter of Smoke and Bone (the first book I read last year and loved) and The Mortal Instruments (I've only read City of Bones, and that was a few years ago) because of the similar fantastical and mythological elements and the shared urban fantasy setting. I do agree that The Girl at Midnight starts out a bit like Daughter of Smoke and Bone (I'm not too sure of The Mortal Instruments, since I haven't read the whole series), but Melissa Grey's novel grows into its own thing, and I stopped noticing or caring about similarities.
In this world, there are two types of human-like magical beings that are at constant war with each other: the bird-like people, the Avicens, and the dragon-like people, the Drakharins. (DRAGONS! Book wins instant points from me.) The Girl at Midnight is a quest to find the solution for peace between the Avicens and Drakharin: It is a search for the legendary Firebird. It is an epic quest our characters go on (that includes breaking into and stealing artifacts from the Louvre and Metropolitan Museum of Art!), and I couldn't stop reading it once things really picked up (hint: jealous and batshit crazy sister Drakharin overtakes the throne). This book had me laughing, gasping and gaping, and tearing up. The feels hit me hard, man. And now I'm coming off a book high and going into a book hangover because I need the sequel but it's not coming out until I don't know when.
I adored Echo, our plucky heroine. She's a human, but raised within the magical world of the Avicens. (And she lives in the New York Public Library! Imagine that, actually LIVING in a library! I'd die of happiness.) She's almost obnoxiously sarcastic, but her sarcasm is hilarious and on point, and she's one hell of a badass, albeit a bit reckless. I was rooting for her the whole book, though. I loved her perseverance, her brains, her sassiness, and her heart. She's a new favorite kickass protagonist of mine. I want her as my best friend.
The supporting (but still extremely important) characters were all fantabulous! I haven't read a book in a long time where I enjoyed all the characters so much. (The villain, Tanith, left a bit to be desired in a mad queen/mad Drakharin ruler, but I didn't really mind because the rest of the cast was so great and entertaining.) Everyone here has completely different personalities, and they make up quite an unlikely band of misfits. The chapters alternate between all five quest party members: Echo, Caius, Dorian, Ivy, and Jasper. Normally I'm not a huge fan of constantly switching viewpoints, but I loved all the characters so much it was a joy to get to see their adventures from each of them, and to better understand their emotional turmoil. (Totally shipping Dorian and Jasper. New OTP!)
Jasper was my absolute favorite. An Avicen peacock, he likes shiny and pretty things (cough, cough. Dorian, a Drakharin, is very shiny and very pretty), and he's coincidentally a thief (who can't swim to save his life). He owes Echo a favor (hint: it has something to do with a large body of water), but everything, even now his help, comes at a price. (Cue ominous music. Hehe.) Jasper's a flirt, but he's also got a lot more to him than what meets the eye. He's at first only interested in how he benefits from anything and everything, but he slowly starts to realize that he might not be the only important person in the room… just the most important. (Wink.)
Ivy was so sweet and quiet (she's a dove Avicen) but also very brave and someone I'd also love to be friends with. She was just in the wrong place at the wrong time and that's how she got caught up in this mess, but she's a true friend to Echo: When Ivy could go home and try to forget about what happened to her, she instead stays with and helps Echo like a true bestie would.
Dorian I felt least attached to of these five characters, but even he was interesting, redeeming himself in various small ways and learning to face the truth of his predicament. Ever the loyal Captain of the Drakharin Guard (former, since he and the others are on the run now), he's going to loyally follow Caius, his friend, to the ends of the world, just like Ivy will stick with Echo.
And finally, Caius. The Drakharin Prince. Whose twin sister, the power-hungry and violent Tanith, overthrows him for the throne. Caius was definitely a flawed person, but he really grew on me, and I adored the trust he and Echo built up. Yup, you guessed it — these two fall for each other. But it was nice seeing their relationship change over the course of the story, their situations forcing them to work together and rely on each other. The scene at the Met Museum when Echo and Caius were confronted/ambushed by Echo's boyfriend Rowan (this book is not super love triangle-y, don't worry; I just hope it doesn't get more love triangle-y in the next one) and archenemy Ruby was insane and shocking and delicious and oh so magnificently awkward. Needless to say, Echo was an emotional wreck afterward due to spoilery details I won't divulge.
The Girl at Midnight was a spectacular read. The beginning isn't quite as awesome as the rest of the book, but I hardly cared because Echo was cracking me up and Melissa Grey's writing flowed well and was descriptive and imaginative. I did guess the "twist" almost as soon as the thing it concerns was first mentioned very early on in the story (I had a flashback to the third book in The Grisha Trilogy), but I hardly cared because maybe it was supposed to obvious, and because it's the journey that counts. (SPOILER ALERT! At least, I think it's a spoiler? Playing it safe, just to be sure! Okay, the "twist" did seem really obvious. I guessed it based on the book's title alone, right when the thing was mentioned at the book's beginning. END OF SPOILER.) And this journey is fun, heart-pounding, and memorable. The Girl at Midnight is shooting straight up to the top of my faves of the year list. Melissa Grey, if you're reading this, know that you've just gained a giant fan and I absolutely cannot wait for book 2! ♦
---
So tell me…
Have you read The Girl at Midnight yet? If you haven't, would you be interested to? What was the last book you read that featured mythical, human-like creatures — or, say, an Oracle? Comment below letting me know! And, as always, happy reading!
Follow me @ toweroftomes on Twitter | Instagram | Goodreads | and Bloglovin'!