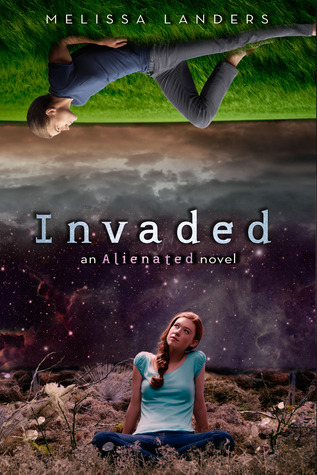 Invaded
by Melissa Landers
(Alienated, #2)
Disney Hyperion
February 2015
Hardcover, 356 pages
Source: Library.
Read my review of Alienated, Book 1, here.
---
Synopsis:
The romantic sequel to Alienated takes long-distance relationships to a new level as Cara and Aelyx long for each other from opposite ends of the universe…until a threat to both their worlds reunites them.
Cara always knew life on planet L'eihr would be an adjustment. With Aelyx, her L'eihr boyfriend, back on Earth, working to mend the broken alliance between their two planets, Cara is left to fend for herself at a new school, surrounded by hostile alien clones. Even the weird dorm pet hates her.
Things look up when Cara is appointed as human representative to a panel preparing for a human colony on L'eihr. A society melding their two cultures is a place where Cara and Aelyx could one day make a life together. But with L'eihr leaders balking at granting even the most basic freedoms, Cara begins to wonder if she could ever be happy on this planet, even with Aelyx by her side.
Meanwhile, on Earth, Aelyx, finds himself thrown into a full-scale PR campaign to improve human-L'eihr relations. Humans don't know that their very survival depends on this alliance: only Aelyx's people have the technology to fix the deadly contamination in the global water supply that human governments are hiding. Yet despite their upper hand, the leaders of his world suddenly seem desperate to get humans on their side, and hardly bat an eye at extremists' multiple attempts on Aelyx's life.
The Way clearly needs humans' help . . . but with what? And what will they ask for in return?
---
The review:
Invaded picks up from where Alienated left off. Cara is on L'eihr and Aelyx is on Earth, and they're trying to solidify the alliance between the two planets. I enjoyed Invaded but didn't love it as much as Alienated. As you can guess, Cara and Aelyx are off solving their own problems on different worlds and they don't reunite until close to the end of the book; their only interactions are through hologram-calls through their com-spheres. They talk together a lot, and they're lonely for each other's company. These guys are doing everything they can to make the best of their (life-threatening) situations.
Cara's side of the story was more interesting than Aelyx's, though each storyline had its ups and downs. She's in a new place and experiencing culture/world shock this time around. Almost all the L'eihrs are hostile to her, and someone's even trying to frame Cara for crimes. The laws on L'eihr are much harsher than those on Earth, the penalty for certain crimes being death. I liked her interactions at the daycare and her friendship with Aelyx's sister Elle. Cara's older brother, Troy, also has a big role to play in this book, and it was great to see their relationship mend and strengthen.
Aelyx is with Syrine, one of the other L'eihr exchange students from last book. She's a tough cookie and I really disliked her in Alienated — but warmed to her in Invaded. They're being guarded by David, a security guy who's hiding a few things behind his cheery, fun-loving demeanor. As the hostility from humans toward L'eihrs still hasn't died down from the previous book, there are many assassination attempts on Aelyx's life. It was interesting to learn the truth behind the attacks, and how things were twisted and manipulated.
This series is a duology, but Melissa Landers left the door wide open for another sequel. The ending felt rushed and nothing much was resolved; so many things were left hanging. I feel like she's counting on being able to write a third book, but since this was always a duology from the start it should have actually concluded here and left room for a sequel.
To sum it all up… Invaded was a fun, fluffy read that continued the story of Cara and Aelyx, and had some awesome supporting characters and some very mysterious villains. The romance wasn't as pronounced as in the previous book, and plot-wise it took a long time for things to happen. But I loved the snappy writing and Cara's spunk and Aelyx's lovesick heart. I thought the L'eihr world-building was interesting and kind of want an encyclopedia about the planet's history and language. If you liked Alienated, Invaded is a pretty good sequel to read, although there are some illogical parts and the open-endedness was definitely unsatisfying. ♦
---
So tell me…
Have you read Invaded? How about Alienated? If you haven't, would you be interested to? What was the last book you read featuring aliens? Comment below letting me know! And, as always, happy reading!
Follow me @ toweroftomes on Twitter | Instagram | Goodreads | and Bloglovin'!