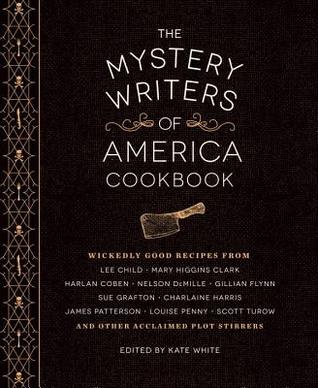 The Mystery Writers of America Cookbook
edited by Kate White
Quirk Books
March 2015
Hardcover, 171 pages
Source: I received this book from the publisher in exchange for review consideration. This in no way affects my review; all opinions are my own. Thank you, Eric and Quirk Books!
---
About the book:
The Mystery Writers of America have joined forces to deliver this superb collection of more than 100 wickedly good recipes. From Mary Higgins Clark's Game Night Chili and Harlan Coben's Crab Meat Dip to Scott Turow's Innocent Frittata and Kathy Reich's Shrimp Scampi, this cookbook offers one tasty treat after another. Complete with a glamorous art-deco design and intriguing sidebars on the surprising—and sometimes deadly—links between food and foul play, this is the ultimate cookbook for crime aficionados.
---
The review:
It turns out that mystery writers are also excellent cooks. Which isn't all that surprising, seeing as a lot of fictional murders are caused by using poison hidden in delectable, delicious foods. In fact, Agatha Christie poisoned characters in more than half of all her sixty-six books. She acquired a lot of knowledge on "drugs as therapeutic agents as well as poison" (page 25) due to her work as a hospital pharmacy dispenser during World War I and World War II. So. Don't ever tick off a mystery writer, else you should be very worried about what you or somebody else puts on your plate. You might end up dead in their new story.
The Mystery Writers of America Cookbook includes recipes from 100+ writers, covering everything you might dream up to eat throughout the day. The recipes range from ones that are featured in actual novels to ones that are meaningful somehow to the authors themselves. Each recipe is accompanied by a brief essay about its backstory. Some are meatier than others (har-har), some are funny, some are personal, some are just a sentence or two.
Not so shockingly, my favorite chapter was DESSERTS. And the recipes that really stood out to me here (and made my mouth water uncontrollably) were: Joseph Finder's "Doreen's Apple Crumble" (sounds divine), Gayle Lynds' "The Hungry Spy's Deep-Fried Chocolate Bananas" (GIMME THIS NOW), Diane Mott Davidson's "Fa-La-La Fruitcake Cookies" (I love cookies of all kind and these sound different and delectable), John Lutz's "Gooey Butter Cake" (BUTTER AND CAKE, PEOPLE), Linda Stasi's "Original New York City Cheesecake" (CHEESE AND CAKE, PEOPLE), James Patterson's "Grandma's Killer Chocolate Cake" (CHOCOLATE AND CAKE, PEOPLE), Mary Jane Clark's "Sinfully Delicious Siesta Key Lime Pie" (KEY LIMES AND PIE, PEOPLE), and Lois Lavrisa's "Cozy Southern Chocolate Chip Pudding Cake" (CHOCOLATE CHIPS AND PUDDING AND CAKE, PEOPLE. THIS ONE WINS). All of those dishes sound amazing and I desperately want to try making them for special occasions. Or, you know, just because I want to. ;D
I did notice that a lot of the recipes feature meat. I am a pescetarian except on Thanksgiving when I eat turkey. So while I was looking at the ingredients lists I noticed that this cookbook isn't optimal for vegetarians. Some of the vegetarian and pescetarian entree recipes that did catch my attention were: Leslie Budewitz's "Farfalle with Fennel and Pine Nuts", Raymond Benson's "Zillion Calorie Mac and Cheese" (because mac'n cheese is just so homey and comforting), Joelle Charbonneau's "Testing Pizza" (because who doesn't love pizza?!), Ken Ludwig's "Lenore Schneiderman's Gourmet Quiche" (I love quiche. I also just love the word quiche. Quiche, quiche, quiche, quiche), Carolyn Hart's "Simple Salmon", Kim Fay's "Caramelized Clay Pot Fish", Kathy Reichs' "Shrimp Scampi" (I would eat shrimp scampi all day every day if I was a hermit), and Linda Fairstein's "Angel Hair Pasta with Scallops and Shallots". I'd love to have these dishes for dinner!
Let's go through the other courses. Breakfast is my favorite meal of the day, and quite possibly the most important one. Some recipes that made my stomach grumble were: Alafair Burke's "Ellie Hatcher's Rum-Soaked Nutella French Toast" (NUTELLA!!), Margaret Maron's "Granny Knott's Baked Toast" (TOAST THAT IS BAKED), J. A. Jance's "Sugarloaf Cafe Sweet Rolls", Richard Castle's "Morning-After Hotcakes" (yes, you are correct, it's Castle from the TV show Castle!), Tammy Kaehler's "Simple, Speedy Gluten-Free Banana Bread" (I love banana bread way too much), and Frankie Y. Bailey's "Whole Wheat Wild Blueberry Lemon Pecan Muffins" (I also love muffins way too much).
Moving on to yummy appetizers: Catherine Coulter's "Big Bang Guacamole" (chips and store-bought guacamole is, like, my go-to easy dinner, especially if it's movie night at my house), Laura Lippman's "Aunt Effie's Salmon Ball", and Kathleen Antrim's "Cheesy Garlic Artichoke Dip".
Next up, soups and salads (I practically live on soups and salads; salads are the best): David Housewright's "Corn Chowder" (I love corn and I love chowder so I'm pretty sure I'd love this), Thomas H. Cook's "Past as Prologue (Vegetarian) Chili", Mary Ann Corrigan's "Take Your Pick Vegetable Salad", and Mo Walsh's "Mistaken Potato Salad".
And some side dishes: Hallie Ephron's "Simplest Ever Potato Pancakes" (I love potatoes and I love pancakes so I'm pretty sure I'd love this, too) and Bill Pronzini's "Nameless's Italian Garlic Bread" (GARLIC BREAD 5EVER!).
And finally, the drinks chapter, most recipes of which are alcoholic and as I am not yet 21 shouldn't even be looking at too hard. But, I am pleased to say that the very last recipe in this book is Lee Child's "Coffee, Pot of One". Because good coffee is, like, a gift from the gods.
In addition to the book's main purpose — serving as a cookbook — I also found myself wanting to read the mysteries and thrillers all these authors have written. Even some of the bigger names here, like Gillian Flynn and James Patterson, I have yet to read. So now I simply must read their books — over the tasty recipes of theirs they've so wonderfully shared with me. And the rest of the world, too, I suppose… The Mystery Writers of America Cookbook is a terrific and entertaining cookbook I'm so glad to have in my possession. I'll definitely be whipping up these meals in my kitchen and bragging about them shamelessly and obnoxiously in pictures on Twitter and Instagram. ♦
---
So tell me…
Have you read The Mystery Writers of America Cookbook? If not, is it something you'd be interested in? Do you like to cook? Do you like perusing cookbooks? What was the last thing you cooked that you're proud of? Comment below letting me know! And, as always, happy reading!
Follow me @ toweroftomes on Twitter | Instagram | Goodreads | and Bloglovin'!