---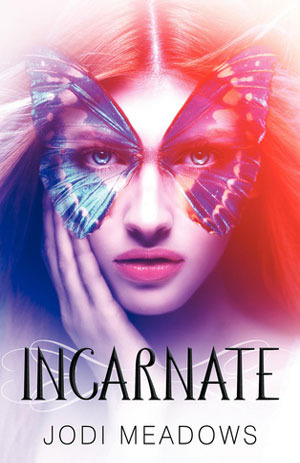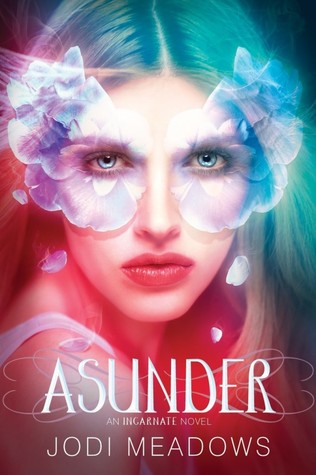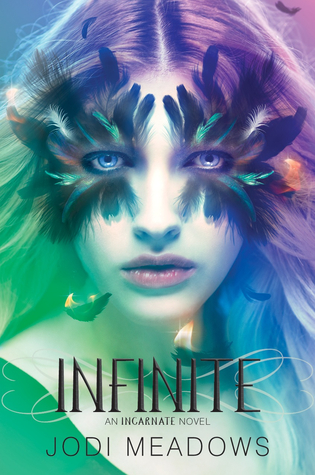 Click on a title to read my review:
Incarnate (#1)
Asunder (#2)
Infinite (#3)
---
Overall thoughts:
The series gets stronger as it progresses, with Ana really growing by the series' end. The dragons have a lot of page time in book 3, thank goodness. Ana and Sam's romance is so adorable. The Janan plot line gets better, don't worry. The pacing in all the books is uneven, and the supporting characters besides Sam and Cris aren't very memorable. But this is a great trilogy I do recommend.
---
Thoughts on the covers:
So gorgeous! Joel Tippie, the designer, did a fantastic job. (Brownie points for you!) I think Incarnate's cover is my favorite, just because of the butterfly, but I love the colors of Asunder and the fact that those are phoenix feathers (I think?) on Infinite. Also, thank the book publishing gods for the consistent cover designs!
---
Excerpts from my reviews:
Incarnate (#1) review excerpts:
There were so many questions I had. ♦ I liked [Ana], for the most part. At times she would wallow in her sorrows a bit too much, but she did grow as the story progressed. ♦ … the theme of a great Creator runs through the book a lot… I honestly wasn't a huge fan of the Janan plot line… and wonder if he'll play a part in the sequels. ♦ … I've been wanting to read [Incarnate] 60% because of the cover (and the other 40% for the premise). It has its slow moments… its scratch-your-head-in-puzzlement moments, and its roll-your-eyes moments, but I do recommend this unique novel and am definitely going to pick up the sequels.
Asunder (#2) review excerpts:
Asunder was a solid sequel… its… pacing is a bit uneven… Ana was a much stronger character here, but Sam lacked the appeal he had in Incarnate. The whole Janan plot line got way better and darker (like, seriously, way darker)… I also like how things are left hanging for the third and last book, Infinite, as the stakes are now even higher. ♦ It took a while for things to start getting interesting, and there were events I liked and didn't like… the overall story was still very enjoyable… The book's climax was chilling, and the shocker at the end… almost made me cry. ♦ I liked Ana a lot more in this book… She grew so much… She's going to be one kick-ass heroine in Book #3. I sure hope so. ♦ It's a very modern society that coexists in the world with magical beasts… In the first book we got some fabulous… dragon attacks, but in Asunder, no creatures besides the sylph made any appearances. That honestly might be my biggest complaint about the book: not enough dragons! This is definitely a fantasy book, but it doesn't scream high fantasy. Maybe in Infinite we'll finally see all these talked-about beasts. All I know is that if dragons aren't present in the trilogy's conclusion, I'll be sorely disappointed. ♦ Asunder was a good novel that sets the series up for a possibly epic ending. I didn't love it, but I was more than content with where Jodi Meadows took the story.
Infinite (#3) review excerpts:
I thought Infinite was an excellent ending to the Incarnate saga, but in the scope of things it didn't knock my socks off. The pacing, as I also mentioned in my reviews of books 1 and 2, was uneven, and the characters beyond Ana, Sam, and Cris weren't that memorable or unique. However, the Janan plot line reached its full height finally, and we at last got multiple encounters with the world's magical creatures: sylph, centaurs, trolls, phoenixes, and, wait for it… DRAGONS. The dragons contributed to a large part of my enjoyment of the book. But I also really liked Ana and Sam's relationship, and the overall quest to stop Janan from ruling the world. ♦ And finally, let me talk about the DRAGONS! They showed up in massive amounts! YAAAAAAAAS! 😀 (Can you tell how thrilled I am?)… I loved the scenes with the dragons. Because I just love dragons! I wish there'd been more troll action, though… ♦ Jodi Meadows' writing is whimsical and her series kept me engaged. I don't know which book I preferred more — each had its pros and cons but was very enjoyable.
---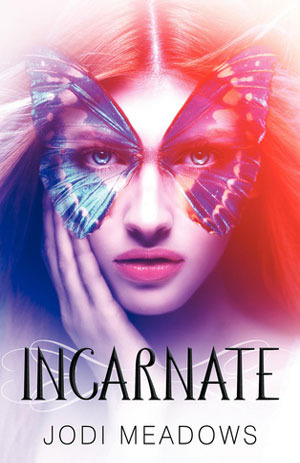 Incarnate
by Jodi Meadows
(Newsoul, #1)
Katherine Tegen Books
January 2012
Synopsis:
New soul
Ana is new. For thousands of years in Range, a million souls have been reincarnated over and over, keeping their memories and experiences from previous lifetimes. When Ana was born, another soul vanished, and no one knows why.
No soul
Even Ana's own mother thinks she's a nosoul, an omen of worse things to come, and has kept her away from society. To escape her seclusion and learn whether she'll be reincarnated, Ana travels to the city of Heart, but its citizens are afraid of what her presence means. When dragons and sylph attack the city, is Ana to blame?
Heart
Sam believes Ana's new soul is good and worthwhile. When he stands up for her, their relationship blooms. But can he love someone who may live only once, and will Ana's enemies—human and creature alike—let them be together? Ana needs to uncover the mistake that gave her someone else's life, but will her quest threaten the peace of Heart and destroy the promise of reincarnation for all?
Jodi Meadows expertly weaves soul-deep romance, fantasy, and danger into an extraordinary tale of new life.
---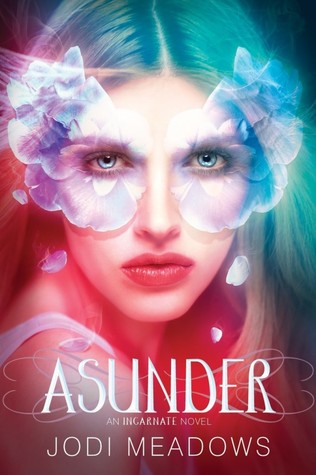 Asunder
by Jodi Meadows
(Newsoul, #2)
Katherine Tegen Books
January 2013
Synopsis:
DARKSOULS
Ana has always been the only one. Asunder. Apart. But after Templedark, when many residents of Heart were lost forever, some hold Ana responsible for the darksouls–and the newsouls who may be born in their place.
SHADOWS
Many are afraid of Ana's presence, a constant reminder of unstoppable changes and the unknown. When sylph begin behaving differently toward her and people turn violent, Ana must learn to stand up not only for herself but for those who cannot stand up for themselves.
LOVE
Ana was told that nosouls can't love. But newsouls? More than anything, she wants to live and love as an equal among the citizens of Heart, but even when Sam professes his deepest feelings, it seems impossible to overcome a lifetime of rejection.
In this second book in the Newsoul trilogy, Ana discovers the truth about reincarnation and will have to find a way to embrace love and make her young life meaningful. Once again, Jodi Meadows explores the extraordinary beauty and shadowed depths of the soul in a story equal parts epic romance and captivating fantasy.
---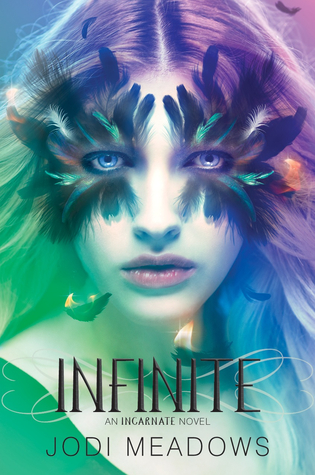 Infinite
by Jodi Meadows
(Newsoul, #3)
Katherine Tegen Books
January 2014
Synopsis:
DESTRUCTION
The Year of Souls begins with an earthquake—an alarming rumble from deep within the earth—and it's only the first of greater dangers to come. The Range caldera is preparing to erupt. Ana knows that as Soul Night approaches, everything near Heart will be at risk.
FLIGHT
Ana's exile is frightening, but it may also be fortuitous, especially if she can convince her friends to flee Heart and Range with her. They'll go north, seeking answers and allies to stop Janan's ascension. And with any luck, the newsouls will be safe from harm's reach.
CHOICE
The oldsouls might have forgotten the choice they made to give themselves limitless lifetimes, but Ana knows the true cost of reincarnation. What she doesn't know is whether she'll have the chance to finish this one sweet life with Sam, especially if she returns to Heart to stop Janan once and for all.
With gorgeous romance and thrilling action, the final book in the Incarnate trilogy offers a brilliant conclusion to the compelling questions of this fascinating world, where one new girl is the key to the lives of millions.
---
About Jodi Meadows:
Jodi Meadows lives and writes in the Shenandoah Valley, Virginia, with her husband, a Kippy*, and an alarming number of ferrets. She is a confessed book addict, and has wanted to be a writer ever since she decided against becoming an astronaut. She is the author of the INCARNATE Trilogy and the forthcoming ORPHAN QUEEN Duology (HarperCollins/Katherine Tegen). Visit her at http://www.jodimeadows.com. *A Kippy is a cat.
---
Have you read the Newsoul trilogy?
If so, which book is your favorite?
If you haven't, would you be interested in reading the series now?
Which of the covers is your favorite?
Comment below letting me know
Follow me @ toweroftomes on Twitter | Instagram | Goodreads | and Bloglovin'!