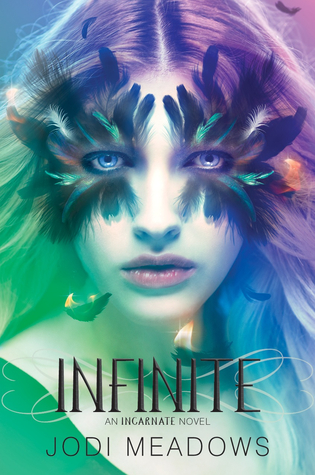 Infinite by Jodi Meadows (Newsoul, #3) | My copy: Hardcover, 418 pages, Katherine Tegen Books (Harper Collins Publishers), January 2014 | Source: Library | Read my review of Book #1, Incarnate, here. | Read my review of Book #2, Asunder, here. | View Infinite on Goodreads here.
---
Synopsis:
DESTRUCTION The Year of Souls begins with an earthquake—an alarming rumble from deep within the earth—and it's only the first of greater dangers to come. The Range caldera is preparing to erupt. Ana knows that as Soul Night approaches, everything near Heart will be at risk.
FLIGHT Ana's exile is frightening, but it may also be fortuitous, especially if she can convince her friends to flee Heart and Range with her. They'll go north, seeking answers and allies to stop Janan's ascension. And with any luck, the newsouls will be safe from harm's reach.
CHOICE The oldsouls might have forgotten the choice they made to give themselves limitless lifetimes, but Ana knows the true cost of reincarnation. What she doesn't know is whether she'll have the chance to finish this one sweet life with Sam, especially if she returns to Heart to stop Janan once and for all.
With gorgeous romance and thrilling action, the final book in the Incarnate trilogy offers a brilliant conclusion to the compelling questions of this fascinating world, where one new girl is the key to the lives of millions.
---
The review:
I thought Infinite was an excellent ending to the Incarnate saga, but in the scope of things it didn't knock my socks off. The pacing, as I also mentioned in my reviews of books 1 and 2, was uneven, and the characters beyond Ana, Sam, and Cris weren't that memorable or unique. However, the Janan plot line reached its full height finally, and we at last got multiple encounters with the world's magical creatures: sylph, centaurs, trolls, phoenixes, and, wait for it… DRAGONS. The dragons contributed to a large part of my enjoyment of the book. But I also really liked Ana and Sam's relationship, and the overall quest to stop Janan from ruling the world.
The city of Heart isn't safe anymore, especially for newsouls like Ana. But instead of just leaving Range in exile with Sam to form a new life, she ends up leading a group of rebels in an effort to thwart the evil efforts of Deborl. Without spoiling anything, I can say that Infinite's main plot is about Janan planning to rise to ultimate power and our merry (not so merry, to be frank) band of heroes trying to find a way to stop him (Deborl is sort of Janan's right hand man). The book is mostly a road trip without wheels. I feel like there's a term for it, when characters go traipsing around the wilderness in search of ____, traveling from place to place for most of the story. But I can't think of it/find it so I'll stop rambling now.
I liked Ana, but felt like she grew the most as a person in book 2, Asunder. Well, her growth in that book was the most radical. She learned and changed in Infinite, but not drastically. She did learn that she's capable of anything, that music is the peacekeeper of everything, and that keeping important things unsaid is a surefire way to lose your friends' trust or at least make them seriously pissed. Like, royally pissed. Ana's relationship with Sam is tested in this book at a point, and there is a lot of romance and romantic tension between them. (Which may or may not be related to their strained relationship. I won't say; you'll have to read the book to find out.) I liked Sam a lot — he gained back much of his appeal that he lost in the previous book, Asunder. He and Ana are a lovely pair — (MINOR SPOILER COMING UP!) and the book's last chapter was perfect and made me melt a little. It was maybe a bit too perfect, but after the nightmarish things that had previously happened, I was super pleased and relieved with the book's final pages. (END OF SPOILER.) Cris was wonderful, Stef got on my nerves, Whit was a bit cardboard-y, Sarit was nice but had very little page time, Deborl wasn't as menacing as he was made out to be, and Janan… well, Janan was Janan.
And finally, let me talk about the DRAGONS! They showed up in massive amounts! YAAAAAAAAS! 😀 (Can you tell how thrilled I am?) And, even better, <THESE DRAGONS CAN TALK.> Instead of quotation marks, inequality signs were used. (Another cool note, -the sylph's dialogue used hyphens instead of quotation marks.-) And Acid Breath and his comrades were definitely bad-ass. Heck, Ana and her friends even rode the dragons at one point! (Because humans walk too slowly and there's a deadline to meet if they want to save the world.) I loved the scenes with the dragons. Because I just love dragons! I wish there'd been more troll action, though…
Infinite was a good read, full of danger, tension, lots of kissing, and magical creatures. I very much enjoyed it and do recommend the series. Jodi Meadows' writing is whimsical and her series kept me engaged. I don't know which book I preferred more — each had its pros and cons but was very enjoyable. Look for my series wrap-up, coming sometime soon. In the meanwhile… let us drool over the gorgeous and, thankfully, cohesive covers. Whoever designed them (Joel Tippie did, I looked) wins brownie points. ♦
---
So tell me…
Have you read Infinite? How about Incarnate or Asunder? Would you be interested in picking this series up? What was the last book featuring phoenixes you read, if you can recall? Comment below letting know! And, as always, happy reading!
Follow me @ toweroftomes on Twitter | Instagram | Goodreads | and Bloglovin'!