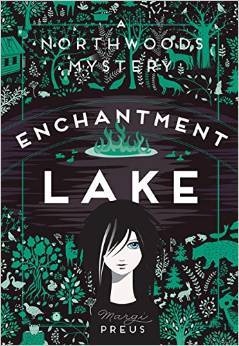 Enchantment Lake: A Northwoods Mystery by

Margi Preus

. | My copy: eGalley, ~200 pages, University of Minnesota Press, releases March 15, 2015. (Happy Book Birthday, Enchantment Lake!) | Source: University of Minnesota Press via NetGalley. |

View on Goodreads here

.
Synopsis:
A disturbing call from her great aunts Astrid and Jeannette sends seventeen-year-old Francie far from her new home in New York into a tangle of mysteries. Ditching an audition in a Manhattan theater, Francie travels to a remote lake in the northwoods where her aunts' neighbors are "dropping like flies" from strange accidents. But are they accidents?

On the shores of Enchantment Lake in the woods of northern Minnesota, something ominous is afoot, and as Francie begins to investigate, the mysteries multiply: a poisoned hot dish, a puzzling confession, eerie noises in the bog, and a legendary treasure that is said to be under enchantment—or is that under Enchantment, as in under the lake? At the center of everything is a suddenly booming business in cabin sales and a road not everyone wants built.

To a somewhat reluctant northwoods Nancy Drew, the intrigue proves irresistible, especially when it draws her closer to the mysteries at the heart of her own life: What happened to her father? Who and where is her mother? Who is she, and where does her heart lie—in the bustle of New York City or the deep woods of Minnesota? With its gripping story, romantic spirit, and a sly dash of modern-day trouble (evil realtors and other invasive species), Enchantment Lake will fascinate readers, providing precisely the charm that Margi Preus's readers have come to expect.
---
The Review:
I want to start getting into mysteries. I'm a little too old for Nancy Drew anymore (or maybe not, haha), so when I saw Enchantment Lake on NetGalley, a YA mystery by Newbery Honor author Margi Preus (Heart of a Samurai, which I have yet to read), I was excited. Plus, the cover of Enchantment Lake is pretty cool; I love the color palette, believe it or not, and the detail of Francie's white streak.
Francie (Francesca) is an actress trying to make it in New York City, but an alarming call from her aunts back in Minnesota forces her to ditch an audition and catch the first flight out. Her aunts live by Enchantment Lake–where the neighbors have mysteriously been dying at a disturbing rate. Francie suspects that someone is murdering these poor people and starts investigating on her own. In addition to the strange occurrences in the community, Francie has her own personal troubles: most notably about her parents and the secrets surrounding them.
The first thing I noticed was the writing. I liked the tone of voice, but I felt like it read a little young, maybe a little like how a Middle Grade book would be written. I never truly believed Francie was seventeen, and believed even less her involvement in solving the murders. It felt very forced and a little too easy and illogical. The actual culprit was not who I expected, but there were clues along the way, so kudos to Margi Preus for that. But I didn't care for or feel attached to any of the characters, not even Francie. And I wanted to like Francie, I did.
I liked the mystery of something being under enchantment–or Enchantment, as in the lake. (Which enchantment is it? I can't say because of spoilers.) But I felt like the plot took too long to pick up the pace. It wasn't exactly slow, but I wasn't that interested until the last third or last quarter of the book. And then the huge info dump at the end when everyone's motives were revealed and the truth finally came out… I thought it was long and boring in the way it was delivered. Now, I haven't read mysteries in a long time, so maybe that's how the genre works: big dump at the end where things are all explained. But this particular explanation felt tedious, and, while it did deliver some cool facts, I just wasn't that interested anymore because almost the whole book had been a bit of a disappointment for me.
Overall, Enchantment Lake failed to captivate me. I liked the voice and writing, but felt like the tone was more suited to Middle Grade readers, and the characters weren't appealing and the plot too slow. I am still interested in Margi Preus's other works, though (specifically her award-winning Heart of a Samurai), so maybe this book just wasn't the one for me. ♦
---
What's a favorite mystery you've read?
And have you read any other books by Margi Preus?
Comment below letting me know!
And, as always, happy reading!
*I RECEIVED THIS BOOK FROM THE PUBLISHER THROUGH NETGALLEY IN EXCHANGE FOR REVIEW CONSIDERATION. THIS IN NO WAY AFFECTS MY REVIEW; ALL OPINIONS ARE MY OWN. THANK YOU, UNIVERSITY OF MINNESOTA PRESS!