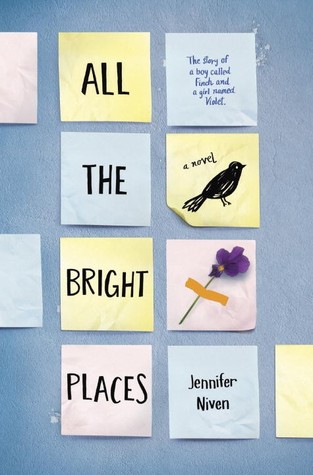 All the Bright Places by

Jennifer Niven

. | My copy: Hardcover, 388 pages, Alfred A. Knopf, January 2015. | Source: Library. |

View on Goodreads here

.
Synopsis:
Theodore Finch is fascinated by death, and he constantly thinks of ways he might kill himself. But each time, something good, no matter how small, stops him.

Violet Markey lives for the future, counting the days until graduation, when she can escape her Indiana town and her aching grief in the wake of her sister's recent death.

When Finch and Violet meet on the ledge of the bell tower at school, it's unclear who saves whom. And when they pair up on a project to discover the "natural wonders" of their state, both Finch and Violet make more important discoveries: It's only with Violet that Finch can be himself—a weird, funny, live-out-loud guy who's not such a freak after all. And it's only with Finch that Violet can forget to count away the days and start living them. But as Violet's world grows, Finch's begins to shrink.

This is an intense, gripping novel perfect for fans of Jay Asher, Rainbow Rowell, John Green, Gayle Forman, and Jenny Downham from a talented new voice in YA, Jennifer Niven.
---
Initial reaction upon finishing, as seen on my goodreads:
Stayed up until almost 4am finishing it. I cried and was an emotional wreck by the end. I do think I liked My Heart and Other Black Holes a tad more than this, as both books deal with depression and suicide, but I really really enjoyed All the Bright Places.
The review:
Having just finished My Heart and Other Black Holes (read my review here), another book dealing with teen suicide and depression, I was a bit skeptical of All the Bright Places at the very beginning. I loved My Heart way more than I thought I would, and it's very hard not to compare books when they are similar. However, I am pleased to say that All the Bright Places was also an excellent contemporary story about two broken people finding each other.
The book is about Finch and Violet who meet up on the school bell tower when they both are thinking about committing suicide. Finch's family dynamic is less than ideal and he has terrible mood swings that turn him practically into a different person. He's obsessed with death but still finds reasons to live. Violet's sister died in a car crash. Violet was also in the accident, but survived. She lost her other half and feels guilty about Eleanor's death. Both teens feel like they can't talk to anyone, that they won't be able to get help, and that they're alone. But their encounter on the bell tower starts a friendship between them, and while Violet begins to heal, Finch only seems to get worse.
I loved Finch. He was outrageous, acting bizarre and doing things he wanted — and not caring what other people thought. He had a confidence that was equal parts amazing and annoying. Like I said before — major mood swings. But he cracked me up a lot, and I could always see the wonderful, good person underneath all the messed-upped-ness. It took me a while to like Violet, however. She was in denial still, and gave up on everything she loved and excelled at because she thought she didn't deserve to have a life when her sister's was taken. Her friendship with Finch started out very rocky. Basically, they were forced to work together on a class project, and while Violet found his presence irritating and strange at first, the two soon came to realize that there was someone out there who understood the other's pain. Their relationship was beautiful, if complicated, and while Finch did seem a bit pretentious and Violet sometimes a little flat, I loved the two of them and was absolutely devastated by the ending. The book's ending right after the shocking ending dragged on a bit, but I felt like it was a much needed breather from the emotional trauma that had just happened. I was crying, though. I was a mess. It's a really good thing I don't read books out in public.
This was an excellent novel. I'm not a huge fan of contemporary fiction, and especially not books that deal with these sorts of heavy topics, but All the Bright Places really impressed me. Finch and Violet's voices were distinct, something that wins points from me regarding books told from multiple POVs. I flew this book, always eager for more, and while there was definitely a lot of teenage angst and sneaking around, I still really liked everything about the story. I'm very glad I read All the Bright Places, but I am a bit burnt out on contemporary YA now. I'm going to have to recharge with a lot of fantasy and dystopia because my heart and emotions just can't take it. Sniff. ♦
---
Have you read All the Bright Places? if not, would you be interested in reading it now? what was the last book you read about teen depression, mental illness, and/or suicide? comment below letting me know! and, as always, happy reading!