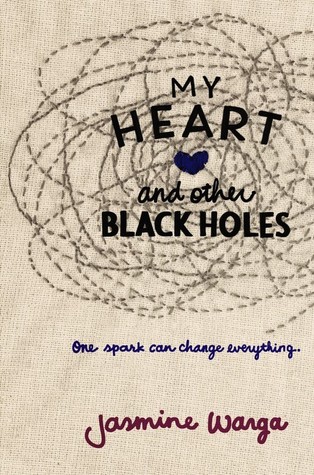 My Heart and Other Black Holes by

Jasmine Warga

. | My copy: Hardcover, 302 pages, Balzer + Bray (Harper Collins Publishers), 2015. | Source: Library. |

View on Goodreads here

.
Synopsis:
A stunning novel about the transformative power of love, perfect for fans of Jay Asher and Laurie Halse Anderson.

Sixteen-year-old physics nerd Aysel is obsessed with plotting her own death. With a mother who can barely look at her without wincing, classmates who whisper behind her back, and a father whose violent crime rocked her small town, Aysel is ready to turn her potential energy into nothingness.

There's only one problem: she's not sure she has the courage to do it alone. But once she discovers a website with a section called Suicide Partners, Aysel's convinced she's found her solution–Roman, a teenage boy who's haunted by a family tragedy, is looking for a partner. Even though Aysel and Roman have nothing in common, they slowly start to fill in each other's broken lives. But as their suicide pact becomes more concrete, Aysel begins to question whether she really wants to go through with it. Ultimately, she must choose between wanting to die or trying to convince Roman to live so they can discover the potential of their energy together.
---
The review:
I didn't expect to love My Heart and Other Black Holes as much as I did. I was hesitant going into it because it's a contemporary that deals with depression and suicide. Basically, elements that equal Mallory running in the opposite direction of. But it's a short(ish) novel that's a very recent release, and I've been seeing some wonderful reviews about it. Also, my copy has to go back to the library in a few days and I didn't want to return it unread. Well. I was gripped from the very first chapter (I've never read anything like it). And I loved the light the characters found in the dark. Jasmine Warga's debut novel deals with very serious, sad issues, but there is a perfect balance of humor and hope that accompanies the depression of Aysel and Roman.
The story is about Aysel (rhymes with "gazelle") and Roman becoming suicide partners. Aysel's father murdered someone and Roman lost his younger sister. Aysel is scared she's like her father. Roman feels guilt and blames himself for his sister's death. Both teens have become complete introverts, pushing away their old friends and moping in their rooms after school. (Aysel has also become a social outcast. Everyone looks at her and sees her father, and not her.) They pair up so they won't flake out on committing suicide. It was very strange, sad, and beautiful to watch as their partnership transformed into a close friendship. Their depression was different for each of them: Aysel was short-tempered, sullen, extremely stubborn, and cracked jokes/was sarcastic. Roman was quieter, moody, understanding, and more willing to pretend he was "fine" while in the presence of others. The two's personalities and interests were different, with Aysel interested in science — most notably physics — and Roman interested in basketball and drawing. It was also sad to see how their family dynamics were extreme opposites: Aysel's mom remarried, and she, Aysel, feels like an outcast, with no one ever paying her much attention. Roman's parents love him, and his mom cares about him so much she's a bit overprotective. The two of them spend a month secretly planning their deaths and living their last days as "normally" as possible.
I've only scratched the surface of what this book truly is. It's a remarkable story about two people discovering a way to live with themselves after their lives and hearts have been torn in pieces. It's a book about strength, fear, family, love, and acceptance. I really liked how Aysel and Roman's friendship developed slowly and realistically, and how their realization that they loved each other went far beyond what you'd think. They needed each other in so many ways. and they each found a person who understood their own pain and who could help them out of their darkness during the time the spent together. They smiled on outings (the zoo was my favorite, but camping was pretty great, too), they had awesome banter, and they felt comfortable in each other's presence — safe, a feeling they hadn't experienced in a long time. The two felt real to me. And I just wanted to reach out and hug them until all their pain and worries melted away (Roman especially).
The book's ending is something I honestly couldn't guess. I had three ideas, which were probably the only three versions possible: 1) They do commit suicide together, 2) they decide not to kill themselves, or 3) one of them "flakes out" (most likely Aysel) and the other still attempts suicide and either does or does not survive (I guess that's four options). POTENTIAL SPOILER COMING UP! DON'T READ ON IF YOU DON'T WANT TO HAVE A SENSE OF HOW THE BOOK ENDS FOR AYSEL AND ROMAN! I didn't know if this book was going to go the tragic route or the happy route. The actual outcome is definitely a tearjerker, though it does work well with how the characters change over the course of the story. Things are not solved, but Aysel and Roman are willing to give healing a try. END OF SPOILER. I am happy with how Jasmine Warga handled such a delicate and heavy story. Her writing was poetic, straightforward, and engaging. Everything felt natural, and I actually liked how plain and frank Aysel's confession was about her father's crime (ditto to Roman's confession about his sister). There were no bells and whistles, no shocking twists and turns — and I appreciated that. Sometimes real life isn't all that exciting and unique. Shit happens to people, and we always try to hide it. When Aysel finally opened up and talked about her father, there was such an amount of trust with Roman she'd finally built up and I was so proud she was able to put herself in an emotionally vulnerable position willingly.
In short, My Heart and Other Black Holes moved me. I'm so glad I gave it a chance. Aysel and Roman felt like they were each the only person in the world with no one to understand them. This book is about how you're never alone, no matter how alone you might feel — because even in their depression, Aysel and Roman still found each other and connected. ♦
---
So tell me… Have you read My Heart and Other Black Holes? And if you haven't, would you be interested in reading it? now here's today's question: What was the last book you read about depression or suicide (if you can recall)? and As always, happy reading!