So Mallory over at The Local Muse recently did the TBR tag. She did the "I tag everyone" option and so I decided to do it, too. So let's start as I realize once again how stressful TBR piles for us book bloggers are…
---
How do you keep track of your TBR?
Goodreads! Goodreads is the best. Check out my To Read shelf to see what I've got on my TBR right now. (This is my physical to read list; I have a separate TBR wishlist for books I want to read but don't own, and the wishlist is kind of unwieldy. Maybe a lot unwieldy.)
---
Is your TBR mostly print or e-books?
Mostly print books, but I'm steadily accumulating more and more digital copies from NetGalley, and I'm feeling a little swamped at the moment… I need to stop requesting so many titles… But it's so hard because I want to read ALL THE BOOKS.
---
How do you pick which book to read next?
I've lately been trying to alternate what I read between review copies and library books. Library books have a due date and sometimes I can't renew them, especially the new releases, and the review copies also have to get read and reviewed in a timely enough fashion. But I'm first and foremost a mood reader, so sometimes the next book I have to read isn't always the type of book I'd gravitate toward at that moment. This can make getting hooked on a story even harder for me, since I sometimes go into a book very skeptical purely because I'd rather be reading fantasy but have to read a contemporary, for example. I have been trying to read widely these days, though, and so I've got a big mix of genres and different age groups. Still, picking the next book to read is definitely challenging sometimes.
---
A book that has been on your TBR the longest?
Finnikin of the Rock by Melina Marchetta. I randomly won this book a number of years ago but for some bizarre reason never read it — which is weird because I love fantasy and this book sounds excellent and I've heard nothing but great things about it. I seriously need to pick this up soon. Goal for this year: read Finnikin!
---
A book you've recently added to your TBR?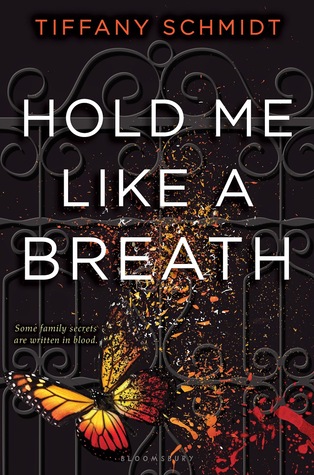 In terms of review copies, that would be, as of writing this post, I believe Hold Me Like a Breath by Tiffany Schmidt. [EDIT: read my review of Hold Me Like a Breath here.] In terms of books I own and want to read for myself, that would be The Joy Luck Club by Amy Tan.
---
A book that made your TBR because of its beautiful cover?
The Sin Eater's Daughter by Melinda Salisbury. Well, it caught my eye because of its gorgeous cover, and then my entire attention when I read the synopsis. It's actually my #1 most anticipated release of 2015. I can't wait to get my hands on a copy because I am absolutely dying to read it! [Update: read my review of The Sin Eater's Daughter here.]
---
A book on your TBR you never plan on reading?
I plan and want to read every book on my TBR. But this one I'm really unenthusiastic about getting to… Catch 22 by Joseph Heller. I actually got my copy for free out of a box of books a neighbor put out. The cover is also kind of ugly (my mom has her own copy, the nicer-ish blue one with a little red man, so I guess I could borrow hers, haha). But it's a big book and not something I have much interest in right now… or maybe ever. Have any of you read it? Is it worth my time? Should I give it a try?
---
An unpublished book from your TBR you're excited for?
2015 releases, whoo! I've got a gazillion of them I wish I could list! But I'll pick one I've got for review that I'm very excited to read. And that is The Doublecross by Jackson Pearce. I've read every single one of Jackson's books, believe it or not (and liked some more than others). And she's got a new one coming out — and a middle grade novel at that! [EDIT: read my review of The Doublecross here.]
---
A book on your TBR that everyone recommends to you?
Well, people haven't recommended this book to me — it's just super popular and I watch and adore the TV show. I own the book and read about a third of it before I decided I wasn't in the mood for 807 pages… But I really want to get hooked on the series so I can marathon them! I'm talking about A Game of Thrones by George R. R. Martin!
---
Number of books on your TBR?
Currently 100. Plus some library books, as well as a few book floating around my house I haven't remembered to add on Goodreads. But, man, 100… It hasn't been this big a long time…
---
And those are all the questions!
I tag…
Anyone who wants to do this. So if it interests you, go for it! 😀
---
What's the most recent book you added to your TBR?
Comment below letting me know!
Follow me @ toweroftomes on Twitter | Instagram | Goodreads | and Bloglovin'!