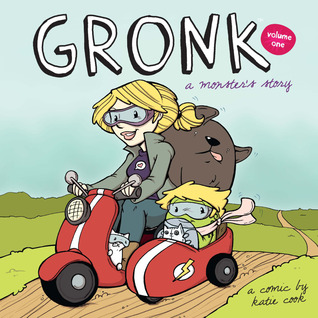 Gronk

: A Monster's Story: Volume I by

Katie Cook

. | My copy: eGalley, ~59 pages, Action Lab Entertainment, releases March 3rd, 2015. | Source: Diamond Book Distributors via NetGalley. |

View on Goodreads here

.
Synopsis:
Gronk is a monster… and not a very good one.

Gronk tells the tale of a young monster who has turned her back on monsterdom (mostly because no one found her scary) and has become fascinated with humans.

She moves in with her human friend Dale and her pets Kitty and Harli, a 160 lb. Newfoundland Dale wants to declare as a dependent to the IRS.

Enjoy the first installment from this popular kids webcomic in a wonderful, full-color collection!
---
The review:
This review is coming to you in 5 parts.
Gronk isn't good at being scary, so she leaves her fellow monsters and stumbles across a young woman named Dale who lives with her adorable fluffy companions Kitty and Harli. This book is a collection of short stories concerning Gronk's new life.
Harli the 160 pound Newfoundland was honestly my favorite part of the whole book. He's just so cuuuuute!
The illustrations were adorable. I loved the colors and the style and how lovable Gronk and her family were.
The little stories were cute, but not necessarily any cleverer/different than the other (few) comics (on the web) I've read. They were nice enough while reading them but in the end forgettable. I never really snickered like I want a good comic to make me do. I more or less just giggled or went, "Awww!" Which is still a good thing! But the book was just missing that special zing that would have made it awesome.
I liked all the references to pop culture/fandoms. (*Cough, cough* Harry Potter.) One of my favorite vignettes was when Dale was educating Gronk on "her world"–via movies! Yaaaaas, Lord of the Rings, Spirited Away, Harry Potter, Monsters, Inc., Grease, Singin' in the Rain, and Star Wars!
Overall I highly recommend picking up Gronk. It's really cute, sweet, and definitely enjoyable. You're bound to smile a lot when you flip through it. ♦
---
Do you read/like web comics?
Are you interested in reading Gronk: Volume I?
Are cute little green monsters cute?
Comment below letting me know!
And, as always, happy reading!
*I RECEIVED THIS BOOK FROM THE PUBLISHER THROUGH NETGALLEY IN EXCHANGE FOR REVIEW CONSIDERATION. THIS IN NO WAY AFFECTS MY REVIEW; ALL OPINIONS ARE MY OWN. THANK YOU, ACTION LAB ENTERTAINMENT AND DIAMOND BOOK DISTRIBUTORS!