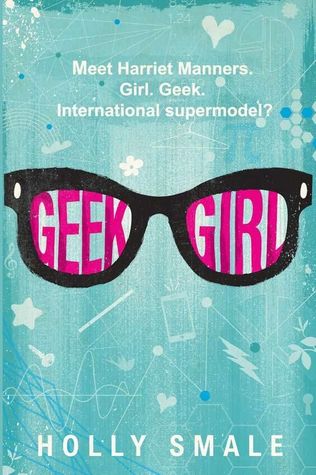 Geek Girl by Holly Smale (Geek Girl, #1). | My copy: Hardcover, 362 pages, HarperTeen, 2015 (originally published 2013). | Source: Library. |

View on Goodreads here

.
Summary:
Geek + runway = a hilarious runaway hit! This bestselling UK debut is full of humor and high-fashion hijinks—and now it's coming to America.

Harriet Manners is tired of being labeled a geek. So when she's discovered by a modeling agent, she seizes the chance to reinvent herself. There's only one problem: Harriet is the definition of awkward. Does she have what it takes to transform from geek to chic?

Geek Girl is the first book in a hilarious new trilogy. It was also the #1 bestselling YA debut of 2013 in the UK, where it was shortlisted for the Roald Dahl Funny Prize and won the Waterstones Children's Book Prize for Best Book for Teens. With all the humor and fabulous shenanigans of Louise Rennison's Confessions of Georgia Nicolson and Meg Cabot's The Princess Diaries, Geek Girl is about to become an international superstar.
---
The review:
Geek Girl is a very fun ride, full of humor and geeky facts and tidbits (some that I knew, because I am a "geek", too, and some that I didn't). It's not a super deep novel, but it does what it sets out to do: entertain you the entire time. I liked Harriet a lot even though I didn't completely empathize and love her. She wasn't a perfect person at all, definitely full of insecurities and doubt, and she did grow by the story's end. She got braver in some areas and understood that you can't really change who you are — you have to embrace your quirks and stand by (and be truthful to) those you love.
One thing I really liked about this book was Harriet's ever-so-supportive dad and her awesome step-mom. It's rare when parents are present in YA novels, and even rarer when they're genuinely nice people. It was hilarious how enthused Harriet's father was and how stubborn her step-mother was. I really liked how they genuinely supported, forgave, and learned from one another. Awesome families in books are awesome.
The book deals with the very beginning of Harriet's new life as a model. I actually wish there'd been more modeling stuff and less teenage social problems. While a good portion of the story is about Harriet's discovery by an agency and becoming the new face of Baylee, a huge internationally recognized brand, the plot ultimately comes down to Harriet's shattered friendship with her BFF Nat. Nat has always wanted to be a model. She's obsessed with fashion and is the total model type, body and beauty-wise. But it's Harriet who is spotted, not Nat, and their friendship horribly and abruptly ends when Harriet, trying to reinvent herself to get away from the negative label "geek", lies to Nat about the contract she has with Baylee. Unfortunately, Nat finds out about the lie when the campaign ad appears in the newspaper the next day. What a way to find out your best friend lied to you, huh?
So I didn't love that the book was so tangled up in Harriet's guilt about Nat and her, Harriet's, problems with the nasty-ass bully Alexa. I also really didn't like Toby. He was so freaking annoying! And definitely obsessed to the point where I wanted to scream and get a restraining order put on him. Just, ugh. I don't understand why Harriet put up with him. But I loved the parts with Wilbur (that's "bur", not "iam") — he was constantly cracking me up — Nick, Yuka, and Harriet's parents. Those scenes were always hilarious. (It was also so nice to have Nick, the love interest, be Asian! Woot-woot! Represent!) Overall, Geek Girl was a really fun, super-fast read that had me chuckling many a time. I think I still prefer the Georgia Nicolson books, as Geek Girl's been compared to, but I do recommend this if you're in the mood for an entertaining, relatively lighthearted contemporary. ♦
---
Have you read Geek Girl?
If so, what did you think?
If not, would you want to read it now?
Comment below letting me know!
And, as always, happy reading!