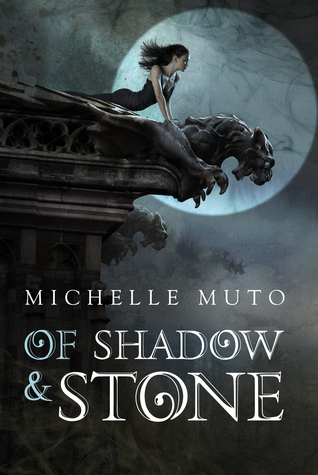 Of Shadow and Stone by Michelle Muto. | My copy: eGalley, ~291 pages, Skyscape (Amazon Children's Publishing), releases February 24th, 2015. | Source: The publisher via NetGalley. | View on Goodreads here.
*I received this book from the publisher through NetGalley in exchange for an honest review. Thank you, Skyscape!
---
Synopsis:
Gargoyles were created centuries ago to protect mankind, but something went horribly wrong. Now only the sentinel—a mortal chosen to control the stone beasts—stands between them and their human prey.
When the latest sentinel is killed, Kate Mercer is destined to take his place. But Kate has enough going on in her life—like a skyrocketing film career, a delusional ex-boyfriend, and a crazed stalker who will stop at nothing to get to her. But the powers that be have decided, and Kate is transported to Shadow Wood, a mysterious castle that serves as a sanctuary for the supernatural. Although beautiful, Shadow Wood is no safe place for a mere mortal. Yet Kate is drawn not only to the gargoyles but also to Ian McGuire, a charming novelist who might be in the greatest danger of all.
As Kate decides whether to accept the most perilous role of her life, she discovers there are more secrets than answers within the castle's walls. Her survival and Ian's depend on her ability to master the gargoyles before time runs out. Is fate really cast in stone?
---
The review:
Of Shadow and Stone was an interesting paranormal book, definitely in the New Adult category because of the age of the characters, but still totally accessible for Young Adult readers. We've got gargoyles, werewolves, and vampires here, and a cast of characters who play their roles well and effectively (though I felt like they weren't all really explored enough. The characters did their jobs but otherwise there wasn't much character development; their back stories remained a mystery, making them seem a little flat). While the whole story reads quickly, not a lot actually happens until the ending. And, my, what an ending it was! Absolutely crazy and quite unsettling to read. But until then, the book goes at a slower pace and focuses mostly on our main protagonist, Kate's, struggle with her personal life and the new mythical creatures she's supposed to become a guardian of.
Kate Mercer has recently broken out as a huge movie star, but fame comes with a price: She's got the paparazzi following her, her love life is covered by the tabloids, and she's even got a stalker. (We actually got a few chapters told from the point of view of the stalker, and these made me squirm. Which is a totally good thing — who would ever want to be in the head of a crazy, demented stalker?) Kate's ex-boyfriend Michael is a true jerk, and refuses to accept their breakup after he cheats on Kate. Kate, however, possesses a new talent: she can somehow teleport to a Scottish castle called Shadow Wood. The reason? She's been chosen as one of two candidates to take over as sentinel for the world's gargoyles. The gargoyles have become ravenous and violent, hunting and eating the people they used to protect.
During her meanderings around Shadow Wood, Kate meets the other candidate, a young, highly successful writer named Ian McGuire. He's dashing and sweet, and the two have definite attraction to each other. But the book does not heavily focus on their romance, which was a nice surprise. The two more or less are madly attracted to each other, and have some fun and form a good friendship. Actual love will come later. This was so refreshing, a nice change from the usual teenage romance you find in Young Adult novels.
Overall, Of Shadow and Stone was a good, different read. There wasn't much plot and the characters weren't as layered as I would have liked, but I was entertained while reading it. It was cool to read about gargoyles — I've never read a book featuring them before. I just wish there had been more page-time with them, although the ending definitely made up for their previously sparse appearances. ♦
---
So tell me…
Have you read Of Shadow and Stone? If not, would you want to read it now? And have you ever read a book about gargoyles before? Comment below letting me know! And, as always, happy reading!
Follow me @ toweroftomes on Twitter | Instagram | Goodreads | and Bloglovin'!