---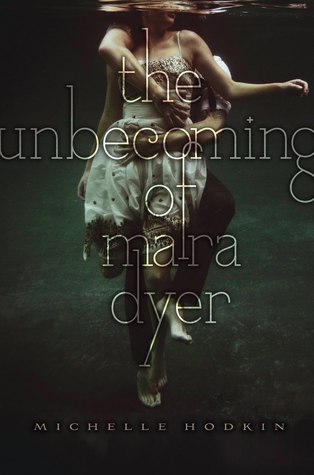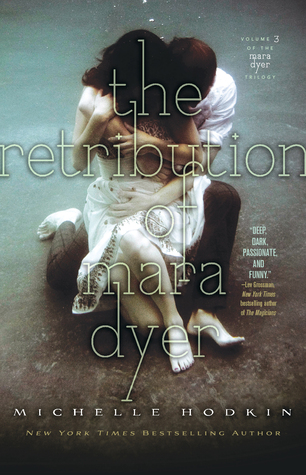 Click on a title to read my review:
The Unbecoming of Mara Dyer (#1) — my third favorite
The Evolution of Mara Dyer (#2) — my favorite
The Retribution of Mara Dyer (#3) — my second favorite
---
Overall thoughts:
I said this in my review of The Retribution of Mara Dyer: "Unbecoming is a haunting, interesting start to the trilogy. Evolution is chilling and effing creepy and improves upon nearly everything. Retribution is bloody and twisted, confusing and shocking. I think I liked Evolution the best, but The Retribution of Mara Dyer was certainly an amazing close to the series."
Also, I don't like flashbacks. Period.
The characters all radically change and grow (in good and maybe not-so-good ways), and the final book is pure crazy. (In a good way.) If you're not completely hooked by book 1, read book 2 and then make your decision. I loved book 2, Evolution. It was the creepiest and actually scariest of the series without being nearly as violent as book 3, and after finishing it I just had to get my hands on book 3. I highly recommend you check out this trilogy! Just be warned that the books get progressively darker and might not be the perfect bedtime reading choice. (They might be a great Halloween choice, though!)
---
Thoughts on the covers:
So thrilled all the covers stayed cohesive! Love the somber colors and the girl and boy (obviously supposed to be Mara and Noah) trying to save each other/stay with each other. While Evolution is my favorite of the three books, it's my least favorite cover — but I love all the covers, so that doesn't really mean anything!
---
Here are excerpts from my reviews:
The Unbecoming of Mara Dyer (#1) review excerpts:
… Her memories come back in the form of flashbacks that I really didn't give a poop about. ♦ It took me a while to get into this book because of the slow start with Mara adjusting to a new school, and I wasn't too keen on her romantic interest Noah at first. There was a lot of teenage angst and annoyance… Noah irritated me a lot… he and Mara frustrated me so much. ♦ I really liked how most of the time I couldn't tell if what was happening was real or just a hallucination of Mara's… The stress in the whole Dyer family was hard to read about… I wasn't expecting that particular ending, though, but it sure opens up a lot of possibilities for the next book… I really did enjoy this book, and while it took some time for me to get hooked and there were many parts that I rolled my eyes at, this series is definitely a haunting story I want to continue with.
The Evolution of Mara Dyer (#2) review excerpts:
The Evolution of Mara Dyer is even darker, creepier, and scarier than the first book… I liked Evolution much, much more. Mara is almost completely alone in facing her nightmares, and it's quite unsettling and saddening to read as things get progressively worse and worse. ♦ No one believes Mara's story — except for Noah. Brilliant, charming, caring Noah, who I remember not being a huge fan of in the first book, but who I now really, really liked… Mara and Noah have great chemistry. ♦ Similar to Unbecoming, there are "flashbacks" in Evolution... These memories felt random and were confusing at first and I feel like the story wouldn't have been any different without them. ♦ Mara was a difficult protagonist. I felt for her and liked her enough, but there were still so many times when I wondered if what she was perceiving was real or not. I… wonder if she really was insane. ♦ The Evolution of Mara Dyer was a fantastic sequel, even better than than its predecessor… I am so excited to finish the trilogy. I highly recommend this series… This book was definitely hair-raising!
The Retribution of Mara Dyer (#3) review excerpts:
The third book… is the darkest of them all. It's violent and bloody… Retribution was a whirlwind of craziness, even though a hefty chunk in the middle was definitely the slowest part… I am not a huge fan of flashbacks… and the ones in all three Mara Dyer books were lackluster compared to the present story. While the flashbacks in Retribution were the best in the whole series, I still skimmed them because I didn't find them very interesting and because I'd pretty much already pieced together what they revealed. ♦ I really started to like Noah in book 2, Evolution, after being on the fence about him in book 1, Unbecoming, so the fact that he was absent for SO MUCH of Retribution got on my nerves. But the time we did have with him didn't disappoint. At all. Best scenes of the book by far. ♦ The beginning of the book was bumpy, but very gruesome, and there was so much going on… ♦ There was a giant amount of swearing in this book. It works, though — the characters are teenagers going through some scary shit. Why wouldn't they be cussing their heads off whenever things got bad? … there were a lot of pop culture references in this book… It was wonderful to find Harry Potter, Lord of the Rings, Hunger Games, and Titanic references! I chuckled every time one came up.
---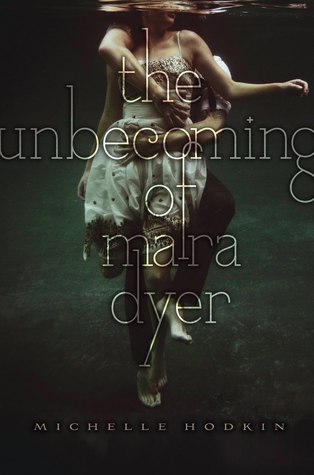 The Unbecoming of Mara Dyer
by Michelle Hodkin
The Mara Dyer Trilogy, #1
Simon & Schuster BFYR, 2011.
Synopsis:
Mara Dyer believes life can't get any stranger than waking up in a hospital with no memory of how she got there.
It can.
She believes there must be more to the accident she can't remember that killed her friends and left her strangely unharmed.
There is.
She doesn't believe that after everything she's been through, she can fall in love.
She's wrong.
---
The Evolution of Mara Dyer
by Michelle Hodkin
The Mara Dyer Trilogy, #2
Simon & Schuster BFYR, 2012.
Synopsis:
Mara Dyer once believed she could run from her past.
She can't.
She used to think her problems were all in her head.
They aren't.
She couldn't imagine that after everything she's been through, the boy she loves would still be keeping secrets.
She's wrong.
In this gripping sequel to The Unbecoming of Mara Dyer, the truth evolves and choices prove deadly. What will become of Mara Dyer next?
---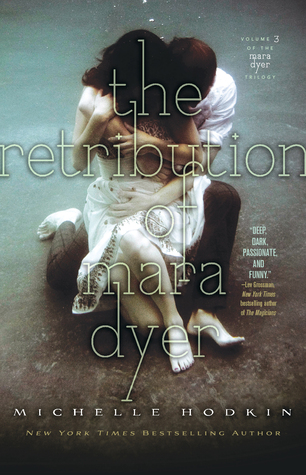 The Retribution of Mara Dyer
by Michelle Hodkin
The Mara Dyer Trilogy, #3
Simon & Schuster BFYR, 2014.
Synopsis:
Mara Dyer wants to believe there's more to the lies she's been told.
There is.
She doesn't stop to think about where her quest for the truth might lead.
She should.
She never had to imagine how far she would go for vengeance.
She will now.
Loyalties are betrayed, guilt and innocence tangle, and fate and chance collide in this shocking conclusion to Mara Dyer's story.
Retribution has arrived.
---
About Michelle Hodkin:
At the age of sixteen, I lost the rights to my soul in a poker game with pirates just south of Natchez. Shortly thereafter, I joined an acting troupe and traveled the world performing feats of wonder and mischief before writing my first novel, The Unbecoming of Mara Dyer, and its sequel, The Evolution of Mara Dyer. I'm currently working on the third book in the trilogy, The Retribution of Mara Dyer. PS: I may or may not be a reliable narrator of my own life.
---
Have you read the Mara Dyer trilogy?
If so, which book was your favorite?
If you haven't, would you be interested in reading the series now?
Which of the covers do you prefer?
Comment below letting me know!
Follow me @ toweroftomes on Twitter | Instagram | Goodreads | and Bloglovin'!