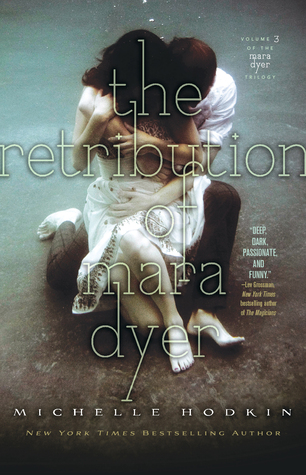 The Retribution of Mara Dyer by Michelle Hodkin (Mara Dyer, #3). | VIEW THE RETRIBUTION OF MARA DYER ON GOODREADS HERE. | My copy: Hardcover, 470 pages, Simon and Schuster Books for Young Readers, 2014. | Source: Library. | Read my review of Book #1, The Unbecoming of Mara Dyer here. | Read my review of Book #2, The Evolution of Mara Dyer here.
---
Synopsis:
Mara Dyer wants to believe there's more to the lies she's been told.
There is.
She doesn't stop to think about where her quest for the truth might lead.
She should.
She never had to imagine how far she would go for vengeance.
She will now.
Loyalties are betrayed, guilt and innocence tangle, and fate and chance collide in this shocking conclusion to Mara Dyer's story.
Retribution has arrived.
---
The review:
Mara Dyer is one scary kid. Everything that's happened throughout the series has taken its toll on her. She's frightening, and even the other characters are nervous around her. She's cold, hateful, angry, and powerful. She's been hurt, tortured, lied to, and manipulated, and has been a pawn in someone else's game without her even knowing (until now).
The third book in Michelle Hodkin's chilling series is the darkest of them all. It's violent and bloody, and there is a particular climactic scene toward the end that was absolutely gut-wrenching and had the characters as well as me all getting hysterical. (Well, I wasn't hysterical, but I was certainly making incoherent noises and swearing — thank goodness I was home and not out in public — and was absolutely horrified and riveted at the same time.) I can't really talk about the plot without getting spoiler-y for the previous books, but Retribution was a whirlwind of craziness, even though a hefty chunk in the middle was definitely the slowest part. However, it was interesting to finally learn the truth of all that's been going on since book 1. I honestly didn't mind the info dumps when Mara and her friends were investigating. I did mind the flashbacks, though. I am not a huge fan of flashbacks in general, and the ones in all three Mara Dyer books were lackluster compared to the present story. While the flashbacks in Retribution were the best in the whole series, I still skimmed them because I didn't find them very interesting and because I'd pretty much already pieced together what they revealed.
There was a huge lack of Noah in this book. Gah. For understandable reasons, but it still made me sad. I really started to like Noah in book 2, Evolution, after being on the fence about him in book 1, Unbecoming, so the fact that he was absent for SO MUCH of Retribution got on my nerves. But the time we did have with him didn't disappoint. At all. Best scenes of the book by far.
It took me a while to warm up to the new(er) supporting characters, though. The beginning of the book was bumpy, but very gruesome, and there was so much going on that I couldn't decide what I thought of Jamie and Stella right away. Mara I never warmed up to again, not really, not like in the previous books where I sympathized with her, because she was so messed-up by this point. Jamie I really liked in this book. He had more to do and was the comic relief, and I loved how he wouldn't abandon Mara, even when he admitted he was scared of her. Stella I liked, too, but since she was only briefly in book 2, Evolution, and then only in about half of this book, I didn't form much of a connection to her. (MINOR SPOILER) I understood her decision to leave and protect herself from all Hell breaking loose, but I wish she'd been brave enough to keep trucking through to the end with Mara and Jamie. (END OF SPOILER.) Daniel, Mara's brother, was the greatest brother you could ever hope for, as usual. Jude felt very cardboard-y here, when in the previous book he was an absolute terror with very dark and twisted motives and emotions. By Retribution, Jude was kind of no longer the focus, interestingly. And then, of course, the villains, the adults, were… an interesting bunch. Some of their demises were definitely cringe-worthy, though their actions and decisions were the most cringe inducing.
Other thoughts: There was a giant amount of swearing in this book. It works, though — the characters are teenagers going through some scary shit. Why wouldn't they be cussing their heads off whenever things got bad? We all do it, too, don't we? 😉 I wasn't bothered at all by their constant language, but it was interesting noticing how their mouths never let up. Also, there were a lot of pop culture references in this book. Again, this is totally reasonable because the characters are teenagers. It was wonderful to find Harry Potter, Lord of the Rings, Hunger Games, and Titanic references! I chuckled every time one came up.
My series wrap-up will be coming to the blog shortly, and I'll be summarizing my overall thoughts on the series there, but I'll say this: Unbecoming is a haunting, interesting start to the trilogy. Evolution is chilling and effing creepy and improves upon nearly everything. Retribution is bloody and twisted, confusing and shocking. I think I liked Evolution the best, but The Retribution of Mara Dyer was certainly an amazing close to the series. ♦
---
So tell me…
Have you read The Retribution of Mara Dyer? If not, would you be interested in starting/continuing the Mara Dyer series? Comment below letting me know! And, as always, happy reading!
Follow me @ toweroftomes on Twitter | Instagram | Goodreads | and Bloglovin'!