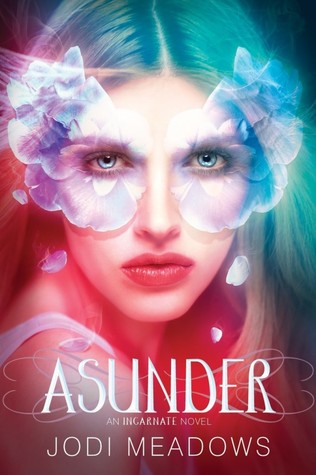 Synopsis:
DARKSOULS
Ana has always been the only one. Asunder. Apart. But after Templedark, when many residents of Heart were lost forever, some hold Ana responsible for the darksouls–and the newsouls who may be born in their place.

SHADOWS
Many are afraid of Ana's presence, a constant reminder of unstoppable changes and the unknown. When sylph begin behaving differently toward her and people turn violent, Ana must learn to stand up not only for herself but for those who cannot stand up for themselves.

LOVE
Ana was told that nosouls can't love. But newsouls? More than anything, she wants to live and love as an equal among the citizens of Heart, but even when Sam professes his deepest feelings, it seems impossible to overcome a lifetime of rejection.

In this second book in the Newsoul trilogy, Ana discovers the truth about reincarnation and will have to find a way to embrace love and make her young life meaningful. Once again, Jodi Meadows explores the extraordinary beauty and shadowed depths of the soul in a story equal parts epic romance and captivating fantasy.
---
My Review:
Asunder was a solid sequel to Jodi Meadows' Incarnate (link to that review here). Like its predecessor, Asunder's pacing is a bit uneven — but we finally got some much needed info about the sylph, which I found quite confusing in the first book. Ana was a much stronger character here, but Sam lacked the appeal he had in Incarnate. The whole Janan plot line got way better and darker (like, seriously, way darker), and now I'm pretty sure we're not having a made-up religion shoved into our faces. I also like how things are left hanging for the third and last book, Infinite, as the stakes are now even higher. It could be a pretty epic conclusion!
Now that my overall initial reaction is finished, let's talk more about the book's various aspects without getting spoilery.
First, the plot. I liked it for the most part. It took a while for things to start getting interesting, and there were events I liked and didn't like. Like I said above, the pacing was uneven, but the overall story was still very enjoyable. The book wasn't as focused on Ana and Sam's relationship as in Incarnate, though of course their romance was still a big topic. In Asunder, Ana finally gets her butt in gear about doing something to help herself and understand why she is a newsoul. The book's climax was chilling, and the shocker at the end concerning the sylph almost made me cry.
Second, characters. I liked Ana a lot more in this book. She didn't mope around nearly as much, thank goodness. She also was honest with herself about if she truly loved Sam or if she was just in love with being in love. She formed and kept friendships, and she handled difficult situations surprisingly well. She still struggled to overcome her fears and guilt, cried and broke down sometimes, and even lied and hid secrets from those who would fail to understand the importance and truth of her discoveries. She grew so much in this book. She's going to be one kick-ass heroine in Book #3. I sure hope so.
Sam felt weak to me. He was in love with Ana and would follow and help her to the ends of the world. He was protective and kind and gentle, but he lost a lot of his initial charm and sweetness from the first book. He was still wonderful, caring Sam, the world's greatest composer and musician of all time, but he didn't win me over here, sad to say. Cris was a mystery, who I very much liked — and prayed wouldn't start a love triangle. (Good news: no love triangle here! Phew.) He popped in and out of the story and made such a huge impact at the book's end. All the other characters did their roles well enough (jealous ex-girlfriend, gossipy BFF, evil government leader, etc.) but will be forgettable in the long run.
And third, the world. The book mostly takes place in the city of Heart in the region called Range. It's a very modern society that coexists in the world with magical beasts like sylph, dragons, phoenixes, trolls, centaurs, and the like. In the first book we got some fabulous (well, to my mind; the characters sure weren't having a fun time) dragon attacks, but in Asunder, no creatures besides the sylph made any appearances. That honestly might be my biggest complaint about the book: not enough dragons! This is definitely a fantasy book, but it doesn't scream high fantasy. Maybe in Infinite we'll finally see all these talked-about beasts. All I know is that if dragons aren't present in the trilogy's conclusion, I'll be sorely disappointed.
Asunder was a good novel that sets the series up for a possibly epic ending. I didn't love it, but I was more than content with where Jodi Meadows took the story. ♦
---
Have you read Asunder?
Would you want to read the Newsoul series?
Comment below letting me know!
And, as always, happy reading!