---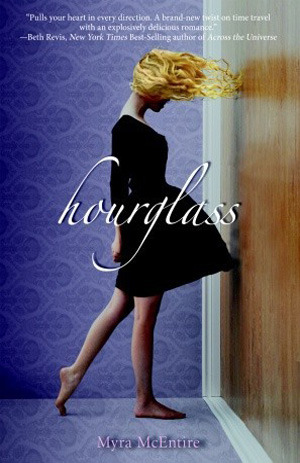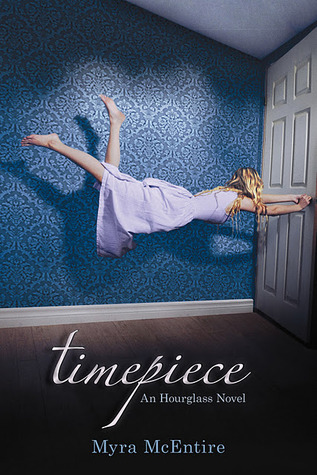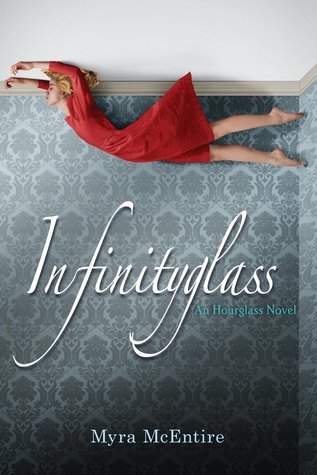 Click on a title to read my review:
Hourglass, Book #1 — my favorite
Timepiece, Book #2 — my third favorite
Infinityglass, Book #3 — my second favorite
---
Genre/themes:
Sci-fi, time travel, powers, romance, the South.
---
Overall thoughts:
Hourglass was by far the best in the trilogy; I was surprised by how great it was. However, each book is told from a different character's point of view, which I didn't like, because Emerson was such an amazing heroine and I was looking forward to seeing her grow throughout the entire series. Therefore, by the time we got to Infinityglass, the last book, I felt detached. Dune barely shows up in the previous two books, and Hallie is a completely brand new character. At least Kaleb, who narrated Timepiece, was very present in Hourglass. This was the series' one big failing for me. I wish there'd been more time travel though; there was only one actual initiated journey back in time in the whole trilogy, and that was in Hourglass.
Overall, the Hourglass Trilogy is pretty good, but the sequels don't quite live up to the expectations Hourglass sets.
---
Here are excerpts from my reviews:
Hourglass review excerpts:
I thoroughly enjoyed Hourglass. The supernatural aspects were well balanced and I love the science and physics of time travel. Emerson was a great, strong character… ♦ … she took no crap… Her traumatic past only made her stronger… ♦ I loved Kaleb… who had his own difficult past. He and Emerson formed a great friendship and I can't wait for more Kaleb. ♦ The plot took its time unfolding, but the book never felt like it dragged on. The real action doesn't happen until the end of the book, but by then, with its time traveling aspects, it was crazy good. I also didn't expect the twist at the end concerning the villains. Did not see that coming at all, but then it made sense, and I applauded Myra McEntire's author skills. I suppose this novel is really sci-fi, but I like how you don't necessarily get that vibe going into the book. The supernatural elements wove into the story seamlessly; it never felt abrupt or unbelievable… because pieces were introduced bit by bit, so by the end when things WENT DOWN, it made sense.
Timepiece review excerpts:
I was surprised at first to learn that Timepiece is told from Kaleb Ballard's perspective. I loved Hourglass, which was told from Emerson Cole's point of view; I really liked Em as a character and I was looking forward to jumping into Book #2 with her again. Alas, Kaleb is the focus here, and while I did quickly get comfortable with reading from his perspective, I found I didn't enjoy him or the rest of the book quite as much as Hourglass. ♦ There's a lot of information in Timepiece, sometimes to the point where I couldn't keep everything straight. Time travel rules can be very confusing, and after a while I just stopped trying to wrap my head around everything. We got some more back story on the characters and all the research they've been gathering up until now, but there were not enough answers to make up for all the new questions.
Infinityglass review excerpts:
I'd hoped Infinityglass would bounce between Emerson and Kaleb's POVs… But the conclusion to Myra McEntire's Hourglass Trilogy is told from Dune and Hallie's perspectives. It was disappointing to not read through Em and Kaleb's eyes again, after all the attachments I'd gained from the previous two books. I did really like Dune and Hallie… but I felt a bit distanced from everything going on in Infinityglass because of new POVs to this whole story. For a finale, I wanted the stakes to be high and have to worry and love the characters from the get-go. It took me a while to warm up to Dune and Hallie, and this was a failing of the book. ♦ I also felt like the plot was… lacking. The stakes were high, but not so high I was on the edge of my seat in anticipation. The story progressed at a nice pace but never really picked up speed or made my heart race or brain go into overdrive… I got barely any sense of urgency from Infinityglass's plot. A lot of the book was focused on the relationship between Dune and Hallie, maybe too much. The actual plot revolving around time and space and all that jazz kinda went over my head, to be completely honest. ♦ We got brief reunion scenes with Em and Michael and Kaleb and Lily, but these were few and far between, sadly. ♦ Disappointingly, there is no time travel here… there is a real sense of danger and intrigue when time traveling… So the lack of traveling meant there was a huge section of possibilities that weren't even presented.
---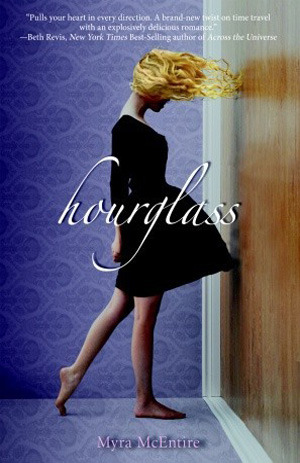 Hourglass
by Myra McEntire
The Hourglass Trilogy, #1
Egmont USA, 2011.
Synopsis:
One hour to rewrite the past . . .
For seventeen-year-old Emerson Cole, life is about seeing what isn't there: swooning Southern Belles; soldiers long forgotten; a haunting jazz trio that vanishes in an instant. Plagued by phantoms since her parents' death, she just wants the apparitions to stop so she can be normal. She's tried everything, but the visions keep coming back.
So when her well-meaning brother brings in a consultant from a secretive organization called the Hourglass, Emerson's willing to try one last cure. But meeting Michael Weaver may not only change her future, it may also change her past.
Who is this dark, mysterious, sympathetic guy, barely older than Emerson herself, who seems to believe every crazy word she says? Why does an electric charge seem to run through the room whenever he's around? And why is he so insistent that he needs her help to prevent a death that never should've happened?
---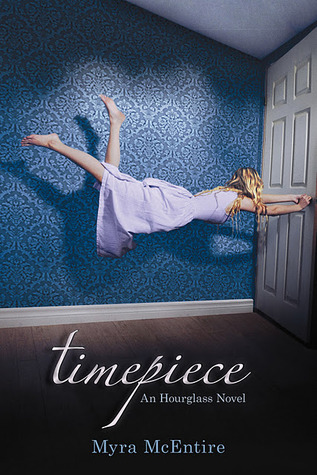 Timepiece
by Myra McEntire
The Hourglass Trilogy, #2
Egmont USA, 2012.
Synopsis:
A threat from the past could destroy the future. And the clock is ticking…
Kaleb Ballard was never supposed to be able to see ripples – cracks in time. Are his powers expanding, or is something very wrong? Before he can find out, Jonathan landers, the man who tried to murder is father, reappears. Why is he back, and what, or whom, does he want?
In the wake of Landers' return, the Hourglass organization is given an ultimatum. Either they find Jack and the research he's stolen on the people who might carry the time gene, or time will be altered – with devastating results for the people Kaleb loves most.
Now Kaleb, Emerson, Michael, and the other Hourglass recruits have no choice but to use their unusual powers to find Landers. But where do they even start? And when? And even if they succeed, it may not be enough…
---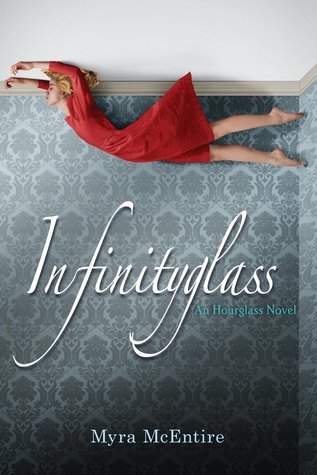 Infinityglass
by Myra McEntire
The Hourglass Trilogy, #3
Egmont USA, 2013.
Synopsis:
No time like the present.
No time in the present.
No time left.
From the moment the Hourglass group violated the rules of the space time continuum to rescue a murdered loved one, time has been in flux. People from other centuries slide into our time, intruding into our space, threatening our world.
Frantically seeking a way to turn back this tide, the Hourglass begins a search for the legendary Infinityglass, tracking it to the city of New Orleans, a place where the past rests easily with the present.
Quiet, reliable Dune, the group's favourite geek, is selected to travel to the Crescent City and somehow retrieve the renowned object.
But there's a problem.
Because the Infinityglass is not an object, it's a person.
A beautiful, headstrong dancer named Hallie, a girl so enticing Dune can't take his eyes off her.
And time is not on her side.
---
About Myra McEntire:
Myra McEntire is an avid Doctor Who fan and will argue passionately about which incarnation is the best. She loves to search thrift stores for things to upcycle, as she's a big believer in second chances. She lives with her two boys and husband near Nashville, Tennessee.
Myra is the author of the Hourglass trilogy, which has been nominated for two RITAs and a YALSA Teen Top Ten, and was chosen as a SIBA Okra Pick. She's also contributed to several anthologies: MY TRUE LOVE GAVE TO ME, GRIMM, DEFY THE DARK, and FIFTY FIRST TIMES.
She's currently contracted with Storybird, where she's serializing a middle grade novel, THE SHADOW GATE.
---
Have you read the Hourglass trilogy?
If so, which was your favorite?
If you haven't, would you be interested in reading the series now?
Which of the covers do you prefer?
Comment below letting me know!
Follow me @ toweroftomes on Twitter | Instagram | Goodreads | and Bloglovin'!