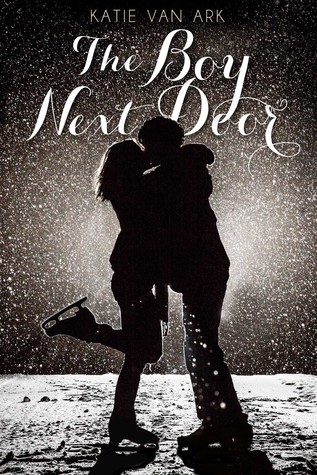 The Boy Next Door by

Katie Van Ark

. | My copy: ARC, 347 pages, Swoon Reads (Feiwel and Friends), releases February 3rd, 2015. | Source: Macmillan via Shelf Awareness. |

View on Goodreads here

.
I don't usually read contemporary romances, but I was excited to read The Boy Next Door when it appeared in my mail one day. I need to reach out of my comfort zone of fantasy, sci-fi, and dystopia, and this book looked cute–plus I love how it revolves around figure skating. It started out promising but became an uneven ride, although I did like it for the most part.
The book is told in alternating chapters from Maddy and Gabe's perspectives; the two are figure skating partners now entering their senior year of high school. Maddy's been in love with Gabe for a long time, but Gabe is reluctant to let his true feelings for Maddy reach the surface. When their coach, Igor, gives them a new routine to the music from Romeo and Juliet, the two of them struggle on and off the ice with their feelings for each other.
I liked Maddy more than Gabe. Maddy wanted him and she wasn't afraid to make some moves. She didn't like how Gabe wanted to keep their tentative romantic relationship a secret from everybody–and neither did I. Gabe was a bit bland in the beginning, though a very nice guy and obviously someone who cared a lot about Maddy. However, he was definitely scared to make their relationship a real, public thing, and I got so fed up with how hesitant he was and how he handled their relationship. He disappointed Maddy a lot for reasons she and I didn't find very plausible. But the two had great chemistry. They were best friends who developed romantic feelings but who still had playful banter and felt comfortable and safe with each other.
The plot needed some work, though. There was a big part in the middle of the book where I felt like things could have been cut or severely shortened. I understand that this is a romance so Maddy and Gabe's emotions needed to be thoroughly explored and explained, but there were some major ups and major downs in terms of pacing and interesting events. I didn't much care for Chris and Kate's exhausting relationship, nor did I ever really warm up to Igor, and I felt like Maddy and Gabe's parents weren't very fleshed-out. I also wish that the huge "thing" regarding Maddy's dad hadn't been hidden from her in the first place, and that it had been introduced much earlier in the story because then there could have been a very strong sub-plot revolving around a father-daughter relationship.
I really like figure skating. It's one of the few events I actually watch during the Olympics (figure skating, ice dancing, and skiing are about it for me at the Winter Olympics). It's beautiful and so similar to dance–but I don't really know much terminology. A lot of the vocabulary in The Boy Next Door didn't really register for me, but I didn't mind this at all. It's obvious Katie Van Ark knows her stuff–she's a skater herself!
The Boy Next Door was entertaining a lot of the time, but a bit dragged-out at other points. I didn't particularly love the romance and felt like the plot could have been tightened up some more, but there were enjoyable moments, frustrating moments, and even some sexy times! All in all, I'm glad I got a chance to read this book. It was a nice breather from all the heavy, super-serious books I usually read, and it piqued my interest in figure skating again–I've been watching skating routines on YouTube since finishing it. ♦
*I received this book from the publisher in exchange for review consideration. This in no way affects my review; all opinions are my own. Thank you, Swoon Reads!
Have you read The Boy Next Door?
If so, what did you think?
If you haven't, would you want to read it now?
Also, do you like figure skating?
Comment below letting me know!
And, as always, happy reading!