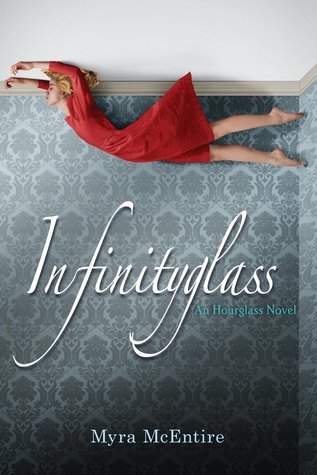 I'd hoped Infinityglass would bounce between Emerson and Kaleb's POVs, as Emerson narrated Hourglass and Kaleb Timepiece. But the conclusion to Myra McEntire's Hourglass Trilogy is told from Dune and Hallie's perspectives. It was disappointing to not read through Em and Kaleb's eyes again, after all the attachments I'd gained from the previous two books. I loved Em. She was a terrific heroine, and Kaleb was pretty strong and definitely layered. I did really like Dune and Hallie–they had great contrast because Dune was quieter and calculating and Hallie bold and extreme–but I felt a bit distanced from everything going on in Infinityglass because of new POVs to this whole story. For a finale, I wanted the stakes to be high and have to worry and love the characters from the get-go. It took me a while to warm up to Dune and Hallie, and this was a failing of the book.
I also felt like the plot was… lacking. The stakes were high, but not so high I was on the edge of my seat in anticipation. The story progressed at a nice pace but never really picked up speed or made my heart race or brain go into overdrive. It's good to read stories that aren't typically action-packed and a breeze to fly-through (although this was a fast read, just not breathlessly fast), but I got barely any sense of urgency from Infinityglass's plot. A lot of the book was focused on the relationship between Dune and Hallie, maybe too much. The actual plot revolving around time and space and all that jazz kinda went over my head, to be completely honest. I was able to keep everything straight in Hourglass, but by Timepiece all the technicalities started getting confusing and hard to keep track of. In Infinityglass, I gave up trying to understand everything and just went with the flow. I'm still not completely certain on what the Infinityglass is supposed to be capable of besides just set all the timelines back to their original places… I think? See, I gave up after a while.
The supporting characters were almost nil. Mr. Girard, Hallie's dad, and Poe, a guy whose role in the previous books I'd forgotten about, popped up the most. But we barely see the rest of the Hourglass family, and the real villain only showed up at the end for the final showdown. We got brief reunion scenes with Em and Michael and Kaleb and Lily, but these were few and far between, sadly. Also, these sidekicks barely did anything useful; they seemed more like cameos than actual roles. It was disappointing. I really wanted more Em and Michael action because those two are my favorite in the entire series. Sigh.
Disappointingly, there is no time travel here (and I can't remember if there was any actual time travel in Timepiece, either). Which I thought was lame, since this trilogy is about all the separate timelines bleeding into different timelines, thus making time unstable. Also, there is a real sense of danger and intrigue when time traveling–you're able to change things or find out information or whatever. So the lack of traveling meant there was a huge section of possibilities that weren't even presented.
I liked Infinityglass. It was easy to read, Dune and Hallie were good characters (just not my favorites), and it was a pretty good conclusion the series (but Hourglass is still the best book by far). It wasn't what I expected or completely wanted, but it was still good in its own way. It sounds like I didn't like it from what I've talked about above, but I did. It was just different from the route I wanted Myra McEntire to take. Overall, the Hourglass Trilogy is pretty good, but the sequels don't quite live up to the expectations Hourglass sets. ♦
Have you read Infinityglass?
If so, what did you think?
Did you think it was a good/bad conclusion to the series?
If you haven't read it, would you want to now?
And/or would you want to read the entire Hourglass series?
Comment below letting me know!