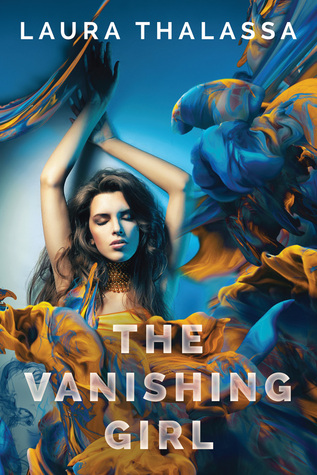 The Vanishing Girl by

Laura Thalassa

(The Vanishing Girl, #1). | My copy: eGalley, ~278 pages, Skyscape (Amazon Children's Publishing), re-releases January 27th, 2015 (first published February 2014). | Source: Skyscape via NetGalley. |

View on Goodreads here

.
So I stayed up until 4am reading The Vanishing Girl. (Granted, I only started it at about 1am. I planned to read the first chapter or so before bed to see what it was like…) I got about 75% of the way through before I got too sleepy to keep reading. As soon as I woke up in the morning I finished the last quarter of it. This book is action-packed and has a great premise: Whenever Ember falls asleep, she teleports to a random location for ten minutes. Now, doesn't that sound cool?
The beginning of the book was a bit ridiculous, as Ember is kidnapped and taken to a government facility with the excuse being her parents made a deal before she was born that if they had her, she'd have to join the military for two years upon turning eighteen. (Like, WTF?) Ember runs–gets kidnapped by "frustratingly handsome Caden Hawthorne" (according to the book's description, har-har) and is delivered to "a quasi-military training camp"–for teleporters like herself!
The book's ridiculousness-levels subsided once Ember reached the facility. She immediately gets thrown into rigorous training to become a government spy. This was really fun to read about, especially because of her partner Caden, that frustratingly handsome guy who kidnapped her. 😉 Caden is cocky, possessive, a jokester, and seems like a needy little idiot at first–but he's actually one of the most skilled trainees/teleporters at the facility. He and Ember get off to a rocky start because she's been ripped away from her life unwillingly and doesn't want anything to do with this whack government teleportation project. Her sarcasm and his witty lines cracked me up. The two bounced off each other so well.
And that being said… the two have obvious chemistry! And, because they are forced to train together and work as a team during simulations and missions, it's pretty much a no-brainer that they fall in love. It was great to read about the two of them as they learned, grew, changed, and got better and better at missions. (It wasn't instalove, I am relieved to say.) The two of them made an excellent pair. (The Vanishing Girl does focus on the romance quite a bit, so note that this is a New Adult novel because of the descriptive sex scenes. There's a lot of language and violence, too, more language but probably not any more violence than you typically find in YA.)
Besides the romance, Ember spends a lot of time trying to figure out what's really going on behind this government project. She wants to know why they created people who could teleport, what happens to the teleporters at various stages in their "careers"–and how she can escape from the iron grip of the government and be under her own control. She also doesn't know who she can trust–everyone seems to have different motives and no one is being upfront with important information. Like Adrian, a young man Ember meets a bunch of times during teleportation, who seems to know some information about the teleportation project the government wishes he didn't. I've got a feeling Adrian's going to become much more important in the next book. (I also hope there's no freaking love triangle that gets introduced. That'd be disappointing because Ember and Caden are honestly a perfect match.)
Overall I really enjoyed The Vanishing Game, more so than I expected. It was entertaining, steamy, fast-paced, and gripping. I liked the mixture of sci-fi and intrigue; I liked the characters; I liked the various scenarios Ember was thrown into. And the ending was killer. I need to know what happens next ASAP! ♦
*I received this book from the publisher through NetGalley in exchange for review consideration. This in no way affects my review; all opinions are my own. Thank you, Skyscape!
Have you read The Vanishing Girl?
If so, what did you think?
If not, would you want to now?
Comment below letting me know!