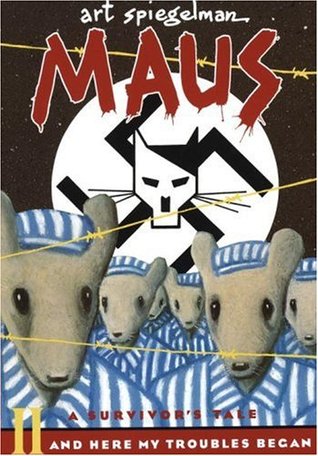 I would suggest reading my review of Maus I before proceeding. Not because of spoilers but because I think it is important to grasp the full picture of this classic graphic memoir, and Volume II kind of requires you to know the story from Volume I. So go read that review and then come back. It'll only take you a few minutes. 🙂
You're back? (And even if you didn't leave, that's fine, too–I'm not going to spoil anything here.) Okay, I'm going to be honest and say I've been having a really tough time trying to come up with a review of Maus II. So I've decided I am literally going to write down my thoughts as they come up. This review might not have any structure to it. It's purely my conscience spewing out ideas on the fly. In other terms, I'm winging it.
I think I liked this sequel more than the first book, but I will say that Maus II might be even more horrific. It is mainly a story about survival, and the lengths people will go in order to achieve it. The book chronicles Art Spiegelman's father Vladek's year at Auschwitz Concentration Camp. That's pretty much all I need to say.
Because this graphic memoir (told in black and white comic strips) covers a much shorter time period than Volume I, I felt like Art (and, in turn, Vladek) was able to really detail those experiences and make them hit even harder. I whizzed through Maus II in a day, I think in two sittings. I was gripped, I was stunned. I was horrified, saddened, and angered at what human beings are capable of.
I liked reading about the strained relationship between Art and Vladek. I felt like it was touched on a lot more in Volume II, and it was clear that Vladek's traumatic past changed him in ways Art came to understand as he heard more of his father's history. The book also gives glimpses of Art's own insecurities which was an interesting deviation from the unthinkable hardships of Vladek's life.
Note that I said "reading." While this is a graphic novel, I felt like I did way more reading than looking at the illustrations. Of course, plenty of the pictures were saddening and cringe-worthy and made me pause, but I think Vladek's relayed words had the biggest impact on me.
Also, as I am sure you know, Art Spiegelman chose to depict the people as animals: the Jews as mice, the Nazis as cats, etc. Having formed my opinions on this unique portrayal while reading Volume I, I found I wasn't as affected by it this time around. I think this (controversial) decision works well, and I had no problem with it, but I was less interested in the artwork than before. As stated previously, I "read" Maus II. There was a big imbalance between my attention to the words and the illustrations.
I am glad I finally read Art Spiegelman's contemporary classics (I'm pretty sure they're regarded as such). While World War II and Holocaust books are not uncommon, the medium of comic strips to deliver a tragic memoir is certainly inventive and memorable. I do recommend these graphic novels. There are things I liked and disliked about each of them, but overall they tell a solid story about the strength to fight to survive. ♦
Have you read Maus, Volume I or II?
If not, would you want to now?
Comment below letting me know!