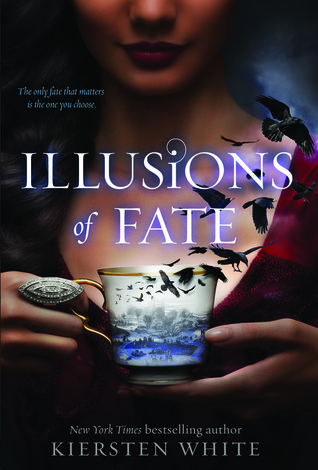 Illusions of Fate by

Kiersten White

. | Format: Hardcover, 275 pages, HarperTeen, HarperCollinsPublishers, 2014. | Source: Library. |

Add to your Goodreads TBR here!
I was very excited to read Illusions of Fate by Kiersten White. I'd heard good things about it, and, seeing as it is fantasy, was definitely eager. Because fantasy is my jam. I loved how different in voice this book was compared to Kiersten White's other books. (Loved The Chaos of Stars, didn't love her Mind Games duology.) The setting of Illusions of Fate obviously had a lot to do with the feel of the story, but I was surprised at how different the writing was. Which is a totally good thing! Kudos to Kiersten for making her novels very distinctive and changing up her characters' voices radically.
Jessamin is an islander from Melei, who moves to the country of Albion to attend school (she is half Melei, half Albion). She's shunned, looked down upon, and bullied because of her foreign roots and looks (she has a darker complexion), but she catches the eye of a young, dashing Lord Finn Ackerly. Unfortunately, Finn is caught up in a political and magical feud with the country's Deputy of Defense, Lord Downpike, and Jessamin gets caught right in the middle of it.
This book was excellent. It was entertaining, it was gruesome, it was magical, it was infuriating–all in good ways! While Jessamin actually doesn't do a whole lot for certain chunks of the book, the story never felt boring or drawn-out. I like political battles, and while the one in Illusions of Fate is not as deep as other fantasy stories', it was certainly satisfactory and kept the characters–and me–on their toes.
I liked how there was some romance between Jessamin and Finn, but that it wasn't the focus of the book. The two had good chemistry, and I liked their banter. I also just have got to mention: I felt like there were some (movie version, but perhaps book version as well, though I haven't read it in a while) Howl's Moving Castle similarities! Such as the opening, when Jessamin got stuck in an alley with a troublesome man and a magician swooped in and saved her and then took a liking to her. Heehee.
Jessamin's new-found friend Eleanor was hilarious. I loved how welcoming she was to Jessamin and how unapologetic she, Eleanor, was about everything. She kept up a flawless act in order to disguise her great influence over others, and I thought she was a very strong supporting character. I also especially appreciated the sauciness of Sir Bird! I loved how the books in this world could turn into crows (or ravens? Some sort of black bird) and back again. It was a great detail that added depth to this fantasy world. (I just wish there was a map in the front of the book! I love maps. I feel like all books set in different worlds need to have them. It just helps so much with visualizing everything and understanding the setting even more.)
Lord Downpike was a good villain–menacing and brutal, slick and dangerous, though not on my list of Best Villains Ever. But I did not see the big twist coming… (Potential SPOILER AHEAD! I'll try to keep it vague.) A certain character kept popping up throughout the book and I thought this person was there for a specific reason, as they weren't contributing much plot-wise, but in the end their motive was completely different. (END SPOILER. Was that vague enough?) I literally gasped and my jaw dropped. All you need to know is that when magic is involved and anything can happen, anything that does happen isn't always predictable. Did that make any sense?
I also totally called the ending in the last chapter, though. (No spoilers; I'm just going to be vague again.) The thing was bugging me and I kept thinking, Would that really happen? Would that really be the end of a standalone? And part of me wanted it to be, to set this book apart from others, but I had a feeling the thing wouldn't last. And I was right. I was more overjoyed than disappointed about it, though. (Did you enjoy my cryptic phrasing? You're going to have to read this book to figure out what I'm talk about!)
I want this to be a series! Illusions of Fate works as a great standalone, but the door is left open for the story to possibly continue–and I would very much like it to! Kiersten White has written a gorgeous book (really, though, the writing is beautiful. I never once tried to rush through the words) that had me enthralled the whole time. I highly recommend reading this spellbinding book about a heroine who dares to defy and choose her own fate. ♦
Have you read Illusions of Fate?
If not, would you want to now?
Have you read any other books by Kiersten White?
Comment below letting me know!
And, as always, happy reading!