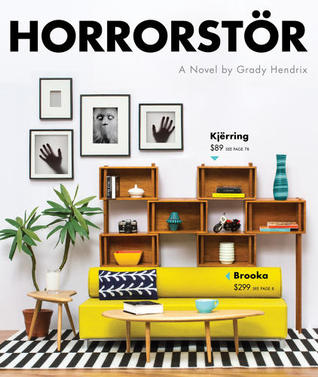 Horrorstör by Grady Hendrix. Source: Library. Format: Paperback, 243 pages, Quirk Books, 2014.
Horrorstör starts out with acts of vandalism happening at one Orsk location (Orsk is the book's Ikea wannabe), and the security cameras aren't capturing anything. So, a few employees are tasked with patrolling the store all night to hopefully find whoever is causing all the trouble (like pooping on the brooka sofa, haha). The book's protagonist is Amy, a sarcastic, plucky young woman who resents her job at Orsk but needs it to stay afloat. She and her colleagues, Ruth Anne, Trinity, and Matt, and their supervisor Basil, all start their watch thinking they'll find just a slightly crazy, kinda smelly, maybe homeless guy pooping on the brooka again–but they end up getting way more of a horrifying adventure than they could ever imagine.
I don't read horror. I knew this was a horror novel, but I expected it to be more of a parody, and lighter in tone, if that's even possible for a horror book. Be warned: stuff gets nasty, so if horror isn't your thing, maybe don't pick this up. Horror isn't my thing, and I went into this book not knowing  much about it. So I found myself skimming a few of the more unpleasant scenes–although I did read the seance scene in fascinated terror. The book does a lot of setting up for about the whole first half, but then once things plummet downhill for the characters it doesn't really let up again.
I got a great laugh when I opened the book initially: It's made to look like a catalog! There's a map of the Orsk showroom, some welcome messages from Orsk to make your visit the best it can possibly be, a home delivery order form, and small-print policies. The chapters also all start out with an illustration of a piece of furniture that makes an appearance somewhere in that chapter. A wonderful detail is that as the story progresses, the items featured change in tone… You'll have to read it to see what I mean. But it was amusing to read about brooka sofas, liripip wardrobes, müskk beds, and hügga chairs… the entries complete with dimensions and color choices.
I did really enjoy Horrorstör. There is a lot of humor in it, but most of it goes away once all the real horror elements begin. I loved Grady Hendrix's unique and contemporary twist on the classic haunted house. I think the department store setting made things super creepy. And the whole story was very cinematic–this would translate very well on screen, I think. To end this review, would I recommend it? Yes. Just know that this is most definitely disturbing and sinister horror. ♦
Have you read Horrorstör?
If so, what did you think?
If you have not, would you want to read it now?
Comment below letting me know!
Happy reading!
About Grady Hendrix:
Grady Hendrix does a job. His job is called "writing" which means that he is completely irrelevant and can be killed and turned into food at any time. He is one of the founders of the New York Asian Film Festival, but he is not responsible for the bad parts of it. He is also not Asian. For years he was a regular film critic for the New York Sun but then it went out of business. He has written for Playboy Magazine, Slate, The Village Voice, the New York Post, Film Comment, and Variety before Variety fired him for writing about Asians. Variety does not like Asians.

He writes fiction, also called "lies," and he writes non-fiction, which people sometimes mistakenly pay him for. There is a science fiction book called Occupy Space that he is the author of, and also a fantasy book called Satan Loves You which he wrote as well. Along with his BFF from high school, Katie Crouch, he is the co-author of the YA series, The Magnolia League. With Ryan Dunlavey he was co-authored the Li'l Classix series, which are cartoon degradations of classic literature, and with his wife, and Ryan, he wrote Dirt Candy: A Cookbook, the first graphic novel cookbook in America. His fiction has appeared in Strange Horizons, Pseudopod, and the anthology, The Mad Scientist's Guide to World Domination.

He is very, very beautiful, but if you ever meet him, please do not let this make you uncomfortable. He does not judge.

The New Yorker once ran a short profile of him, and this means that when the time comes and they are lining people up for the Space Arks he will be guaranteed a seat ahead of you.