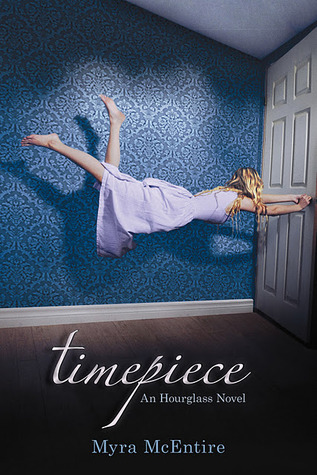 Timepiece by Myra McEntire (Hourglass, #2. Read my review of Hourglass, Book #1, here). Source: library. Format: Hardcover, 325 pages, Egmont USA, 2012.
I was surprised at first to learn that Timepiece is told from Kaleb Ballard's perspective. I loved Hourglass, which was told from Emerson Cole's point of view; I really liked Em as a character and I was looking forward to jumping into Book #2 with her again. Alas, Kaleb is the focus here, and while I did quickly get comfortable with reading from his perspective, I found I didn't enjoy him or the rest of the book quite as much as Hourglass. Still, Kaleb is very layered: a young man troubled and lonely who is vulnerable because he can tap into everyone else's emotions but is too afraid to truly face his own.
Hourglass introduces more time travel-y ideas and possibilities, and has the characters running around after all the bad guys (there are a few of them now, as opposed to just two in the last book). Jack Landers, our main villain, is hellbent on causing as much unbalance to the world as he can, just to achieve one feat of alteration to his own timeline. His conniving work is causing the very fabrics of time to crack frequently: Ripples, people and scenes from the past and future, are appearing everywhere in the present–and now everyone with special abilities can see them, when before it was just the people who carried the rare time travel gene. Jack has manipulated people's timelines and seems to have conquered some extremely advanced and powerful abilities. He's dangerous, and he is playing a sick game to get what he wants.
A new addition to the Hourglass organization is Lily Garcia, Em's best friend. Lily made brief appearances last book, but in Timepiece she becomes a major player: she has the ability to find things. Literally, she can look at a map and know where something is. And, obviously, as this is told from Kaleb's point of view, the two of them end up together… though not without some serious complications for most of the book. The two are headstrong and sarcastic, arguing constantly and reluctant to work together at first. But as wackier stuff goes on, they learn to trust each other, and… you get the picture. I liked Lily a lot; she's much different from Em, and her and Kaleb's friendship developed realistically.
There's a lot of information in Timepiece, sometimes to the point where I couldn't keep everything straight. Time travel rules can be very confusing, and after a while I just stopped trying to wrap my head around everything. We got some more back story on the characters and all the research they've been gathering up until now, but there were not enough answers to make up for all the new questions. Hopefully the third and final book, Infinityglass, will resolve everything and resolve it well. ♦
Have you read Timepiece?
(Or have you read Hourglass, the first book?)
If so, what did you think?
If you have not, do you think you would want to read it?
Comment below letting me know!
About Myra McEntire:
Myra McEntire is an avid Doctor Who fan and will argue passionately about which incarnation is the best. She loves to search thrift stores for things to upcycle, as she's a big believer in second chances. She lives with her two boys and husband near Nashville, Tennessee.

Myra is the author of the Hourglass trilogy, which has been nominated for two RITAs and a YALSA Teen Top Ten, and was chosen as a SIBA Okra Pick.

She's currently contracted with Storybird, where she's serializing a middle grade novel, called THE SHADOW GATE.