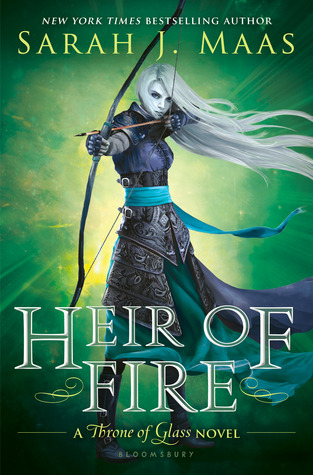 Heir of Fire by Sarah J. Maas. Throne of Glass series, #3. Read my review of Throne of Glass, Book #1, here, and my review of Crown of Midnight, Book #2, here. Source: Library. Format: Hardcover, 562 pages, Bloomsbury, Bloomsbury Children's Books, September 2014.
The Throne of Glass series is probably the biggest, most bad-ass high fantasy Young Adult series currently in progress. The series consists of the first three novels and a prequel bind-up of the novellas. Throne of Glass, Book #1, was a great setup for this planned six-book series, and Crown of Midnight, Book #2, was when the plot really started taking off. Heir of Fire expands upon the world and the characters even more, and I think it may be my favorite of the installments so far. Haven't yet read The Assassin's Blade, the prequel, but I really want to. It'll be a good way to keep myself from going crazy before Book #4 comes out.
Heir of Fire picks up a little after Crown of Midnight's end. Our main protagonist, Celaena Sardothien, the King's Champion, is now in Wendlyn, where she is supposed to be doing the King of Adarlan's dirty work. She finds herself brought to her Aunt and Queen Maeve (the biotch), who orders the Fae warrior and Prince Rowan Whitethorn to train Celaena in magic. (I really can't get more specific than that without getting spoiler-y for the previous books.)
Celaena's plot was pretty slow until about halfway through, though it was always interesting to read about because of how complicated of a character Celaena is. Where she once would smirk and call herself invincible, here she is broken and defeated, scared of the other role she can't escape from. She has darkness trapped inside her that she cannot let go of, and it is quite a journey to go through as we see her change as she learns to hone her magic. I was an emotional train-wreck when reading Celaena's chapters, all thanks to when she revealed and relived the dark and desperate memories from her past.
Rowan, the Fae prince, was a terrific character who also grew as the book went on. He was emotionless and brutal initially, focused only on training Celaena and not caring about the means he used to teach her. He and Celaena's friendship (well… more like a forced partnership at first) radically evolved as time went by, and I found myself loving Rowan when at first I'd had a huge disliking for him. I want more Rowan in the next book because he's even more bad-ass than Celaena in certain ways…
There are other characters who have their own plot lines as well. Chaol Westfall, Captain of the Guard to the King of Adarlan, is struggling to move past the horrendous decision he made last book–which alienated him from his best friend, Prince Dorian Havilliard–while at the same time exchange secrets for different secrets with a dangerous and unreliable ally. I loved Chaol in the first two books, and I still love him, but he wasn't nearly as strong and interesting as before. While he was indecisive and guilt-ridden here, I didn't mind him much. (Some readers, though, couldn't stand Chaol in this book. I don't really understand the fuss.) Don't get me wrong–I adore Chaol, but I think his story line just didn't get enough development in Heir of Fire. Though maybe that's because any of arcs that took place in Riftold, around the palace, just could not compete with the arcs in Wendlyn and The Deserted Land.
Dorian has his own chapters, too, mostly about him trying to suppress the magic he possesses while getting to know the healer Sorcha. (Sad to say that his story line, which seemed so promising by the end of Crown of Midnight, really didn't go anywhere in Heir of Fire.) Dorian did mature, and we, as did Chaol, began to really see him as the king he could be, and not just "the prince." We have Sorcha's point of view as well, and to be honest, I really didn't care for her. I always had a feeling something was a little off about her and I really didn't want her and Dorian becoming a thing… Dorian and Sorcha's chapters were my least favorites as they were dull in comparison to what the other characters were up to.
Additionally, we read from the point of view of Aedion Ashryver, one of the King of Aderlan's generals–and a childhood friend of Celaena's. Aedion grew on me; at first I loathed him, but then I was rooting for him. He is dangerously cunning, and finds himself in quite a tricky position by the book's end. I really want him to succeed at his goals and hope that he meets up with Celaena soon…
The best plot line, though, is of the new character Manon, a Blackbeak witch, and the next Blackbeak Clan Matron. The three main witch clans, the Ironteeth Witches, have been influenced by the King of Aderlan (man, that guy's got his hands in everything–the evil, sadistic, ruthless, manipulative bastard) to claim and train wyverns to ride into battle. (Remember in my review of Crown of Midnight I was practically hyperventilating about the wyverns?)
Manon is one helluva witch–she's smart, she's fierce, she's intimidating, she's ambitious, she's stubborn, she's lethal. She also is not completely heartless, and her actions often receive physical and verbal punishment from her controlling grandmother, the Blackbeak Matron. She, Manon, may sound like a villain, out to later thwart the doings of the other characters, but she is a wonderfully different heroine who learns that the way her grandmother does things may not actually be the best anymore. From the first glimpse of Manon I knew I loved her. She honestly might be my favorite character in the series thus far, with Chaol and Rowan right behind her.
But. The. Dragons. Or wyverns, as they're called in this world. I was not expecting dragons to have such a big presence in this series–we've already got Fae, Wyrd-keys/stones/marks, and MAGIC–but I was ecstatic nontheless. These dragons are violent, smart creatures, just like the witches who are riding them, but Manon's relationship with her unlikely wyvern was just perfect. (I had hints of Eragon nostalgia.) I can't wait for when the dragons actually go to battle with the witches because that is going to be so epic I probably won't be able to deal and will start hyperventilating again.
These different story lines may sound disjointed, but they are all going to weave together in the future as our characters find one another again or for the first time. The change in view points never felt jarring, and, for the most part, I enjoyed them all. But my favorite was Manon, then Celaena/Rowan, then actually probably Aedion, then Chaol, then Dorian/Sorcha. And the final climaxes of Celaena/Rowan and Chaol/Dorian/Aedion/Sorcha's arcs were mind-blowing. Shit. Went. Down. I was gripped by the book's last few chapters, horrified and on the verge of tears. How. In. The. Hell. Is Sarah J. Maas going to resolve everything? *Cackle* — We're only halfway through the series, people!
I liked the absence of romance in this book (the little bit between Dorian and Sorcha I will pretend did not happen). With Celaena's relationships being so prominent in Crown of Midnight, it was nice to have her focusing just on herself in Heir of Fire. Yes, we had some lovesick moments from everyone except Manon, but the crises and looming threat of war kept everyone preoccupied, and that worked really well for Heir of Fire. All the kingdoms are going to start fighting, and this third book really started showing us the vast scope of things.
In conclusion, Heir of Fire is an excellent novel, a book that really takes leaps and bounds and noticeably paves the way for so many things to happen. Sarah J. Maas's writing is descriptive, her voice the perfect fit for this dark fantasy world. While there are flaws (what book doesn't have them?), the story's strengths are memorable and astonishing. I am eagerly awaiting the release of Book #4 and in the meantime aim to hunt down the prequel, The Assassin's Blade, to fill up the black hole in my heart that appeared after realizing there were no more pages in Heir of Fire. ♦
About Sarah J. Maas:
I'm Sarah J. Maas, the New York Times and USA Today bestselling author of the Throne of Glass series (Heir of Fire, Book 3, will be out in September 2014). The Assassin's Blade, a bind-up of all five TOG novellas is out now! Starting in Spring 2015 – my New Adult Fantasy series, A Court of Thorns and Roses, will be published by Bloomsbury as well! Hooray! I was born/raised in Manhattan, but traded freezing winters and sweltering summers for No Winter Ever Weather when I followed my then-boyfriend (now husband!) out to California in 2008. After six years in SoCal, I've finally returned to the East Coast, and am currently residing in the Philadelphia area. I graduated Magna Cum Laude from Hamilton College with a degree in Creative Writing, and a minor in Religious Studies. I'm represented by Tamar Rydzinski of the Laura Dail Literary Agency.