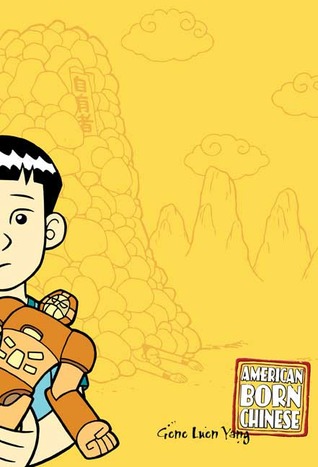 American Born Chinese by Gene Yuen Lang. Source: Library. Format: Paperback, 233 pages, Square Fish, Macmillan, 2008.
This was the first graphic novel I have ever completed. I chose it specifically because of all the praise it's gotten, the fact that it won a Printz Award and was nominated for a National Book Award, and because it is about Chinese heritage–which is my background! Told cartoon-style, and in full color, the book weaves three different narratives that all tie together in a surprising way. We've got the Monkey King, a famous name from Chinese mythology; Jin Wang, the title character who is an American-born Chinese boy; and Danny, a white American with an obnoxious Chinese cousin called Chin-Kee. The Monkey King's story line was the most humorous, Jin's the most serious, and Danny's just bizarre.
American Born Chinese delves into the topic of identity, self-acceptance, racism and stereo-types, and feeling like you're different and don't belong/fit in. These topics aren't handled subtly–they're very prominent, but I liked that the messages were clear and that the characters got some "real talk". Gene Luen Yang cut right to the chase without meandering needlessly. Yang's artwork is appealing, and I feel as if he used a lot of experiences from his own life in the story. A quick read, this superb graphic novel was always interesting enough for me to go, "Just… one… more… page…" at 1:00AM. I loved this book. ♦
About Gene Luen Yang:
Gene Yang began drawing comic books in the fifth grade. In 1997, he received the Xeric Grant, a prestigious comics industry grant, for Gordon Yamamoto and the King of the Geeks, his first comics work as an adult. He has since written and drawn a number of titles, including Duncan's Kingdom (with art by Derek Kirk Kim) and The Rosary Comic Book. American Born Chinese received National Book Award. He lives in the San Francisco Bay Area with his lovely wife and children and teaches at a Roman Catholic high school.