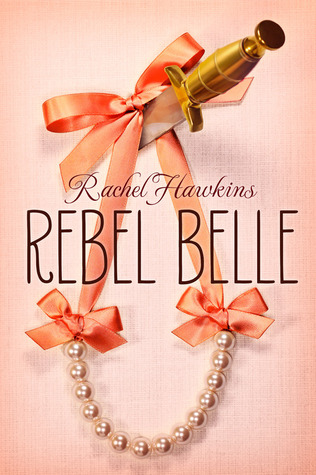 Rebel Belle by Rachel Hawkins, Book #1 in the Rebel Belle series. Source: Library. Format: Hardcover, 345 pages, G. P. Putnam's Sons, Penguin Young Readers Group, 2014.
If Harper Price hadn't gone to the restroom, her new life as a Paladin in a world where Oracles and Mages exist would never have happened. But she did go to the restroom to apply lipstick, and thus had the role of Paladin unwillingly and unknowingly bestowed upon her. She has a duty to protect someone now, and that someone is the annoying David Stark who continually publishes negative things about Harper in the school newspaper. They hate each other, and now they're forced to trust each other and figure out why the heck people want David and why he's so important for Harper to protect.
I loved Rebel Belle. I was surprised by how much I enjoyed it. I didn't expect magic to play as large a role as it did. But once I started reading I couldn't put this urban fantasy down. The plot all builds up to Cotillion, where it has been predicted a terrible event will take place concerning David. Harper's ready to go all Paladin on anyone who threatens him. I was shocked by the twist. I didn't expect it to be so… sly. And it was definitely pretty spectacular.
Harper was such a great protagonist. She was a bit of an overachiever, but she had good intentions and always put her all into her work. She was bossy and vain, judgmental and harsh at times, but she was layered and relateable, lively and smart. Plus, she acquired some new bad-ass ninja capabilities! But now she's suddenly a Paladin, destined to protect David, her arch-nemesis, for the rest of her life with her life. Harper is stretched very thin as weirder and weirder things keep happening, yet her boyfriend and best friend are still there for her even when she's not there for them.
I really liked how Harper and David slowly got over their hatred for each other. Forced together many a time, they had to build up the other's trust. They also had the same secrets to keep, and the life-or-death circumstances they found themselves in made them set aside their previous troubles and start somewhat anew. I liked the romance between them that grew steadily as the book progressed, but I did feel bad for Ryan, Harper's boyfriend. He was a great guy who really didn't deserve all the sudden neglect from Harper. But I was pretty gleeful with how the novel ended, concerning Harper, David, and Ryan. Now I really want the sequel, Miss Mayhem, in my hands ASAP! ♦
About Rachel Hawkins:
Rachel Hawkins is the author of the bestselling Hex Hall series. She lives in Alabama.