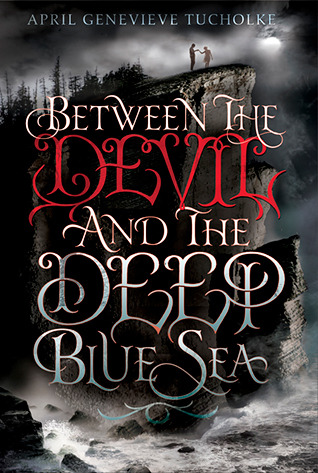 Between the Devil and the Deep Blue Sea by April Genevieve Tucholke, Book #1 in the Between series. Source: Library. Format: Hardcover, 360 pages, Dial Books, Penguin Group USA, 2013.
I'd heard a lot of buzz about Between the Devil and the Deep Blue Sea. People said it was a gothic, paranormal romance and highly recommended it. So I finally picked it up to see what all the fuss was about. It sounded intriguing: a sleepy little town called Echo, a strange new boy–who could possibly be the devil. Well. It was a fast read with an insane ending, but most of the book wasn't that interesting. Yes, disturbing events started happening as soon as River West moved into Violet White's guesthouse, but I didn't care for any of the characters and thought things dragged on.
Violet was not a favorite of mine. While she did acknowledge that River was dangerous and she shouldn't be around him (he manipulated and lied to her on many occasions), she still didn't do anything about it. Reminded me of Twilight, how Bella knew Edward was a dangerous vampire who thirsted for her blood yet she didn't get the heck away and actually wanted to be in a relationship with him. Ugh. Violet's stupidity got on my nerves. Because River West was most certainly very dangerous. I wasn't charmed by him. I didn't like him, didn't trust him. But I did want to find out if he was in fact the devil… The supporting characters, too, were extremely unlikeable. Violet's brother, Luke, was a jerk and so was Violet's best friend, Sunshine. Man, could someone slap Sunshine for me? Or at least push her off a swing set.
About halfway through I realized I was the reading the book purely to find out if it was going to get any better. The characters and the romance (case of insta-love, ugh) were not cutting it for me, and I didn't enjoy all the horrific scenes. Horror can be done well and not so well. This horror was meh. Overall, it wasn't a bad book; I did like the Gothic tones and the premise of the devil taking the form of a handsome, mysterious young man, but this book just wasn't my cup of tea. It's going to sound really strange when I say I want to read the sequel. Because the ending of Between the Devil and the Deep Blue Sea was insane. Did I mention that already? I normally try to keep with series unless I absolutely hated the first book (well, ahem, Twilight was the exception; I did not like those books at all yet I still somehow read all of them…), so I suppose I'll pick up Between the Spark and the Burn sometime.