---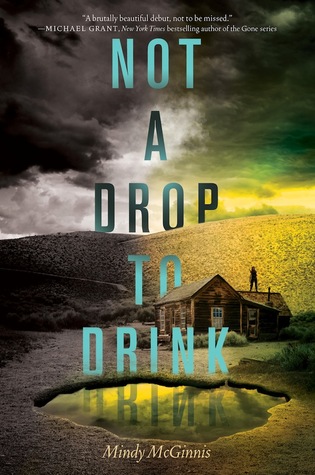 Click on a title to read my review:
Not a Drop to Drink (Book #1)
In a Handful of Dust (Book #2)
---
Overall thoughts:
Water is scarce in this futuristic, almost dystopia, America. The Not a Drop to Drink duology by Mindy McGinnis are rugged, extreme, personal novels each focusing on one teenage girl in particular. Not a Drop to Drink is about Lynn, a survivalist at all costs. In a Handful of Dust is a journey book, told from the point of view of Lynn's adopted daughter, Lucy, set 10 years after Drink. I received the indirect sequel as an ARC from an EpicReads giveaway only a short while after I'd finished reading Drink from the library. I didn't love either book, though. They are character driven stories and very grim. I liked Lynn's POV more than Lucy's, and I disliked the lack of other good characters in the sequel. But what I did like about the sequel was the level of uncertainty. Here's an excerpt from my review of In a Handful of Dust that explains why I liked it:
"… I honestly wasn't sure if McGinnis would be bold enough to kill off one of the girls in this book. I like that amount of uncertainty in books; it's so rare to actually fear for the protagonists and not be able to predict what comes next. I never knew if Lynn or Lucy would actually make it all the way to their final destination or if one or both of them would die on the way."
Overall, this is a unique series about two strong girls fighting to survive in such a desolate world. The world building lacked; I really wanted to know why the water ran out and how people in other places were getting on. But, while I didn't particularly love these books, I do recommend them if they sound interesting to you.
---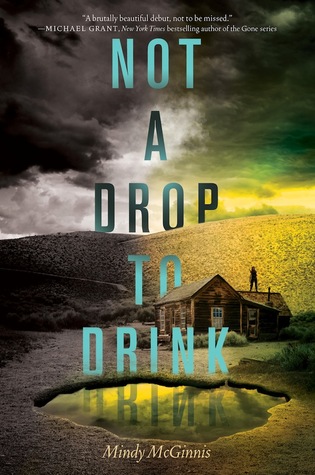 Not a Drop to Drink.
by Mindy McGinnis
(Not a Drop to Drink, #1)
Synopsis:
Regret was for people with nothing to defend, people who had no water.
Lynn knows every threat to her pond: drought, a snowless winter, coyotes, and, most importantly, people looking for a drink. She makes sure anyone who comes near the pond leaves thirsty, or doesn't leave at all.
Confident in her own abilities, Lynn has no use for the world beyond the nearby fields and forest. Having a life means dedicating it to survival, and the constant work of gathering wood and water. Having a pond requires the fortitude to protect it, something Mother taught her well during their quiet hours on the rooftop, rifles in hand.
But wisps of smoke on the horizon mean one thing: strangers. The mysterious footprints by the pond, nighttime threats, and gunshots make it all too clear Lynn has exactly what they want, and they won't stop until they get it….
With evocative, spare language and incredible drama, danger, and romance, debut author Mindy McGinnis depicts one girl's journey in a barren world not so different than our own.
---
In a Handful of Dust.
by Mindy McGinnis
(Not a Drop to Drink, #2)
Synopsis:
The only thing bigger than the world is fear.
Lucy's life by the pond has always been full. She has water and friends, laughter and the love of her adoptive mother, Lynn, who has made sure that Lucy's childhood was very different from her own. Yet it seems Lucy's future is settled already—a house, a man, children, and a water source—and anything beyond their life by the pond is beyond reach.
When disease burns through their community, the once life-saving water of the pond might be the source of what's killing them now. Rumors of desalinization plants in California have lingered in Lynn's mind, and the prospect of a "normal" life for Lucy sets the two of them on an epic journey west to face new dangers: hunger, mountains, deserts, betrayal, and the perils of a world so vast that Lucy fears she could be lost forever, only to disappear in a handful of dust.
In this companion to Not a Drop to Drink, Mindy McGinnis thrillingly combines the heart-swelling hope of a journey, the challenges of establishing your own place in the world, and the gripping physical danger of nature in a futuristic frontier.
---
About Mindy McGinnis:
Mindy McGinnis is an assistant YA librarian who lives in Ohio and cans her own food. She graduated from Otterbein University magna cum laude with a BA in English Literature and Religion. Mindy has a pond in her back yard but has never shot anyone, as her morals tend to cloud her vision.
---
Have you read the Not a Drop to Drink duology?
If so, which book was your favorite?
If you haven't, would you be interested in reading the series now?
Which of the covers do you prefer?
Comment below letting me know!
Follow me @ toweroftomes on Twitter | Instagram | Goodreads | and Bloglovin'!