---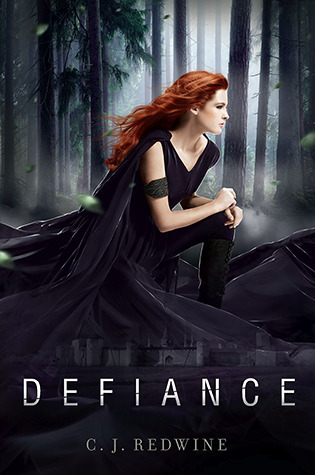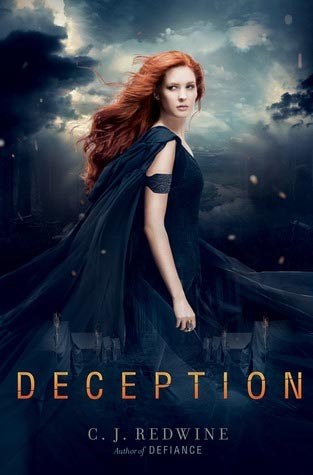 The Defiance trilogy, also known as the Courier's Daughter series.
Click on a title to read my review.
#1. Defiance
#2. Deception
#3. Deliverance
---
Overall thoughts:
The last paragraph in my review of Book #3, Deliverance, really sums up my thoughts well: "… There are better dystopian series out there, plenty of those also excruciatingly dark but that don't envelope the whole story in a giant dark storm of gloom and doom. If you're looking for a strong-willed heroine, some destructive dragons, good supporting characters that I wish had appeared more, and a wonderfully strong romantic relationship without any worry of a love triangle, then you might enjoy Defiance, Deception, and Deliverance. It's a grim ride but moves fast and has lots of action and emotional streams of consciousness."
Just a note, Defiance's synopsis says that it's perfect for fans of Graceling by Kristin Cashore. I adored Graceling, but cannot say that I adored Defiance. The books are extremely different. Graceling is high fantasy and more political while Defiance is a strange fantastical dystopia that is more dark and twisted, though Graceling is dark in its own way. Okay, just had to get that off my chest.
---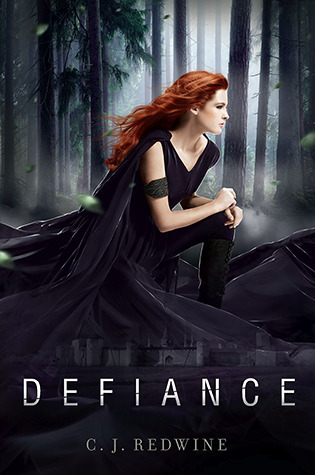 Defiance
by C.J. Redwine
(The Defiance Trilogy, #1)
Synopsis:
Defiance by C. J. Redwine is rich postapocalyptic YA fantasy perfect for fans of Graceling and Tamora Pierce.
While the other girls in the walled city-state of Baalboden learn to sew and dance, Rachel Adams learns to track and hunt. While they bend like reeds to the will of their male Protectors, she uses hers for sparring practice.
When Rachel's father fails to return from a courier mission and is declared dead, the city's brutal Commander assigns Rachel a new Protector: her father's apprentice, Logan—the boy she declared her love to and who turned her down two years before. Left with nothing but fierce belief in her father's survival, Rachel decides to escape and find him herself.
As Rachel and Logan battle their way through the Wasteland, stalked by a monster that can't be killed and an army of assassins out for blood, they discover romance, heartbreak, and a truth that will incite a war decades in the making.
---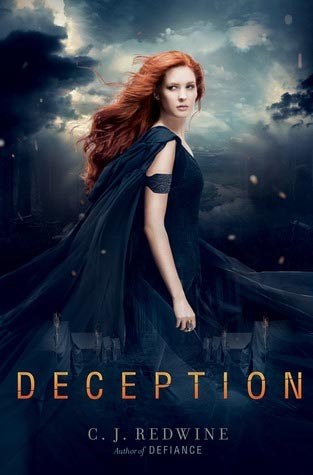 Deception
by C.J. Redwine
(The Defiance Trilogy, #1)
Synopsis:
Baalboden has been ravaged. The brutal Commander's whereabouts are unknown. And Rachel, grief stricken over her father's death, needs Logan more than ever. With their ragged group of survivors struggling to forge a future, it's up to Logan to become the leader they need—with Rachel by his side. Under constant threat from rival Carrington's army, who is after the device that controls the Cursed One, the group decides to abandon the ruins of their home and take their chances in the Wasteland.
But soon their problems intensify tenfold: someone—possibly inside their ranks—is sabotaging the survivors, picking them off one by one. The chaos and uncertainty of each day puts unbearable strain on Rachel and Logan, and it isn't long before they feel their love splintering. Even worse, as it becomes clear that the Commander will stop at nothing to destroy them, the band of survivors begins to question whether the price of freedom may be too great—and whether, hunted by their enemies and the murderous traitor in their midst, they can make it out of the Wasteland alive.
In this daring sequel to Defiance, with the world they once loved forever destroyed, Rachel and Logan must decide between a life on the run and standing their ground to fight.
---
Deliverance
by C.J. Redwine
(The Defiance Trilogy, #1)
Synopsis:
Everything hangs in the balance, and nothing is certain: Rachel has been kidnapped by enemy forces and is being taken to Rowansmark while Logan, imprisoned and awaiting trial, is unable to leave Lankenshire. Separated from each other and their Baalboden comrades, each must find a way to achieve what they desperately want: to rid their world once and for all of the Commander and the tech that controls the deadly Cursed One.
Fighting through her pain and embracing the warrior she's become, Rachel will do whatever it takes to escape her enemies' clutches and join Logan in his fight. But when she learns a secret that changes everything, she realizes that escaping Ian and his tracker friends is no longer an option if she wants to save the people she loves. Instead, she'll have to destroy Rowansmark from the inside out—if she can survive the journey through the Wasteland.
Logan needs allies if he wants to thwart Rowansmark's power grab and rescue Rachel. But securing allies will mean betraying his beliefs and enlisting the help of the man he hates more than anyone: Commander Jason Chase. Driven by his fierce love for Rachel and his determination to make their world safe, Logan may be just the weapon the city-states need to defeat the Cursed One.
---
About C. J. Redwine:
C.J. Redwine loves fairy tales, Harry Potter, and Sherlock. She is the author of the Defiance trilogy, a post-apocalyptic fantasy from Balzer + Bray. C.J. lives in Nashville with her husband and children. If the novel writing gig ever falls through, she'll join the Avengers and wear a cape to work every day. To learn more about C.J., visit her website at http://www.cjredwine.com
---
Have you read the Defiance Trilogy?
If so, which book was your favorite?
If you haven't, would you be interested in reading the series now?
Which of the covers do you prefer?
Comment below letting me know!
Follow me @ toweroftomes on Twitter | Instagram | Goodreads | and Bloglovin'!