---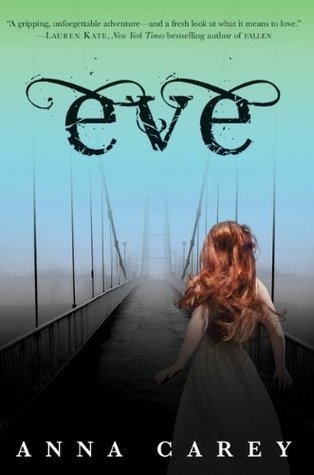 The trilogy (click a title to be directed to my review):
#1 Eve (my favorite of the three)
#2 Once (second favorite of the three)
#3 Rise (least favorite of the three)
---
Overall thoughts:
I went into Eve thinking it'd be a typical YA dystopia book. Well, in a sense it is, but it really surprised me. The initial event that causes the book's plot to happen is disturbing and different, so that was a nice surprise. Eve herself was a great character. She was sheltered and naive so it was understandable how she sometimes reacted. When she made mistakes, some of them drastic, she learned from them. She adapted, learned to trust, made lasting friendships of the least likely people. Her romance with Caleb, which some readers scoffed at, I did in fact adore.
As the series progressed the books became more typical of the genre. Cruel and selfish leaders, a rebel movement, a protagonist whose job it is to lead the uprising and take down the baddies. (Minor SPOILER:) By Once, Eve's two strongest friends were almost completely absent, and they continued to be almost nonexistent in Rise. (END of SPOILER.) I was not okay with this decision, though it was necessary for the plot. But, gosh, I really had no interest in any of the new characters that were introduced to us in books 2 and 3.
The third book was my least favorite, since it really was just another trek through the wilderness, only this time it wasn't interesting at all. The series changed too much, and I was disappointed with that. This doesn't mean the trilogy isn't good–I loved it and devoured each book, but it got more typical as it went on. The first book was the most exciting and unique, and left me hanging. The second book had a crazy cliffhanger that made me run to get the third book. And then the third book… Well, you'll have to decide for yourself. I do recommend this series, definitely, but be warned that it loses some of its initial magic as the series goes on.
---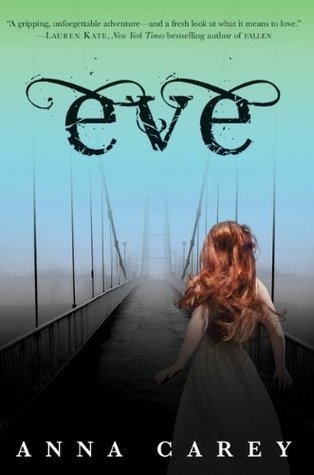 Eve
by Anna Carey
(The Eve Trilogy, #1)
Synopsis:
Where do you go when nowhere is safe?
Sixteen years after a deadly virus wiped out most of Earth's population, the world is a perilous place. Eighteen-year-old Eve has never been beyond the heavily guarded perimeter of her school, where she and two hundred other orphaned girls have been promised a future as the teachers and artists of the New America. But the night before graduation, Eve learns the shocking truth about her school's real purpose and the horrifying fate that awaits her.
Fleeing the only home she's ever known, Eve sets off on a long, treacherous journey, searching for a place she can survive. Along the way she encounters Arden, her former rival from school, and Caleb, a rough, rebellious boy living in the wild. Separated from men her whole life, Eve has been taught to fear them, but Caleb slowly wins her trust… and her heart. He promises to protect her, but when soldiers begin hunting them, Eve must choose between true love and her life.
In this epic new series, Anna Carey imagines a future that is both beautiful and terrifying.
---
Once
by Anna Carey
(The Eve Trilogy, #2)
Synopsis:
When you're being hunted, who can you trust?
For the first time since she escaped from her school many months ago, Eve can sleep soundly. She's living in Califia, a haven for women, protected from the terrifying fate that awaits orphaned girls in The New America.
But her safety came at a price: She was forced to abandon Caleb, the boy she loves, wounded and alone at the city gates. When Eve gets word that Caleb is in trouble, she sets out into the wild again to rescue him, only to be captured and brought to the City of Sand, the capital of The New America.
Trapped inside the City walls, Eve uncovers a shocking secret about her past–and is forced to confront the harsh reality of her future. When she discovers Caleb is alive, Eve attempts to flee her prison so they can be together–but the consequences could be deadly. She must make a desperate choice to save the ones she loves . . . or risk losing Caleb forever.
In this breathless sequel to "Eve," Anna Carey returns to her tale of romance, adventure, and sacrifice in a world that is both wonderfully strange and chillingly familiar.
---
Rise
by Anna Carey
(The Eve Trilogy, #3)
Synopsis:
How far will you go when you have nothing left to lose?
When she lost her soul mate, Caleb, Eve felt like her world had ended. Trapped in the palace, forced to play the part of the happy, patriotic princess of The New America—and the blushing bride of her father's top adviser—Eve's whole life is a lie. The only thing that keeps her going is Caleb's memory, and the revolution he started.
Now, Eve is taking over where Caleb left off. With the help of Moss, an undercover subversive in the King's court, she plots to take down The New America, beginning with the capital, the City of Sand. Will Eve be able to bring about a new, free world when she's called upon to perform the ultimate act of rebellion—killing her father?
In Rise, Eve must choose who to leave behind, who to save, and who to fight as Anna Carey's epic tale of romance and sacrifice in the chilling dystopia of The New America comes to a stunning conclusion.
---
About Anna Carey:
Anna Carey is the author of The Eve Trilogy (Eve, Once, Rise) and the forthcoming Blackbird series, which hits shelves September 16th, 2014. She studied creative writing at NYU and has an MFA in fiction from Brooklyn College. She likes miniatures, subway generated wind, flea markets, chalkboard silhouettes, dance-offs, arnold palmers, Chinese finger traps, and top-of-your-lungs car singing. She dislikes pennies, paper receipts, and tunafish. For delayed response times, please contact her through this site. For instant gratification, please find her on twitter. @AnnaCareyBooks
---
Have you read the Eve trilogy?
If so, which was your favorite book?
If you haven't, would you be interested in reading the series now?
Which of the covers do you prefer?
Comment below letting me know!
Follow me @ toweroftomes on Twitter | Instagram | Goodreads | and Bloglovin'!