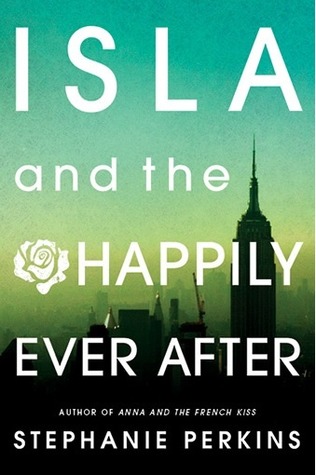 Isla and the Happily Ever After by Stephanie Perkins, Book #3 in the Anna and the French Kiss series. Source: Library. Format: Hardcover, 339 pages, Dutton Books, Penguin Group USA, 2014.
Stephanie Perkins's Young Adult contemporary romances are simply adorable. They are emotional reads with so much character growth, and the characters themselves are easy to relate to and like. Isla and the Happily Ever After is the third (and final?) installment in this series of companion books. While I normally don't review series books if I haven't reviewed the prequels, I do really want to talk about Isla. As a note, though, I would highly recommend reading the books in order, just to keep from getting spoiled on the outcomes of Anna and the French Kiss and Lola and the Boy Next Door.
Isla is a high school senior at the School of America in Paris and she's had a huge crush on Josh for the past three years. Isla doesn't know what she wants to do with her life while Josh, a talented artist, knows exactly what he wants to do. Isla's insecurities and feeling she's not good enough/doesn't matter play a big role in the book, thought sometimes she got a bit melodramatic. Josh was sweet, charming, thoughtful, and very trusting. He and Isla were just a perfect pair; it was saddening when they were forced apart due to broken rules and family drama. I only wished the book had been set in New York City more. Don't get me wrong, I loved the Paris setting and the trip to Barcelona, but I really wanted more romantic adventures in the Big Apple.
The side characters were pretty flat, though; that was probably the biggest problem I had. Isla's best friend Kurt felt stiff and forgettable. Her sisters, one older, one younger, didn't have much to do except ruin things (the younger one) and fix things (the older one). Also, where the heck were Isla's gal friends? Isla was never described as a loner, but there was a remarkable lack of other female characters in this book, and Isla never hung out with anyone besides Kurt and Josh.
The best part of the book, I think (and many other agree with this), was when the couples from the previous books made a cameo appearance. The scene was just so much fun and I was grinning hugely because of the magical end of the scene. I loved Anna and Etienne and Lola and Cricket from their books, and it's hard to say which couple/novel I preferred more. It's been a while since I read Anna, and while I loved the complicated relationship between Lola and Cricket, I didn't always like Lola herself. So I'm not going to rank because, one, that's mean, and two, all three of the books are so cute, unique, and romantic in their own ways. Read these books! They're fun, quick reads that give you the feels and stick with you long after the stories are over.