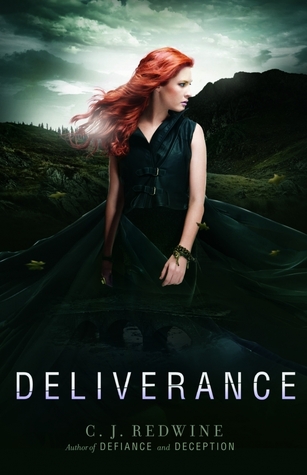 Deliverance by C. J. Redwine, Book #3 in the Defiance trilogy. Read my review of Book #1, Defiance, here and Book #2, Deception, here. Source: Library. Format: Hardcover, 467 pages, Balzer + Bray, HarperCollinsPublishers, 2014.
There is nothing happy about the final installment in C. J. Redwine's dystopian series. Rachel and Logan have been wrenched apart and are forced to brave their own separate journeys, each filled with horror and sadness. Yet they persevere through all the trials they encounter, swallowing their rage and hatred in order to do the right things. I got a bit burnt out on this series by the second book, and Deliverance sure gave me the nonstop train wreck I knew was coming. Blame, revenge, atonement… these themes are all covered here. There are some light spoilers ahead, nothing to ruin the book, though, but be cautious if you haven't read Defiance and Deception.
It's all about the piece of tech when you boil down to it. The stolen, weird-looking flute is what caused the cities to go berserk, with Logan and Rachel caught in the middle of it. We've got three or four armies hunting down Logan for the item that can control the Cursed Ones–otherwise referred to in my head as the dragons. The book was basically Logan trying trick everyone into agreements (the ex-Commander of Baalboden showed up again, and, man, I forgot how much of an abusive jerk he was) and Rachel putting up with the dangerously wild Ian. Ian's redemption didn't cut it for me. After everything he did in Book 2, Deception, and what he did to Rachel in this third book, Deliverance, there was really nothing that could make me change my mind about him. I also couldn't believe that Rachel could forgive him, however little, after everything he'd put her through. I don't think I'd ever be able to forgive someone like that, no matter what noble deed they did in the end.
The series is very much focused on the characters and the crazy aftermath of the choices that were made right before Book 1, Defiance, started. But the books were just so dark and unhappy, and the only happiness was when Rachel and Logan were together. To have almost this entire third book with them separated was agonizing as a reader (as well as for them). Rachel's story line was more interesting than Logan's, and Logan's was boring. I felt the least attached to the characters than ever in this book, and the plot didn't hold my interest. There were some twists, one which I didn't predict and seemed like a cop-out in order for Ian to redeem himself. The writing moved quickly and things happened seemingly at every turn, but my oh my I was always thinking, "When are those dragons going to show their heads again?" Not until the final showdown, that's when.
I don't mean to shred this book at all–I did enjoy it for the most part; there were just things that really irked me. Like the world, which we found out in Deception is actually what used to be America. The futuristic, dystopian world was completely lackluster. Just some walled cities all in precarious political relationships and the endless, boring Wasteland.
Overall, was this a great conclusion to the series? No. It was my least favorite of the trilogy. But I'm satisfied I stuck around until the end. There are better dystopian series out there, plenty of those also excruciatingly dark but that don't envelope the whole story in a giant dark storm of gloom and doom. If you're looking for a strong-willed heroine, some destructive dragons, good supporting characters that I wish had appeared more, and a wonderfully strong romantic relationship without any worry of a love triangle, then you might enjoy Defiance, Deception, and Deliverance. It's a grim ride but moves fast and has lots of action and emotional streams of consciousness. Just be warned that Logan's trademark "best case" and "worst case" scenarios are there. Every. Single. Chapter.