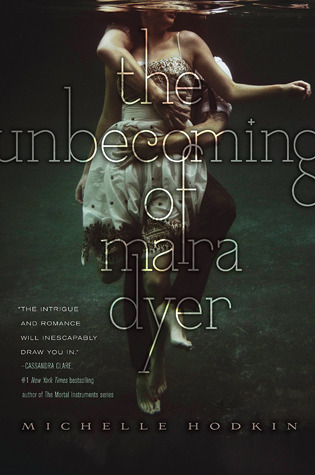 The Unbecoming of Mara Dyer by Michelle Hodkin, Book #1 in the Mara Dyer trilogy. Source: Library. Format: Paperback, 452 pages, Simon & Schuster BFYR, Simon & Schuster Children's Publishing Division, October 2012.
The Unbecoming of Mara Dyer was entertaining and easy to fly through. It was a perfect Halloween read because of the disturbing events that Mara seemed to trigger. (Yes, yes, yes, I read this over Halloween. This review is very late.) After the death of three of her friends, Mara begins to hallucinate. And people she imagines deserve to die actually do end up dead. That's bound to disturb anyone if they notice that pattern, huh? So… did Mara really kill her friends? She can't remember, but her memories come back in the form of flashbacks that I really didn't give a poop about. (That was me keeping this blog PG.)
It took me a while to get into this book because of the slow start with Mara adjusting to a new school, and I wasn't too keen on her romantic interest Noah at first. There was a lot of teenage angst and annoyance and jealousy-fueled bullying (by an ex of Noah's, duh) and other things like that. Noah irritated me a lot and I didn't find him nearly as attractive as Mara did. He was arrogant, then a perfect gentleman, then a douchebag, then a sympathetic guy… Argh, he and Mara frustrated me so much.
But the overall story was cool. I really liked how most of the time I couldn't tell if what was happening was real or just a hallucination of Mara's. There were some pretty disturbing scenes, I must say. The stress in the whole Dyer family was hard to read about and often times I was on edge when Mara's thoughts went dark. I wasn't expecting that particular ending, though, but it sure opens up a lot of possibilities for the next book, The Evolution of Mara Dyer. I really did enjoy this book, and while it took some time for me to get hooked and there were many parts that I rolled my eyes at, this series is definitely a haunting story I want to continue with.